Football: Bulldogs capitalize on Eagles' weak defense in 36-12 loss
October 4, 2017 - 3:12 pm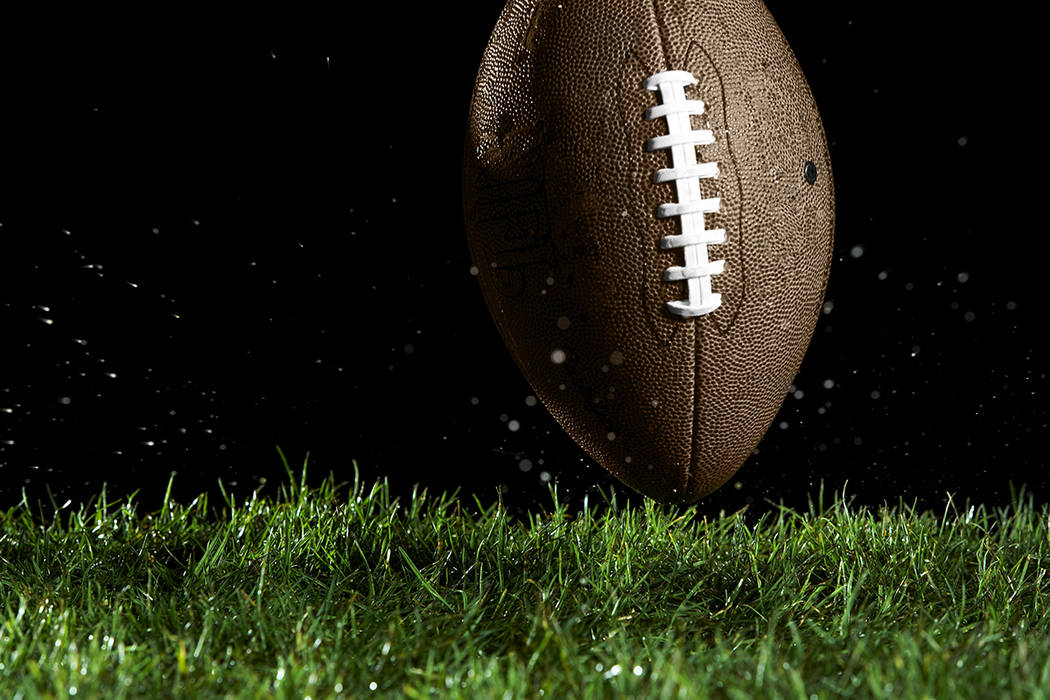 Turnovers and blown defensive assignments derailed a promising start for Boulder City High School football Sept. 27 against Virgin Valley, allowing a three-touchdown, second-quarter effort from the Bulldogs turn into a 36-12 blowout.
Scoring midway through the second quarter, the Eagles brought the game to 14-7 following senior quarterback Austin Langley's 13-yard touchdown pass to junior Tristan Chavez, only to squander the scoring opportunity with poor contain run defense.
"We had the momentum on our side when Austin gave us our first score," head coach Chris Morelli said. "Then we let Virgin Valley score two quick touchdowns and that kind of blew the air out of our tires."
Following up Langley's passing strike, Virgin Valley capitalized on its next two possessions following an Eagles' interception behind senior running back Jayden Perkins, who caught a 65-yard touchdown pass and ran for a 10-yard touchdown less than two minutes apart midway through the second quarter.
Having trouble containing Perkins, who is heralded as the 3A classifications best running back, the Eagles surrendered 173 yards to the bruising senior, part of a 550-yard Virgin Valley offensive effort.
"We really have to do a better job setting the tone of the game" Morelli said. "They came out and they were physical with us from start. They dominated at the point of attack and did anything they wanted all night. We'll look to correct those issues heading into this week."
Spoiling a 100-yard rushing effort from their own bruiser, junior rusher Thorston Balmer looked back to full strength, consistently leading the offensive attack with 102 yards on 24 carries.
Rushing for 37 yards on a mid-third quarter drive, Balmer helped set up a 17-yard sophomore quarterback Parker Reynolds pass to senior Briggs Huxford for the Eagles' final score of the night.
Splitting reps behind center, Reynolds finished 5-of-12 for 33 yards with a touchdown and interception apiece, while Langley finished 3-of-8 for 37 yards, one touchdown and two interceptions.
Huxford finished with five catches for 46 yards and a touchdown, while Chavez finished with two catches for 23 yards and a touchdown.
Looking to get back in the win column following four consecutive yet still promising at times losses, the Eagles will travel to winless 4A Rancho on Friday with hopes that junior starting quarterback Shaun Jones will be ready to play after being sidelined for two games.
"We've done some good things the past few weeks at different times," Morelli said. "Now it's time to put it all together. We're hopeful getting Shaun back potentially wiill help jump start our offense and help us get back to winning."
Upcoming games
■ Football
Today, Oct. 5, at Rancho, 6:30 p.m. junior varsity
Friday, Oct. 6, at Rancho, 7 p.m. varsity
■ Girls Golf
Today, Oct. 5, league match at Las Vegas National, 1:30 p.m.
■ Cross-Country
Saturday, Falcon Invitational, 8 a.m.
Tuesday, Oct. 10, Bud O'Dea Classic at Desert Breeze, 3 p.m.
■ Girls Soccer
Tuesday, Oct. 10, at Somerset-Sky Pointe, 3:30 p.m. varsity, 5 p.m. junior varsity
■ Boys Soccer
Tuesday, Oct. 10, at Somerset-Sky Pointe, 3:30 p.m. varsity, 5 p.m. junior varsity