Flag football team rallies behind Tenney; scores season-high 39 points against Moapa
January 18, 2017 - 3:33 pm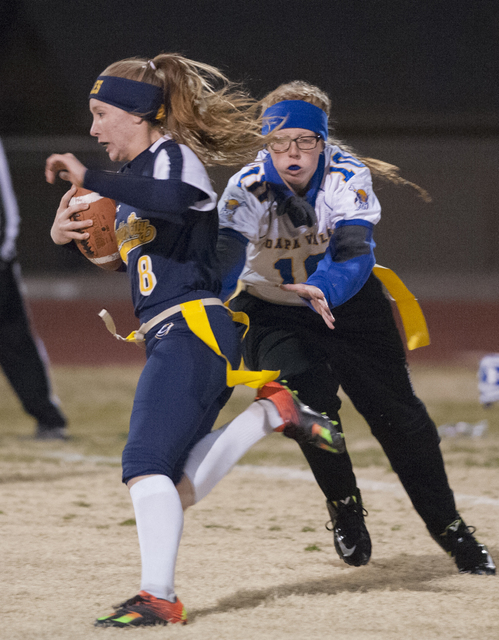 Breaking out for a season-high 39 points on Jan. 12 against rivals Moapa Valley, the Boulder City High School flag football team seems to have found an answer for its offensive woes.
"I thought we played great," said senior Aimee Finn, who finished with four catches for 23 yards. "We came out ready to play and executed our game plan soundly."
Claiming their second league victory of the season, the Lady Eagles routed the Pirates 39-6, ending any speculation that the program was in a downward spiral after dropping its first two league contests to Virgin Valley and Southeast Career Technical Academy.
Earning the start at quarterback for the Lady Eagles, junior Taylor Tenney made good use of her opportunity against the Pirates, flashing her dual-threat ability that won her the job the week prior. Completing 11-of-17 for 102 yards and a touchdown strike to senior Kenadee Bailey, Tenney also rushed for 113 yards and a touchdown on 11 carries.
"Taylor's an amazing athlete," Bailey said. "Our team is going to rally behind her and do whatever it takes to find our rhythm and start winning games consistently again."
If Tenney's able to duplicate her performance on a weekly basis, head coach Chris Morelli might just have found the offensive firepower he claimed the team lacked in previous weeks.
Always adding firepower to the offense, Bailey generated a game-high 128 rushing yards and three touchdowns on six carries. An all-around play maker for the Lady Eagles, she also caught three passes for 30 yards and a touchdown, while tallying a game-high 10 tackles on defense.
"Kenadee is such an amazing athlete," Finn said. "Whenever we can get her the ball in space, we feel confident that she can take it to the house and provide us with points."
Also providing the Lady Eagles with points was senior running back London Ayers, who rushed for 75 yards and a touchdown on eight carries, while junior Daisy Hodgkin led all receivers with four catches for 38 yards.
Hodgkin also tallied five tackles on defense, while junior Hannah Barth tallied four.
Hopeful to keep their momentum alive following their two-game winning streak, the Lady Eagles will resume play Monday on the road at Chaparral, followed by a must-win road matchup Wednesday against Virgin Valley.
"Our team mindset is simple right now," Bailey said. "We are all going to learn from our mistakes and get better every game. We just need to focus and take it one step at a time."
Contact Robert Vendettoli at BCRsports@gmail.com.
Upcoming Games
Monday, at Chaparral, 3:30 p.m. junior varsity; 4:30 p.m. varsity
Wednesday, at Virgin Valley, 3:30 p.m. junior varsity; 4:30 p.m. varsity