Flag football coach has high hopes for another winning season
November 23, 2016 - 1:36 pm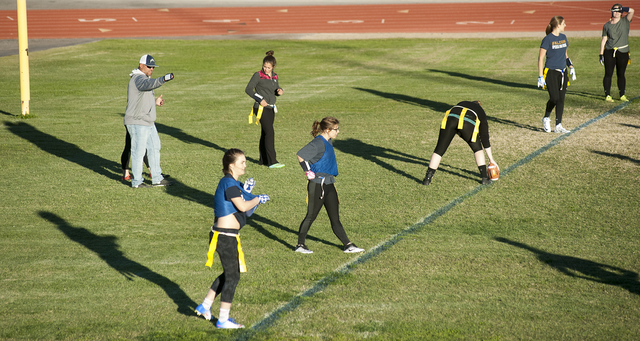 Boulder City High School head coach Chris Morelli knows this season will be a one of transition for his flag football program, taking the field for the first time without arguably the best player in the sport the past three seasons, quarterback Jeanne Carmell.
"As we look back, obviously we're proud of that era of Boulder City flag football, but this is a new era," Morelli said. "We're very excited to get play underway here shortly and are very excited to see what we'll get out of this season's group."
Of that group, senior all-around star Kenadee Bailey will be returning for the defending 3A state champions and is expected to anchor the offensive and defensive units.
"I expect the team to be highly competitive this year," Bailey said. "Flag football is a big reason as to why I didn't graduate early. Nothing excites me more than being out on the field next to girls I love playing the game I love. This season is bound to be a great one. We have postseason aspirations that I am confident we will achieve."
Back for one last season under Morelli to prove she's the state's best two-way player, Bailey will look to improve upon her stat sheet from last season that saw her catch 63 passes for 960 yards and 17 touchdowns, while garnering 153 tackles, 10 interceptions and a defensive touchdown.
"Kenadee is just such a dynamic player," Morelli said. "She gives us a complete player to build around on both sides of the ball. Very athletic, very gifted — but what stands out about Kenadee most is her football IQ on the field. Whenever you can get a player to think like a coach out there and help her teammates, that's when you become successful and win ball games."
Also returning for the Lady Eagles, who graduated 10 seniors, will be senior two-way playmaker Aimee Finn, who will be relied upon more than ever to help the team continue its winning ways after compiling a 63-1 record the past three seasons. Finn says she is ready to shoulder more of the workload this season after contributing 55 receptions for 648 yards and eight scores along with two interceptions last year.
"I'm very excited for this upcoming season," she said. "I'm looking forward to ending my high school career with another winning year and am very positive we have the group to do that this season. A lot of girls are going to need to step up and fill key roles, including myself, but I'm confident that everyone is up to the challenge."
Of those expected to step up, senior Foothill transfer Emily Mull will be the team's biggest addition after catching 58 passes last season for 679 yards and nine touchdowns with the Falcons. Back as well with varsity experience will be seniors Skylar McKay and Alexus Pohe.
With many playmakers at the skill position returning and expecting large contributions from newcomers, one of the Lady Eagles' most challenging tasks will be figuring out who to put behind the center following the departure of Carmell. In a tight two-player race, Morelli has yet to name a starting quarterback but has said that he feels confident with juniors Nicole Valle and Taylor Tenney fighting for the job.
"Nicole gives us more of a traditional option, while Taylor is a dual threat," Morelli said. "I'm looking for a more balanced attack than in years past. We think we're gonna have quarterback by committee for a few games and see where we are from there. Either way, we feel confident in our offense, knowing that we're going to run the ball a little more and focus solely on our strengths."
Given that it's a new season with new players and a new attitude, Morelli has a new outlook for his always dominant program, which begins its season Wednesday at home against 4A opponent Arbor View.
"I know who we've been in seasons past," Morelli said. "Winning championships, extending winning streaks, winning lopsided ball games, but honestly we don't care about any of that this year. That type of stuff isn't even being discussed around our program because that's last season. Everyone on this team is focused solely on this year and being the best team that we can be. We're going to take each game one at a time and hope to just be prepared for conference play. Winning a league championship is Goal No. 1. We'll worry about other expectations, once Goal One is completed."
Contact Robert Vendettoli at BCRsports@gmail.com.
Upcoming Games
■ Wednesday, vs. Arbor View, 4:30 p.m. junior varsity, 6 p.m. varsity