Eagles wrestlers win regional title, sending record-breaking 16 competitors to state
February 8, 2017 - 3:02 pm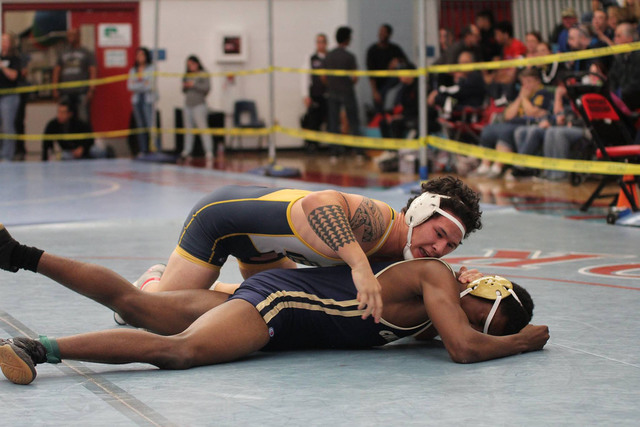 On its way to winning the 3A Southern Region title Saturday, Boulder City High School's wrestling team set a school record, sending 16 of its 18 wrestlers to Friday's state tournament at Spanish Springs High School in Sparks.
The Eagles dominated the final round of the regional competition at Western, vying in 11 of 14 final matches and crowning four individual champions en route to the team title, the school's first since 2013, with 290.5 points.
"We came into the year with a goal and a mindset, and we accomplished it," senior 145-pound champion Octavian Trumbo said. "We have a great coaching staff and a team dedicated to getting better each day. Every day in practice we're our own biggest competition, so when we come out to a meet like this we relax because we know we've already faced off against the best. The first part of our goal is complete; now it's time to bring home a state title."
Joining Trumbo as individual champions were junior 126-pounder D.J Reese, sophomore 152-pounder Jimmy Dunagan and sophomore 195-pounder Ryan Vanario.
Reese pinned Mojave's Michael Child's in 56 seconds, while Trumbo, Dunagan and Vanario won via decisions.
"Going into the match, I just wanted to play to my strengths," Reese said. "Every match I try to take one at a time and set up the right moves. When I got him on his back, I just executed and went for the finish."
"To completely own the championship round speaks volumes to the hard work these guys have put in," said head coach Jim Cox. "They've bought into what we're teaching; they've bought into the program. Not only does that give us success this season but for future seasons with our younger guys seeing you can be successful if you go about your business the right way. As much as this is the pinnacle of our success, it's also a building block for future success within our program."
The Eagles garnered seven second-place finishes: junior Garrett Leavitt at 113, junior Zanye Dennington at 120, senior Jimmy Brown at 132, senior Dillon Viera at 160, senior Bryan Foster at 170, senior Devin Fox at 220 and sophomore Mike Kaposta at 285.
"We're all confident that we can have positive results at state," Viera said. "Finishing second this past week, a lot of us are hungry for a better result, more focused on the task at hand and how to finish it. We've had a great week of practice so far, and we're excited for another opportunity." Also making the trip to Sparks will be 106-pounders freshman Curtis Brown and sophomore Kenon Cowley, 138-pounders freshman Ladd Cox and sophomore Hayden Moore and senior 160-pounder Jin Takahashi.
Brown defeated Cowley in the 106-pound third-place match via pin in 2:00, while Cox defeated Moore via decision 4-0. In his third-place match, Takahashi picked up a 13-7 decision over Desert Pines' Adelberto Santiago.
"Honestly, I couldn't be more proud of these guys," Cox said. "Everything we've been through the last few weeks as a program, all the emotion, this has certainly lifted our spirits. Coming into the year with high expectations, the guys really dug deep to pull this out."
In addition to the students' accomplishments, Cox was named coach of the year for the 3A division.
"This award is more for our program than myself," Cox said. "This award goes to all of my assistant coaches … To be named coach of the year, you have to run a great program and everyone plays a part in that."
Contact Robert Vendettoli at BCRsports@gmail.com.