Eagles wrestlers take third at state tourney
February 15, 2017 - 2:51 pm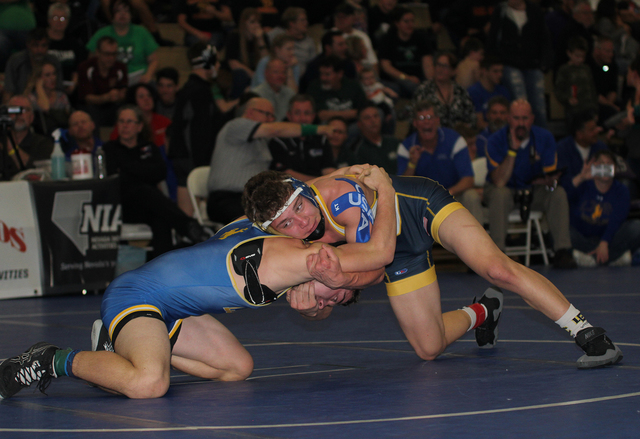 The top Southern Nevada team to place in the state wrestling championships, Boulder City High School walked away with third place, with a score of 123.5, falling behind northern powerhouses Spring Creek (135) and Churchill County (132.5) during Saturday's competition in Sparks.
Ten Eagles made it to the championship round, finishing with a pair of second-place finishers along with four third- and four fourth-place finishers.
"Obviously, we would have liked to win a championship, but a third-place finish isn't bad," said senior 145-pound wrestler Octavian Trumbo, who finished in fifth place. "To finish as the top Southern Nevada team is no small accomplishment. We know we gave it our all."
Falling victim to steep northern competition, sophomore 126-pound wrestler D.J. Reese took second, losing a major decision 12-3 to Elko's David Burden after picking up a pin over Spring Creek's fourth-place finisher, Josh Tripp, in 0:27 in the semifinals.
"I have to give it to him; he wrestled a great match," Reese said. "Those guys from the north are the real deal. The competition is definitely tougher up there. Thankfully, he's a senior, and I won't have to see him again next season. I appreciate our battle, though; he definitely made me more hungry for my senior year."
Placing second on Saturday as well, senior 132-pound wrestler Jimmy Brown lost to Virgin Valley's two-time defending state champion, Jacob Baird, via pin in 4:38. Concluding his senior campaign with a valiant effort, Brown pinned Lowry third-place finisher Bryan Day in 5:26 during the semifinals.
"For Jimmy to come out here for the last time, given everything he's been through, is very special," Cox said. "His grandfather (Chuck Brown, who died Jan. 20) would be very proud of him."
Also fighting with his family legacy in his heart, senior 170-pound wrestler Bryan Foster placed third, picking up a 13-6 decision over Lowry's Cade Billingsley. Senior Dillon Viera (160 pounds), junior Garrett Leavit (113 pounds) and sophomore Ryan Vanario (195 pounds) also took third place.
Fighting in third-place matchups, senior Devin Fox (220 pounds), junior Zayne Dennington (120 pounds), sophomore Mike Kaposta (285 pounds) and sophomore Jimmy Dunagan (152 pounds) ultimately placed fourth at state.
Contact Robert Vendettoli at BCRsports@gmail.com.