Eagles well-perched atop league
September 5, 2018 - 3:10 pm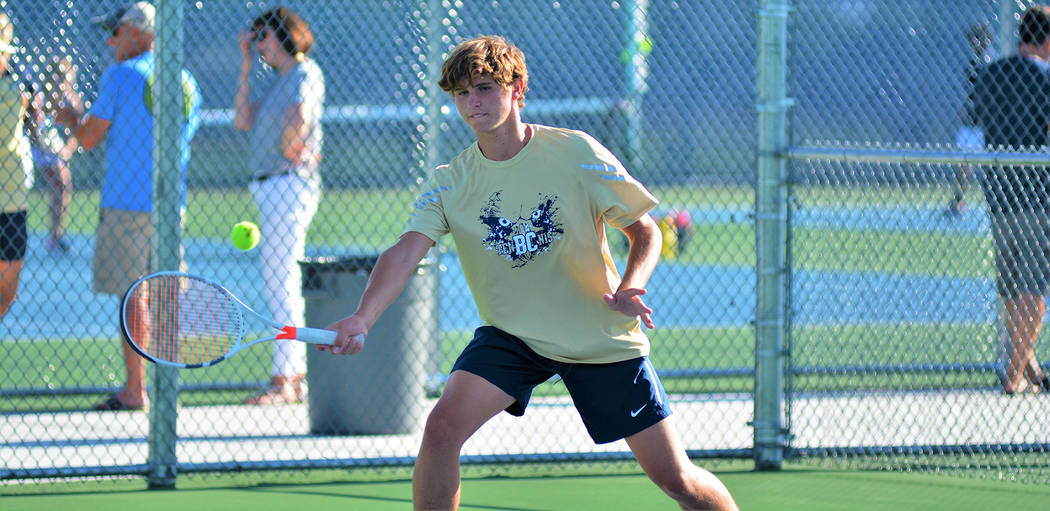 Playing the top team in the 3A division, according to the Las Vegas Review Journal's coaches poll, Boulder City High School's boys tennis team made a statement when it routed Adelson School 17-1 on Tuesday.
"When we saw that they were ranked ahead of us, it really motivated the team," head coach Rachelle Huxford said. "They boys wanted to come out and play their best matches and make a statement. I'm very proud of their efforts."
With an unblemished 7-0 record this season, the Eagles now hold wins over perennial powerhouses The Meadows and Adelson School, giving them confidence as they head toward a repeat season as 3A state champions.
"I thought this win was a huge confidence booster for the team," junior Preston Jorgensen said. "Coach Huxford explained how this win would send a message to the other programs, and I felt we delivered a pretty big message."
Junior Breton Erlanger finished 3-0 in singles while junior Connor Mikkelson finished 2-0.
Routing the Lions in doubles play, Jorgensen and junior Boen Huxford finished 2-0, while seniors Leaf Kaboli and Philipp Zengl finished 3-0.
Forming a solid No. 2 doubles team for the Eagles, senior Karson Bailey and junior Ty Pendleton also finished 3-0 and looked in sync belying their status as first-year partners.
"It's hard adjusting to a new partner sometimes, but Ty has been a really good partner to me and always keeps me anchored even when I'm playing bad," Bailey said. "It really helps that his ground strokes are very strong because I struggle with mine sometimes. Our games complement each other really well because he covers my weaknesses and I cover his."
The Eagles also defeated Virgin Valley 11-7 on Aug. 29 and Pahrump Valley 12-0 on Aug. 30.
Against their rival Bulldogs, Erlanger finished 2-0, while Mikkelson finished 1-0. In doubles, Jorgensen and Boen Huxford finished 2-0, while Kaboli and Zengl finished 2-1.
The Eagles will travel to Del Sol on Tuesday.
Contact Robert Vendettoli at BCRsports@gmail.com.
Upcoming games
Thursday, Sept. 6, at Del Sol, 3 p.m. varsity