Eagles unable to stop Mustangs
September 13, 2017 - 3:03 pm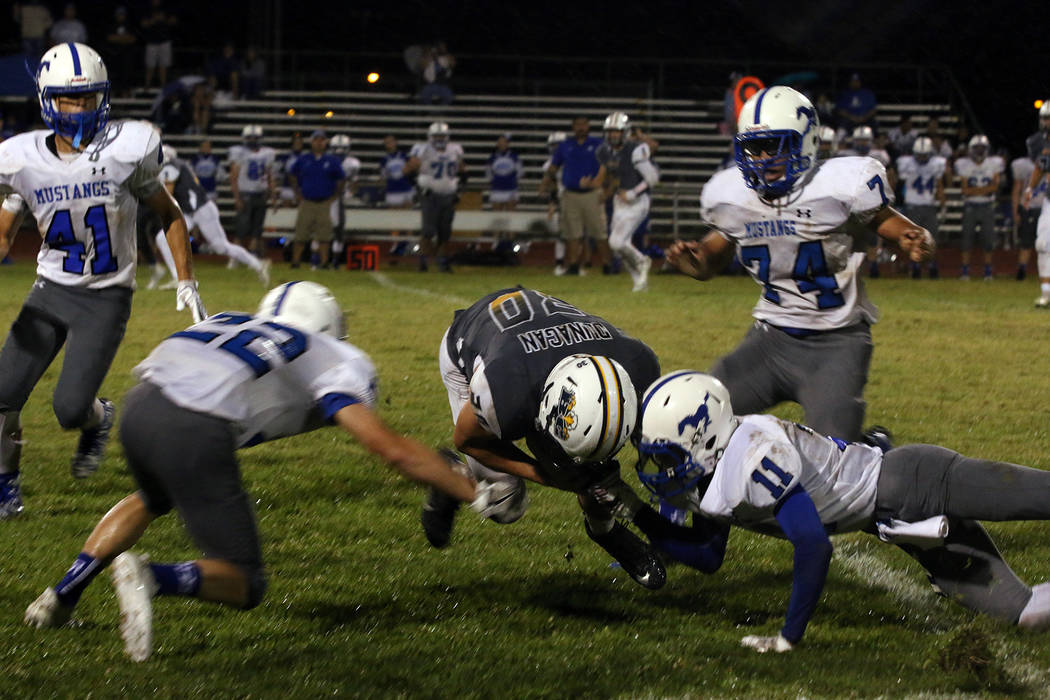 Boulder City High School's Eagles suffered a surprising 34-17 homecoming loss to 2A power Needles, being outworked by their opponent, according to football coach Chris Morelli.
A thunderstorm delayed the early portion of Friday's matchup with the Mustangs by an hour and a half, presenting slick field conditions throughout the remainder of the night.
Unable to stop the physical rushing attack of the Mustangs, the Eagles surrendered 137 yards and four touchdowns to junior running back Marcus Turner, who constantly found the end zone with ease midway through the second quarter, recording rushing scores of 30 yards apiece less than a minute apart to put the Mustangs ahead 14-0.
"As a team, we can't make any excuses for Friday's loss," Morelli said. "They wanted it more than us out there. They outworked us, were more physical. They set the tone early on and came to play."
Trailing 21-0 following a Turner 4-yard touchdown with just under four minutes to play in the first half, senior receiver Briggs Huxford provided the homecoming crowd with the highlight of the night, returning the ensuing kickoff 89 yards to put the Eagles on the board before halftime.
Coming out with momentum in the second half, the Eagles consistently moved the ball down the field behind the much-improved quarterback play of junior Shaun Jones, but they found themselves unable to score points due to turnover issues.
"We constantly shot ourselves in the foot Friday," Morelli said. "Too many turnovers, too many mistakes, it was just sloppy football. We did a good job of moving the ball on offense, but you can't win games when you don't finish drives."
Having his best game yet under center for the Eagles, Jones connected on 11 of 20 for a season-high 185 yards, throwing a fourth-quarter, 20-yard touchdown strike to Huxford to make the score 21-14.
Jones linked up with Huxford on seven occasions. The duo amassed 119 yards through the air.
"I'm getting comfortable more and more every game under center," Jones said. "Coach keeps working with me every week, and it's helping. It's just going to take more reps to continue to learn the position."
Driving downfield to set up a 31-yard field goal midway through the fourth quarter by junior Travis Hungerford, the Eagles brought themselves within striking distance of the Mustangs, 21-17, before surrendering a pair of rushing touchdowns in the final four minutes.
Playing without their leading rusher, junior Thorston Balmer, the Eagles were held to a season-low 54 yards on 30 carries, highlighted by a valiant effort from junior Jimmy Dunagan, who generated 50 yards on 13 carries.
Suffering two more injuries Friday to add to Balmer and senior two-way star Zach Trone, senior offensive lineman Cole Smyth and senior receiver Rhett Armstrong are both listed as questionable for next week's game while the team examines their injuries.
Balmer is on pace to return this week when the Eagles travel to Pahrump Valley on Friday, looking to put their homecoming woes behind them.
"It's going to take a lot to get past these injuries, but we are getting Balmer back, so that's a huge help to this offense," Jones said. "Even with all the injuries, we can't get down on each other.
We have to stay positive and play as a family, and if we do that, we are going to be fine and be very successful."
Contact Robert Vendettoli at BCRsports@gmail.com.
Upcoming games
Today, Sept. 14, at Pahrump, 6:30 p.m. junior varsity
Friday, Sept. 14, at Pahrump, 7 p.m. varsity
Tuesday, Sept. 19, vs. Moapa, 6:30 p.m. junior varsity