Eagles suffer heartbreaking loss
November 7, 2018 - 4:05 pm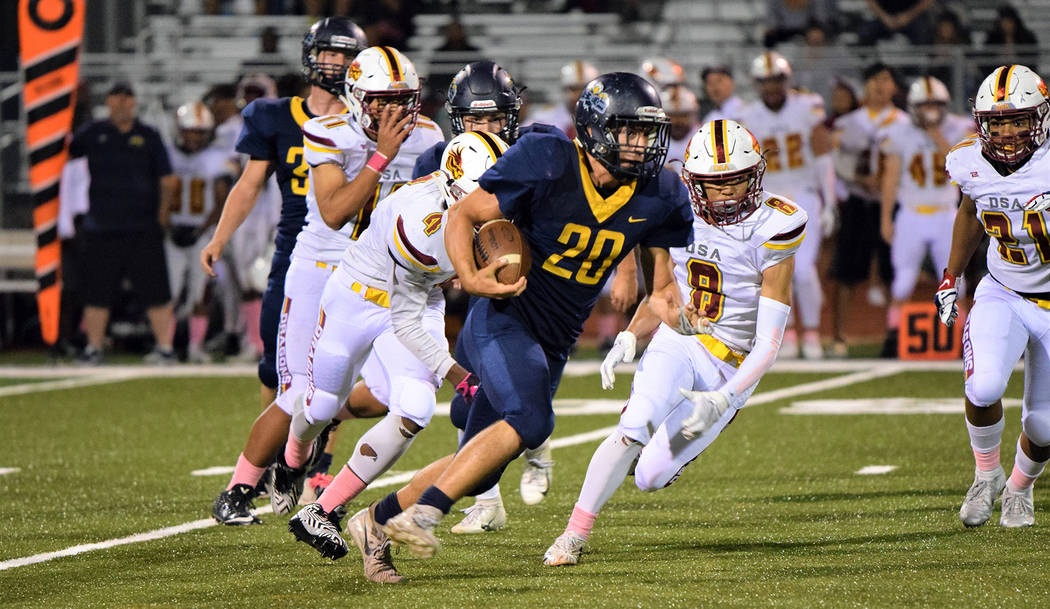 Battling to the final buzzer, Boulder City High School's football team gave it their all Friday, Nov. 2, before its heartbreaking 32-30 loss to Pahrump Valley.
Fighting for a 3A state semifinals bid, Boulder City ended the season with a 7-4 record, its best since 2012.
"They played till the final buzzers," said head coach Chris Morelli. "They showed no quit, even when Pahrump Valley had all the momentum. I'm really proud of this group of kids."
Staying competitive with the Trojans throughout the night, the Eagles held a 22-12 lead midway through the second quarter before a six-minute sequence gave Pahrump Valley the lead at the half.
Trojans running back Nico Velazquez scored on a 90-yard kickoff, followed by a rushing score in the final minute to give Pahrump Valley a 26-22 halftime lead.
"The end of the second quarter really took away all our momentum," Morelli said. "We scored to take a big lead and they turned around right away and returned the kickoff. Then they were able to capitalize late in the quarter and score again off of our interception. We were doing what we wanted to up until that point. It affected us and we came out flat in the third quarter before we were able to get it going again offensively."
Driving the Eagles down field late in the game, junior quarterback Parker Reynolds had his best game of the season, completing 9-of-13 for 228 yards and a score.
Reynolds drove the Eagles to the goal line before senior running back Thorsten Balmer plunged his way in for a 1-yard touchdown with six minutes remaining.
Unable to get the Eagles in the end-zone again in the fourth quarter to extend their season, Balmer ended his prep career with 98 rushing yards and three touchdowns on the night.
"Having Balmer in the backfield really opened our passing game," Morelli said. "We threw for more yards this year than the last five or six season. Having him put guys in the box allowed us to run more run-pass option packages. Losing a guy like Balmer is gonna hurt, not only for his contributions on the field but the way he handled himself off of it. He'll be surely missed."
Reynolds, who returns next season, linked up with senior Jimmy Dunagan for a 2-yard touchdown pass midway through the second quarter.
"He really executed the game plan we put together," Morelli said. "He took advantage of man coverage and we were able to get guys out in space. Parker threw a couple good balls. It's nice to know we get him back. He's a developing quarterback."
Reynolds found sophomore Deavin Lopez for 99 yards on four catches, while sophomore Matt Morton caught two passes for 38 yards.
Dunagan ended his senior year with two catches for 64 yards and a score, while making a team-leading 17 tackles on defense.
Contact Robert Vendettoli at BCRsports@gmail.com.