Eagles shine against Virgin Valley
September 26, 2018 - 4:28 pm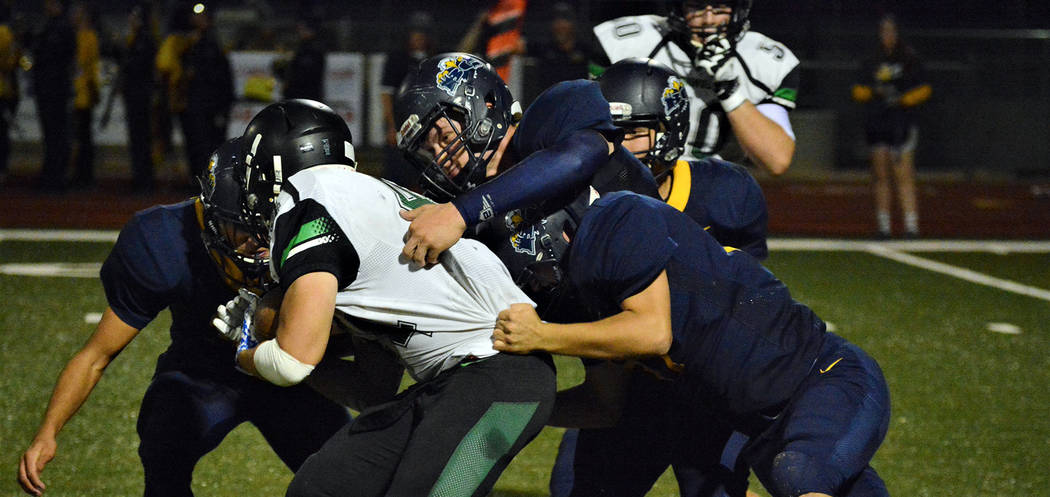 Orchestrating a come-from-behind victory, the Boulder City High School football team defeated rival Virgin Valley 27-20 during its first Thursday Night Lights appearance on Sept. 20.
It was the Eagles' (4-1) first victory over the Bulldogs since 2012.
"The guys showed a lot of fight and grit out there tonight," head coach Chris Morelli said. "That's what we've been trying to teach them all year. We're always gonna see teams with bigger, stronger and faster guys and we don't want them to back down from the challenge. Tonight they stepped up."
Trailing 13-6 at the half, the Eagles turned it up a notch in the second half behind a potent passing attack.
With leading rusher Thorsten Balmer held to only 77 yards on 16 carries, junior quarterback Parker Reynolds shouldered the load, bringing the Eagles within 20-19 early in the fourth quarter after a pair of passing touchdowns.
Finding sophomore Matt Morton for an 11-yard score midway through the third quarter, Reynolds connected with senior Jimmy Dunagan for a 17-yard score to start the fourth quarter.
Reynolds also rushed for a second-quarter touchdown, finishing the night 14-of-25 for 182 yards and two touchdowns, while Dunagan finished with four catches for 57 yards and a score and Morton finished with two catches for 25 yards and a score.
Sophomore Deavin Lopez caught two passes for 59 yards and sophomore Scott Bahde caught five passes for 25 yards.
"We knew their game plan was to stop the run and we had faith in the rest of the guys to step up," Morelli said. "When they were loading the box against Balmer, we knew we could count on guys like Lopez, Badhe and Morton to step up and they did. It's gonna make it tougher for teams to plan against us. If they want to key on one player, we have three or four other guys to go to."
Balmer finally broke the game open on the ground in the closing minutes, plunging his way for a game-winning 1-yard score to put the Eagles ahead for good.
"Coming from behind against a tough Virgin Valley team shows again that we are able to compete with the best," Balmer said. "The big win really shows our resilience as a team moving forward. Beating the No. 1 team in 3A has given us even more confidence moving forward in league play."
The Eagles travel to 4A Desert Oasis for a late-season tuneup before resuming league play as they look to make the postseason for the first time since 2014.
Contact Robert Vendettoli at BCRsports@gmail.com.
Upcoming games
Thursday, Sept. 27, at Desert Oasis, 4 p.m. freshmen
Friday, Sept. 28, at Desert Oasis, 7 p.m. varsity