Eagles score wins with late runs
Updated April 11, 2018 - 4:25 pm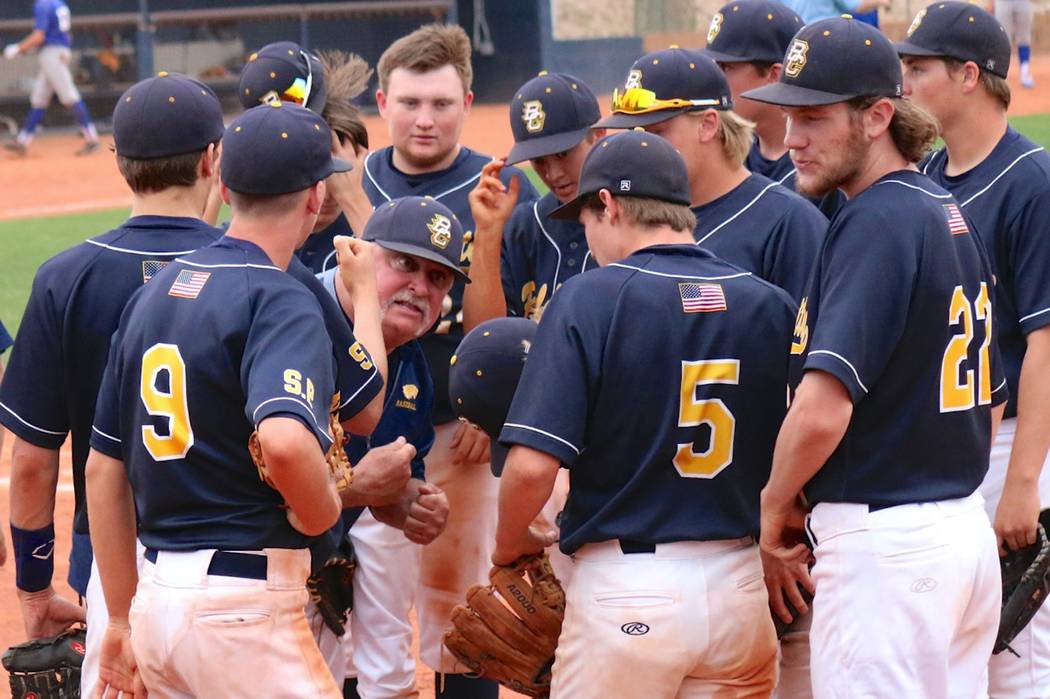 Playing championship caliber baseball, Boulder City High School baseball defeated rivals Virgin Valley on Monday and Moapa Valley on Friday, April 6, in dramatic fashion with a pair of walk-offs.
Starting 3A Sunrise League play undefeated, head coach Ed McCann said he is pleased with the way his ball club has been able to handle adversity and turn the season around.
"Honestly, these are two really big wins for us," McCann said. "Hats off to our guys for staying alive in both games and really believing in each other. The atmosphere in the dugout is what's really changed for us and it's made the game fun again. These guys never believe they're out of it; they're always fighting, always encouraging each other even when we're down. This is the reason why I took the job to begin with."
Senior Rhett Armstrong delivered the Eagles a 3-2 victory over the Bulldogs, driving in the game's winning run in the bottom of the seventh inning with a single to left field to score senior D.J. Reese.
"Stepping up to the plate, I just kept telling myself not to stress," Armstrong said. "I trust the bats behind me. I just wanted to put the ball in play hard and get on base any way possible."
Armstrong also threw a complete game on the mound for the Eagles, striking out 13 batters, while allowing six hits and two runs.
"Rhett was absolutely phenomenal for us today," McCann said. "He comes to play every day and wants to win. He's a confident kid and we have all the confidence in him. He's a special player, that's for sure."
Adding to the midseason drama for the Eagles, senior Chafton Temple played the role of hero Friday against Moapa Valley in the Eagles' 7-6 extra innings victory.
Down 6-5 heading into the bottom of the 10th inning, Temple doubled on a line drive to left field with two outs to score junior Jimmy Dunagan and freshman Joey Giunta.
"Unbelievable is the way the guys have played," McCann said. "They've really bought in as of late and realize now that everyone is going to give them their best, that there's a bulls eye on our back and we're everyone's state championship game. We really left it all out on the field this week and proved we have what it takes to be a great team."
Collecting 14 hits against Moapa Valley, Temple finished 3-for-5 with three runs batted in, while Armstrong and senior Teddy Lobkowicz each finished 2-for-4.
Senior Anthony Pacifico and Reese each finished 2-for-5 at the plate.
Picking up the win, Lobkowicz pitched the last four innings for the Eagles, striking out four batters, while allowing two runs on three hits.
Reese started the outing, throwing four innings, where he allowed four runs on six hits with three strikeouts. Coming in for relief, Armstrong threw two innings, where he allowed no hits with three strikeouts.
The Eagles will travel to 4A Sierra Vista on Monday and Chaparral on Tuesday.
Contact Robert Vendettoli at BCRsports@gmail.com.
Upcoming games
Monday, April 16, at Sierra Vista, 3:30 p.m. varsity; vs. Sierra Vista, 3:30 p.m. junior varsity
Tuesday, April 17, at Chaparral, 3:30 p.m. varsity; vs. Chaparral, 3:30 p.m. junior varsity