Eagles ready to put skills to test on football field
August 22, 2018 - 4:32 pm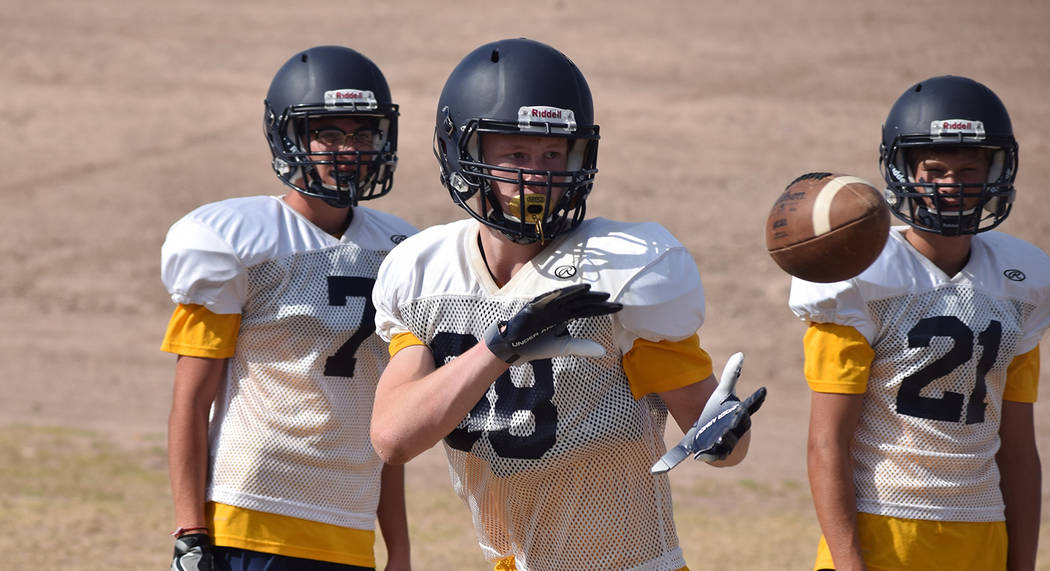 This could be the year Boulder City High School's football team returns to postseason play, according to head coach Chris Morelli. Its last appearance was in 2014.
"As a program, our goal since March has been to win football games and get back into the playoffs," Morelli said. "We plan to go out on the field and execute our game plan and be successful."
The team, which is rejoining the 3A division after a year off as an independent, will get a boost from talent coming back from last year's roster.
"We're really excited about returning a lot of starters on both sides of the ball," Morelli said. "They all played as underclassmen the past few years and gained some experience. Now it's their time to put everything they've learned together and go out there and win ballgames."
Leading the Eagles' charge on offense is senior running back Thorsten Balmer.
"Thorsten's not only a player that we rely on offensively, but his work ethic and leadership really sets the tone for our program," Morelli said. "Players see him out on the field by himself on Saturdays stretching and they want to go prepare with him. He's a player that does everything the right way. We expect big things from him."
Balmer has high expectations for himself, with his sights set on a 1,000-yard rushing season, after finishing last year with 836 rushing yards and 10 touchdowns on 116 carries.
"My expectations for myself are very high this year because I have put so much work and effort this offseason into becoming the best player I can be for my team," he said.
Senior Jimmy Dunagan (203 rushing yards, one touchdown) is another capable rusher on offense, while seniors Tristan Chavez (five catches, 42 yards, one touchdown) and Shaun Jones (two catches, 32 yards) will lead an inexperienced receiving core.
At 6 feet, 5 inches, Matt Morton leads a strong group of sophomores along with Trey Davis, Scott Bahde and Deavin Lopez that should help first-year junior quarterback Parker Reynolds in the passing attack.
"We have a lot of talented sophomores on this roster," Morelli said. "We wouldn't have brought them up if we didn't feel like they could contribute right away. We're excited to see how they all progress."
The Eagles will run a 4-2-5 defensive scheme, focused on getting pressure on the quarterback and making plays in the secondary.
"We feel like we're really athletic on defense this year," Morelli said. "Coach (Alex) Moore has done a great job coaching our guys up and now it's time to put pressure on some teams. We want to force teams to throw the ball, like they've done to us in the past."
Returning to anchor the defense will be Dunagan (50 tackles, one interception), Balmer (25 tackles), senior Travis Hungerford (10 tackles and three interceptions) and Ryan Vanario (15 tackles, four sacks).
The Eagles will host Cheyenne on Friday in their home opener.
Contact Robert Vendettoli at BCRsports@gmail.com.
Upcoming games
Thursday, Aug. 23, vs. Cheyenne, 4 p.m., freshmen
Friday, Aug. 24, vs. Cheyenne, 7 p.m., varsity