Eagles open season with win
November 28, 2018 - 4:04 pm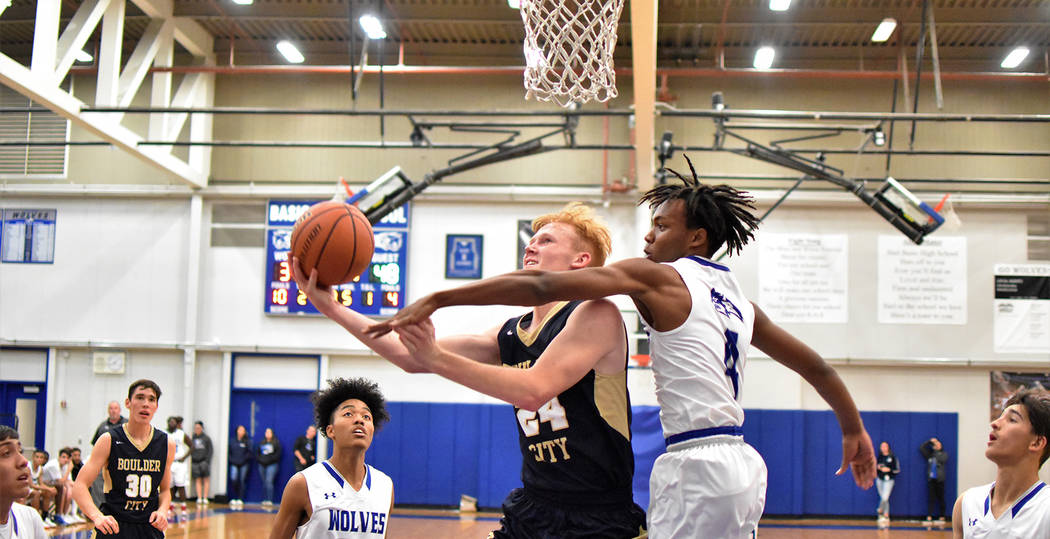 Boulder City High School boys basketball team opened its season Tuesday with a 50-39 road victory against 4A Basic, despite not playing up to its regular standards.
Heralded as one of the favorites in the 3A classification to compete for a state championship after a 20-7 record last season, head coach John Balistere knows there are issues for the boys to clean up but was positive knowing the Eagles walked away with a win.
"Anytime you can go on the road and get a win it's great," Balistere said. "I didn't think we played our best. We didn't do a very good job of taking care of the ball down the stretch. We didn't execute very well, but they kept playing, kept grinding. We have to work on our free throws, but this is a great win and a great start."
Despite their woes throughout the night, the Eagles found success by constantly attacking the paint against the Wolves, scoring a majority of their points on layups and put-back shot attempts.
"Our size is definitely an advantage," sophomore Matt Morton said. "We have a huge starting lineup and if we get the ball down low, it's creates a huge disadvantage for other teams."
Leading the way for the Eagles offensively, Morton scored a game-high 16 points, giving the Eagles a versatile 6-foot-6 wing who can finish inside the paint while running the floor to help create offensive flow. Averaging 5.2 points as a freshman reserve last season, a breakout season is expected of Morton and he delivered Tuesday.
"I thought he did a good job of being aggressive," Balistere said. "They're sophomores now with more experience. There's things that we'll get him and Ethan (Speaker) to do a little bit more. They bring so much to the group it's amazing."
Having a solid night as well, sophomore Ethan Speaker scored 5 points.
Controlling the game from the opening tip, the Eagles started with a 13-4 run before letting the Wolves ease closer at halftime 27-23.
Despite momentum on the Wolves' side heading into the half, the Eagles continued to step on the gas offensively in the third quarter with a 12-6 run, not allowing the prestige of their higher-classified opponent to steal the victory.
"I think sometimes we get caught up in who's 4A, 3A; if you're a good team, you can play in any league," Balistere said. "I think we're a good team. Any win is good. As long as we keep playing better, we'll be a really good team by the time league rolls around."
Senior Derrick Thomas added 12 points while senior Karson Bailey added 10 points.
The Eagles will have their hands full this weekend in the Lake Mead Holiday Classic. A highly competitive tournament, the Eagles will be tested early, starting with a contest tonight against The Meadows.
Contact Robert Vendettoli at BCRsports@gmail.com.
Upcoming games
Today-Saturday, Nov. 29-Dec. 1, Lake Mead Holiday Classic at Lake Mead Christian Academy, 540 E. Lake Mead Parkway
Monday, Dec. 3, at Bonanza, 6:30 p.m. varsity