Eagles look to three-peat state baseball championship
February 28, 2018 - 4:04 pm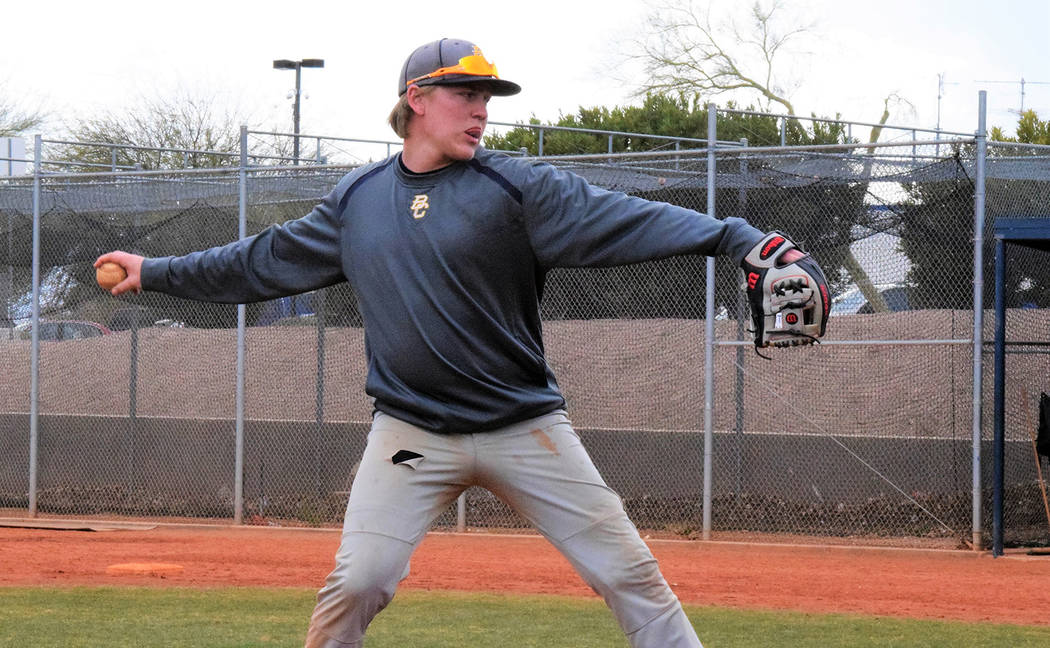 It's been nearly a decade since a team has three-peated in the 3A classification, but that hasn't prevented Boulder City High School baseball from setting its sights high this season.
The two-time defending 3A state champion Eagles are hopeful to match the success of rival Virgin Valley, which won three consecutive titles (2008-2010), behind a handful of returning starters and new guys ready to step up to the challenge.
"I'll tell you what, we have a lot of depth on this roster," head coach Ed McCann said. "We got a lot of returners at multiple positions, but these younger guys are hungry for playing time. Every job is open right now for the taking and no one is backing down from competition. This is only going to make us better."
The Eagles have a reliable arm to lean on in returning senior starting pitcher Rhett Armstrong after the graduation of Jake Hubel and Noah Higgins as they finalize the back end of their rotation.
The Eagles' No. 2 last season, Armstrong compiled an 8-2 record with 64 strikeouts and a 4.50 earned run average. Throwing 51.1 innings last season, Armstrong said he is excited about potentially being the Eagles' ace this season.
"I'm hoping I can come in and have an even better season than last year," Armstrong said. "I want to be the best I can to help our team."
Also returning to the Eagles' pitching staff are seniors D.J. Reese (31 innings, 1-3 record, 29 strikeouts), Nolan Herr (17 innings, 1-1 record, 11 strikeouts) and Teddy Lobkowicz (10.1 innings, 1-1 record, 12 strikeouts).
Seniors Anthony Pacifico and Chaseton Wagstaff remain wild cards due to lack of varsity experience pitching but are both expected to see innings on the mound.
"We have guys on our staff that can eat up innings," McCann said. "I'm working with the group and everyone is improving every day. We have the potential to be really good down the road."
While the pitching staff figures out the right rotation, the Eagles' batting order looks clearer with five key bats returning.
Leading the Eagles in both batting average and runs batted in last season, Reese (.430 BA, 34 RBIs, seven doubles, three triples) returns after a monster season at the plate.
Matched by Armstrong (.430 BA, 29 RBIs, 11 doubles, eight triples, two home runs) and Pacifico (.380 BA, 28 RBIs, five doubles, four triples), the Eagles should have no problem spotting their starting pitchers' run support.
"Honestly, it takes so much pressure off of your shoulders when the team is scoring runs behind you," Armstrong said. "When those bats are going, it allows you to relax and focus on your game."
Lobkowicz (.344 BA, 20 RBIs, four doubles) and junior Shaun Jones (.306 BA, 16 RBIs, six doubles) also return to the lineup, while junior Jimmy Dunagan, is expected to contribute at catcher this year after being called up to varsity late last season.
No stranger to stiff competition to start the season, the Eagles will make their routine trip to the Bengal Varsity Tournament starting March 8 where they face 4A programs Faith Lutheran, Legacy and Shadow Ridge.
Contact Robert Vendettoli at BCRsports@gmail.com.
Upcoming games
Thursday-Saturday, March 8-10, Bengal Varsity Tournament