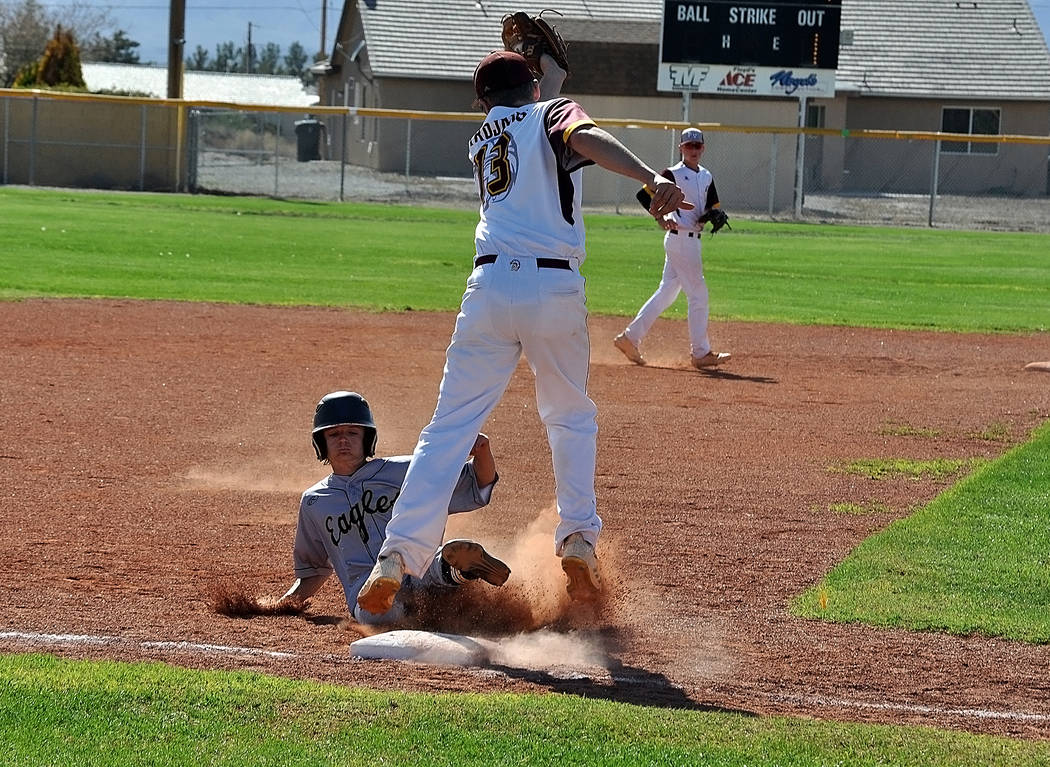 Experiencing mixed emotions Tuesday in their game against rival Pahrump Valley, Boulder City High School's baseball team ended with an 11-11 tie because of time restrictions.
Playing until the bottom of the eighth inning, the game was called because there are no field lights on Pahrump Valley's field, leaving the Eagles with a case of what ifs for their bus ride home.
"Obviously a tie is better than a loss, but we really wanted to beat these guys," head coach Ed McCann said. "The way we were playing early on, we should of run ruled these guys. Our bats are getting hot at the right time. We looked really solid."
Cruising 10-1 heading into the bottom of the fifth inning, the Eagles were on their way to a mercy rule victory behind three runs batted in from senior Rhett Armstrong (3-for-6) and two RBIs from freshman Troy Connell (1-for-2).
Starting the game for the Eagles, Armstrong was solid, throwing 4 2/3 innings, before allowing two runs in the bottom of the fifth to bring the score 10-3. Senior D.J. Reese came in to close out the fifth inning, before allowing a run in the bottom of the sixth inning.
Closing out the sixth inning 11-4, junior Shaun Jones brought junior Travis Hungerford home on a triple to right field in the top of the sixth inning before the momentum shifted in favor of the Trojans in the seventh inning.
Jones finished the day 2-for-4 with an RBI, while senior Anthony Pacifico finished 2-for-4 with a fourth-inning RBI single.
"We had the game won heading down the final stretch and we practically handed it to them," McCann said. "Today, our pitchers just weren't on their stuff. This is baseball, it happens."
Senior Nolan Herr allowed three runs, while senior Teddy Lobkowicz allowed four runs to push the game into extra innings at 11-11.
Closing out the eighth inning, Freshman Joey Giunta struck out the final two Trojan batters to stop the bleeding for the Eagles, before the game was called. In all, Giunta pitched 1 2/3 innings to finish with three strikeouts and two hits.
"I was very impressed with the way Joey pitched today," McCann said. "He came in, in a tough spot and ended the seventh for us and then put them away in the eighth. I have a good feeling about this kid."
The Eagles will host Sunrise Mountain today, before starting league play on Friday at home against McCann's former team Moapa Valley on Friday. The Eagles will host rival Virgin Valley on Monday.
Contact Robert Vendettoli at BCRsports@gmail.com.
Upcoming games
Today, April 5, vs. Sunrise Mountain, 3:30 p.m. varsity; at Sunrise Mountain, 3:30 p.m. junior varsity
Friday, April 6, vs. Moapa Valley, 3:30 p.m. varsity; at Moapa Valley, 3:30 p.m. junior varsity
Monday, April 9, vs. Virgin Valley, 3:30 p.m. varsity; at Virgin Valley, 3:30 p.m. junior varsity
Wednesday, April 11, at Southeast Career Technical Academy, 3:30 p.m. varsity; vs. Southeast Career Technical Academy, 3:30 p.m. junior varsity