Eagles jockey for positions: BCHS to host Saturday scrimmage as team gears up for season
August 16, 2017 - 2:54 pm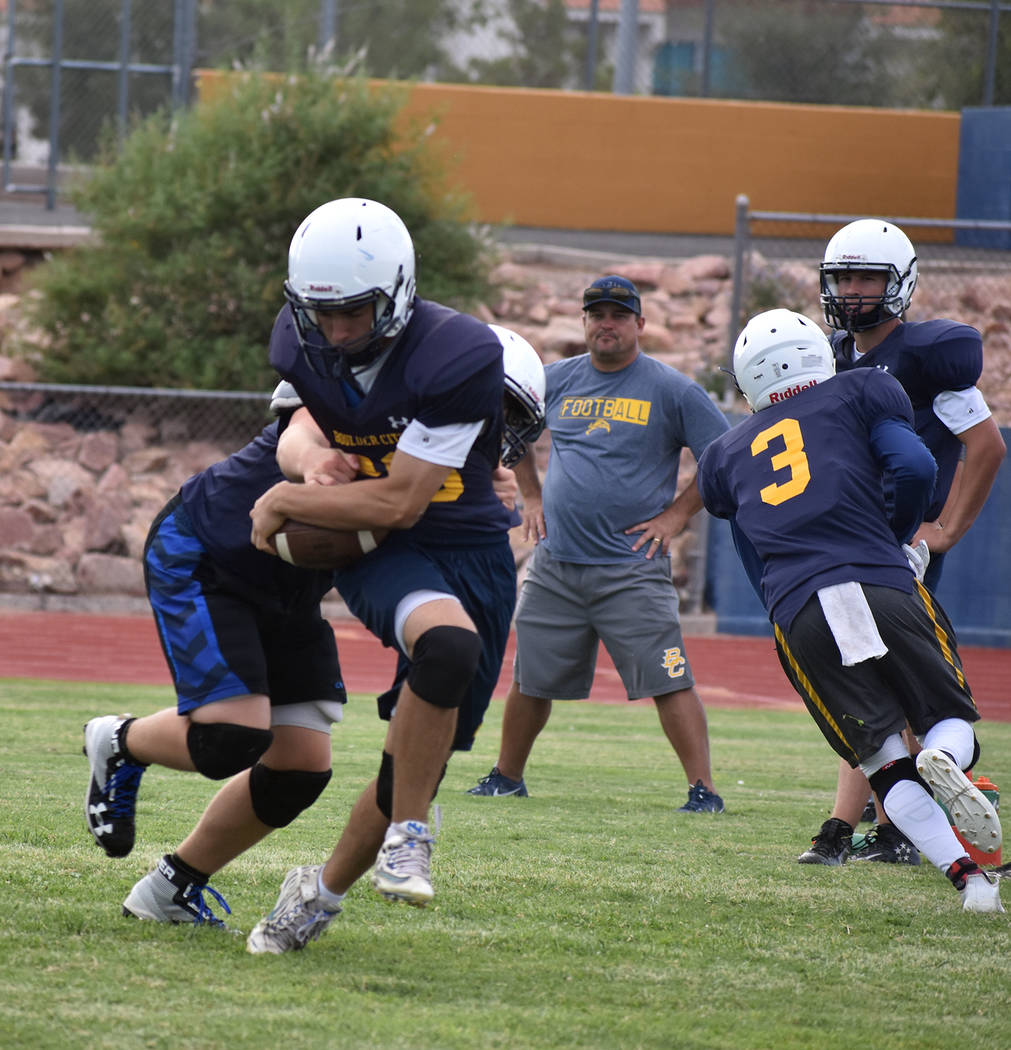 Battling throughout the summer to sort out the depth chart, Boulder City High School's football program will hold a blue vs. gold scrimmage on Saturday, Aug. 19,. Head coach Chris Morelli said the scrimmage would be the last opportunity players have to win starting jobs heading into week one as they prepare for their home opener against 4A program Clark High School on Friday, Aug 25.
"We've had a great number of practices to kind of sort things out at each position," Morelli said. "Saturday will be about players keeping their starting spots or earning them. We expect a highly competitive scrimmage."
Excited to get back onto the field and compete in full pads, returning senior offensive star Zach Trone said he's eager to get the season underway.
"I'm excited to start the season and play again," Trone said. "Our team has been practicing all summer and we're ready to get back out there."
Replacing key depth will be a challenge for this year's Eagle team, but following the conclusion of summer practice, Morelli said he feels confident behind his returning starters and new varsity players.
"We lost a few key guys from last year, but I'm excited about this year's core," Morelli said. "We've had a great set of summer practices and now we're ready to showcase to our town what we hope to be a winning program. A program that is taking that next step in rebuilding and hopefully getting back to our old glory days."
Opening their scrimmage to the public, Morelli said he is hopeful to see the continued support the team has received throughout years past. Hoping to give their fans a taste of what to expect this season, Morelli anticipates nearly a full house.
"The fan support our community has given us throughout my first two seasons has been incredible," Morelli said. "Our team wouldn't be able to thrive throughout our rebuilding process without it. Playing in front of our supportive fans — win or lose — is something we take pride in. We're hopeful it continues this season."
Mixing in the freshman team with the varsity, Morelli said the program as a whole will be on display Saturday, noting that it will be good to get his younger players some in-game experience before the season starts.
"As excited as we are about our current varsity team, we know our future lays with our freshman program," Morelli said. "Being able to have a freshman team this season I feel is the most important step in our rebuilding process. We get to teach these kids the fundamentals of football instead of throwing them to the wolves on the junior varsity level like in years past. I'm excited to see what this group can showcase on Saturday."
More than just a football scrimmage, Saturday will serve as a meet and greet where the community can interact with this year's team and coaching staff.
"I'll always say or biggest asset is the community that stands behind us," Morelli said. "I'm excited and I know our players are excited to see and interact with everyone. We're ready to get to work and hopefully bring more wins this season."
Saturday's scrimmage will be held at 8:30 a.m., with the team's meet and great afterwards.
Contact Robert Vendettoli at BCRsports@gmail.com.
Upcoming games
Aug. 24, vs. Clark, 6:30 p.m. junior varsity
Aug. 25, vs. Clark, 7 p.m. varsity