Eagles hold Sky Pointe scoreless
September 26, 2018 - 4:27 pm
Updated September 28, 2018 - 11:58 am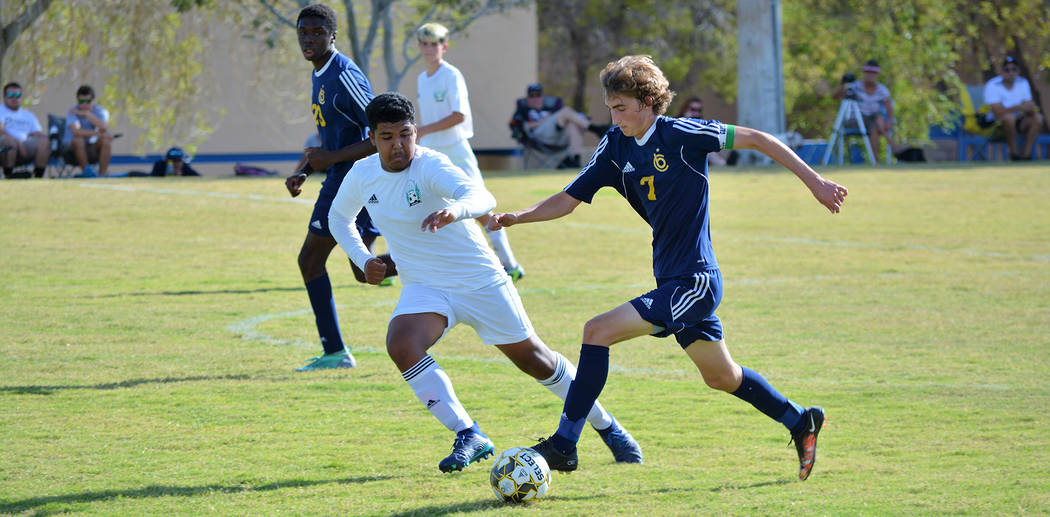 The Boulder City High School boys soccer team rolled to its third consecutive victory of the season by holding off visiting Sky Pointe 1-0 on Monday.
The teams were scoreless for the majority of the game, but junior Dayton Smith handed the Eagles (4-3) the victory with a second-half goal off an assist from junior Adam Ramonov.
"The most important thing is the team is starting to play as a team," head coach Chad Smith said. "I see a lot of the guys creating a bond on the field, which is allowing them to connect up the ball a lot better than they have in the past."
Smith, who scored his first goal of the season, is one of nine players who have scored at least one goal for the Eagles this season.
"We have a multitude of players who can take shots on the goal," Smith said. "Our ability to work together has really become a strong point for the team. We struggled early in the season, but now we're starting to see the fruits of our labor."
Junior Benson Deml and sophomore Adam Leavitt lead the team with four goals apiece, while sophomore Julian Balmer has scored three goals.
Ramonov, seniors Christian Long, Tre Hershey and Caden Mendiola and juniors Moah Dent and Mason Hood have all scored one goal each.
Balmer has also assisted on five goals this season, while Ramonov has three assists.
"The stats show that we're very well-rounded and that no single player decides whether we win or lose," Balmer said. "It's a great way to play, and I think it helps the team work even harder when driving the ball up the field. If someone isn't playing well, the entire team comes together to fill that void."
Already holding a pair of 3A Sunrise League wins, the Eagles are off to their best start since 2012, their most recent postseason appearance.
Winning three league games each of the past two seasons, the Eagles have proven to be a more complete ball club this year. Coach Smith said he is confident in this year's group, with its experienced core, continuing to put forth a winning effort.
"They have a desire to make the playoffs," he said. "They want to prove that they are the team they deserve to be. This fuels the team to be great."
The Eagles will travel to 3A juggernaut Sunrise Mountain on Tuesday, Oct. 2, to see where they stack up among the top teams in the classification.
Contact Robert Vendettoli at BCRsports@gmail.com.
Upcoming games
Tuesday, Oct. 2, at Sunrise Mountain, 3 p.m. varsity, 4:30 p.m. junior varsity