Eagles hold on for 57-52 victory over Pahrump
January 10, 2018 - 3:44 pm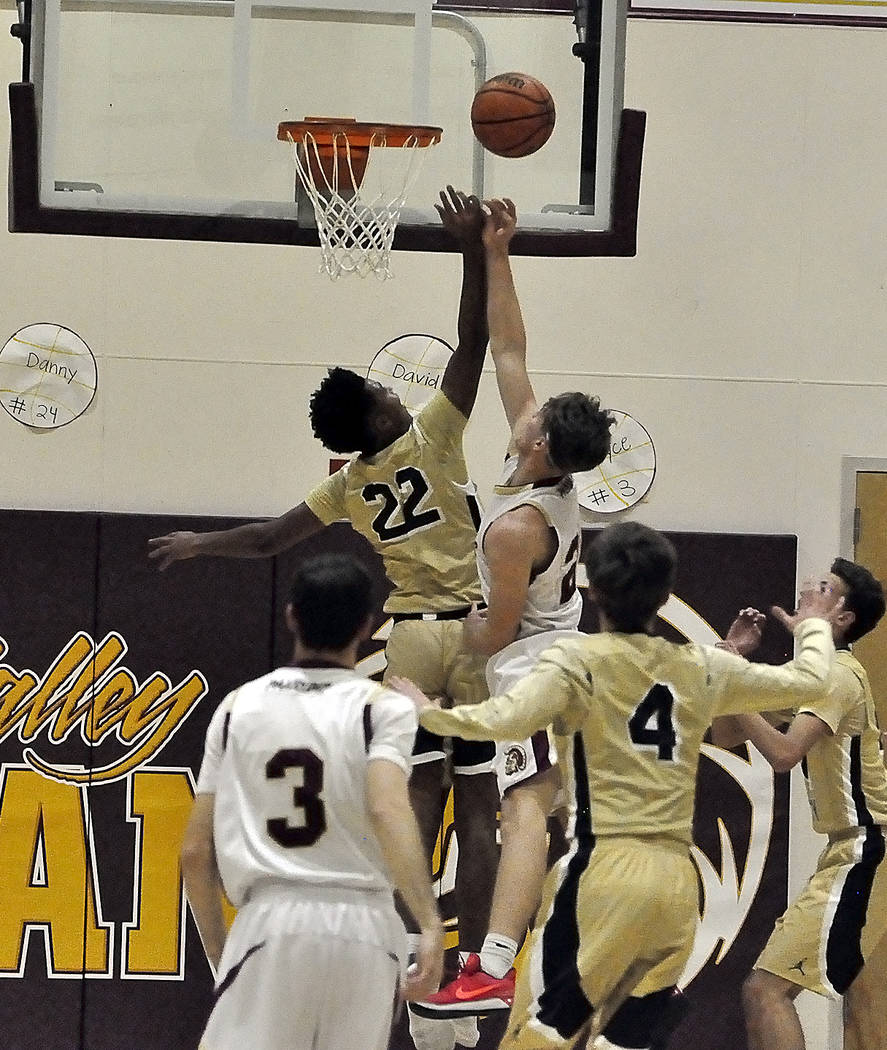 Boulder City High School boys basketball found themselves in a funk Monday, Jan. 8, against Pahrump Valley, but found a way to hold on late with a resilient 57-52 victory.
"I thought we came out a little flat," head coach John Balistere said. "We let them keep the game close for the majority of the night, but we stepped up more in the second half and closed it out. The resiliency of this team is something special. They expect to win and find ways to win, even when we're not playing our best."
In what turned out to be a sloppy outing in their first game back from the holiday break, the Eagles settled for too many jump shots early that didn't fall, while missing 14 free-throw attempts, finishing 24-of-38 from the charity stripe.
"We were definitely off tonight, shooting wise," Balistere said. "Early on I thought we settled for too many jumpers that usually go in for us, but just weren't falling. We did a better job attacking the rim later in the game, but still have to do a better job with our free-throw percentage if we want to win games against tough teams."
Finding his way to the basket routinely throughout the second half, junior forward Derrick Thomas poured in a game-high 22 points with a majority of his points coming off fast break layups and free-throw opportunities.
"Derrick really helps the dynamic of our offense," said senior guard Carson Balistere. "We know that when none of us are hitting our jump shots, we get him involved and he'll get us a quick bucket or two."
Finding a way to stay productive despite off shooting nights, Carson Balistere and junior forward Karson Bailey each added 7 points, while senior forward Clayton Pendleton added 8 points in a must-win game for the Eagles.
"We definitely wanted to come out of the break with some momentum heading into league play," John Balistere said. "Give all the credit to Pahrump, they came out and played us tough and gave us a really good game. I really think experiencing this our first game back will help set the tone for the rest of our season."
Looking to stay competitive in the 3A Sunrise League and end a three-year postseason drought, the Eagles will head to Moapa Valley on Friday, before hosting Del Sol on Tuesday.
Results from Wednesday's contest against Southeast Career Technical Academy will appear in next week's issue.
Contact Robert Vendettoli at BCRsports@gmail.com.
Upcoming games
Friday, Jan. 12, at Moapa, 5 p.m. junior varsity, 6:30 p.m. varsity
Tuesday, Jan. 16, vs. Del Sol, 5 p.m. junior varsity; 6:30 p.m. varsity