Eagles head to title run undefeated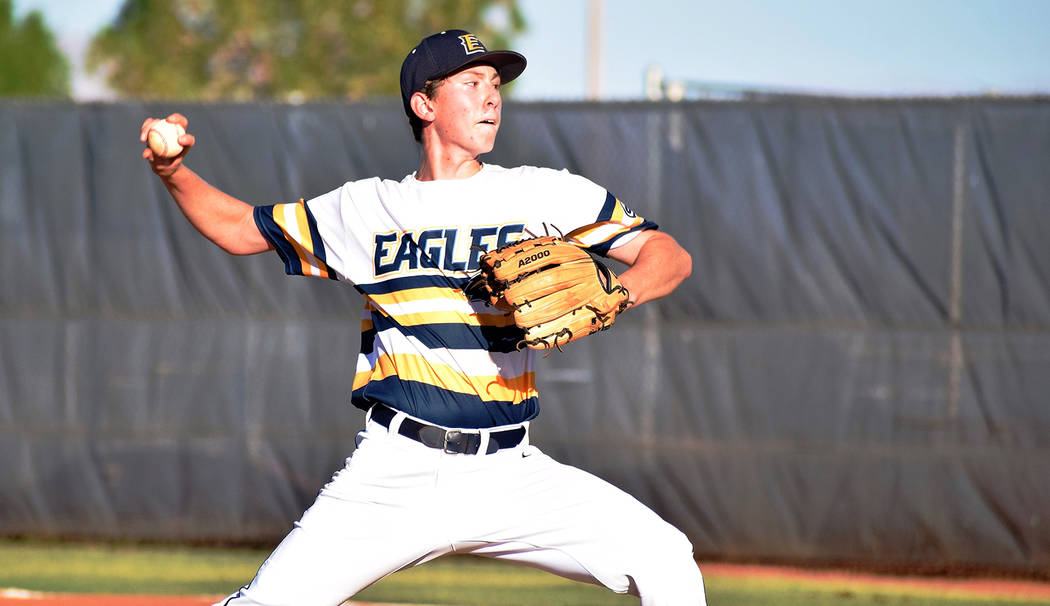 Concluding the regular season undefeated with a 17-0 record, the Southern Nevada Eagles 16U are ready to capture a state title in the Nevada Connie Mack summer baseball league.
Their first test is the No. 8 seed 4A Las Vegas High School affiliate LV Cats at 8 tonight at Faith Lutheran.
"The season probably went as well as it could have," said head coach Steve Connell. "Playing 17 games in basically seven weeks is a grind. Luckily, we avoided any serious injuries, and our arms are still fresh. I feel like we peaked in the sixth week, but the boys are still playing well and will work hard this week. I'm confident they will bring their best on Thursday."
Featuring the state's top team, the Eagles are backed by a five-man-deep pitching rotation and a batting lineup that can run rule an opponent at any time.
"Our team is really deep," Joey Giunta said. "We have a really solid pitching staff that we're confident in. We know each time someone steps on the mound, they're going to go out there and do a great job. It really takes pressure off our bats and allows us to swing comfortably. Even when we're having a bad day, we know someone is going to come through with runs."
Giunta pitched a season-high 28 innings while striking out 34 batters and won four games. Clark Newby also won four games with 23 strikeouts, while Troy Connell won three games with 32 strikeouts. Blaze Trumble and Scott Bahde each won two games for the Eagles.
Routinely run ruling their opponents, the Eagles scored in double digits in 13 games this season.
A disciplined and explosive lineup, the Eagles have found the right balance of putting runners on base and driving them home.
Giunta leads the Eagles with a .489 batting average and has batted in 17 runs. Troy Connell (.474 BA, 26 RBIs), Newby (.440 BA, 20 RBIs) and Trumble (.356 BA, 23 RBIs) have all carried big sticks this summer.
Ian Mills (.435 BA, 17 RBIs) and Deavin Lopez (.400 BA, 10 RBIs) also had strong seasons.
Coming into the double-elimination state tournament at Faith Lutheran July 19-24, the Eagles are confident about their chances of taking home the title, but they remain focused, hoping not to overlook any oncoming challengers.
"We will likely see every team's top pitcher, but we have basically experienced this all season anyway," Steve Connell said. "We certainly won't look past any team, because we know that even the seventh and eighth seeds beat the top seeds during the regular season. The tournament is double elimination, but expect us to play every game like it's our last to stay in the winners' bracket."
14U
Missing a majority of their starters, the Southern Nevada Eagles 14U dropped their regular-season finale to Palo Verde affiliate Panthers Green 25-3 on Friday, July 13.
"We came into that game missing half our team and a number of starters," head coach Matt Kilar said. "I decided to allow the boys to choose where they wanted to play and bat. It had been a long week for our 10 guys that played in Little League, so we were out of pitching as well."
Trailing from the opening pitch, the Eagles amassed only five hits versus the Panthers' 19, but Kilar called the outing a good opportunity after getting to rest some players and allow others a chance to get on the field.
"Friday was a good opportunity to allow players playing time who hadn't played much," Kilar said. "We also got to rest some guys for All Stars this week."
Highlighting the Eagles' efforts, Ben Schafler (2-for-3) and Connor Solberg (1-for-2) each tallied an RBI. Ryan Brzozowski generated a sacrifice RBI, while Caleb Brown and Hunter Moore each finished 1-for-2 at the plate.
Fulfilling Little League state championship obligations, the Eagles have decided to skip the Connie Mack state tournament.