Eagles golfers take second in state tourney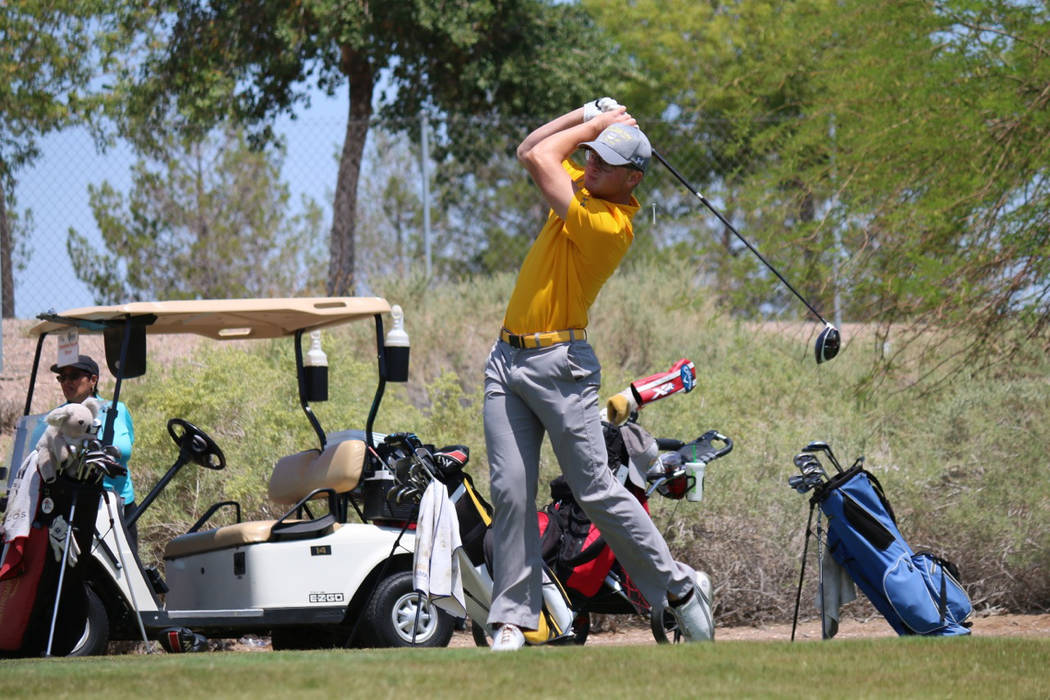 Proving to be the top high school golf program in Southern Nevada, Boulder City finished as the 3A state champion runner-up on Tuesday, falling behind only Northern Nevada competitor Spring Creek, which played on its home course.
Finishing with an overall team score of 869, the Eagles fell just short of the Spartans 815, earning their first second-place state championship meet finish since 2007.
"I'm very proud of the boys and the way they played," head coach Andy Schaper said. "Spring Creek was a tight, tough golf course with difficult greens. The first day we struggled with the greens and the elevation we were playing against. The boys battle through it though and came out with great scores."
The Eagles shot a team score of 446 on day one, placing them fourth overall behind Northern challengers Spring Creek, Churchill County and Lowry. Coming on strong the second day with a collective score of 423, the Eagles shot more than 20 strokes better than Churchill Country and Lowry, falling just six stroke short of Spring Creek for the daily victory.
"After getting more familiar with the course on day two, the boys really put together a solid round," Schaper said. "It was a great team effort to come back and finish as the runner-up in the state championship."
Ending his prep career in style for the Eagles, senior Kyler Atkinson finished tied for second with Pahrump Valley's Austen Ancell with a score of 154, trailing only Daniel Mahlke of Spring Creek. Finishing day one in fourth place with a score of 79 on the par-71 course, Atkinson, like a majority of his teammates, picked it up the second day and shot a 75, tying with Mahlke as the top scorer.
Finishing in eighth place, junior Jackson Wright showed no pressure being Atkinson's heir apparent, shooting an overall score of 164. Shooting 83 on day one, Jackson upped his performance on day two with an 81 on the back nine.
Seniors Cade Neilson and Samu Jancuk finished 13th and 16th, respectively. Providing the team with quality outings, Neilson shot a 177, scoring 88 and 89 in each round, while Jancuk shot a 180, scoring 91 and 89.
Sophomore Kevin Phelps and freshman Dustin Landerman finished 28th and 29th out of 38 placings.
Despite shooting 207 for the meet, Phelps' performance on day two was crucial for the Eagles' second-place finish. After shooting 118 on day one, the sophomore regained his composure and shot a respectable 89, which tied for the ninth best score.
"We spent some time on the range Tuesday morning and figured some things out," Schaper said. "It was great to see Kevin shake off a bad day and come back strong. His second day score played a big role for us."
Staying consistent in his first state meet, Landerman shot a 209 over the two-day stretch, shooting 105 and 104.
Contact Robert Vendettoli at BCRsports@gmail.com.