Eagles get back on track with win
October 5, 2023 - 9:35 pm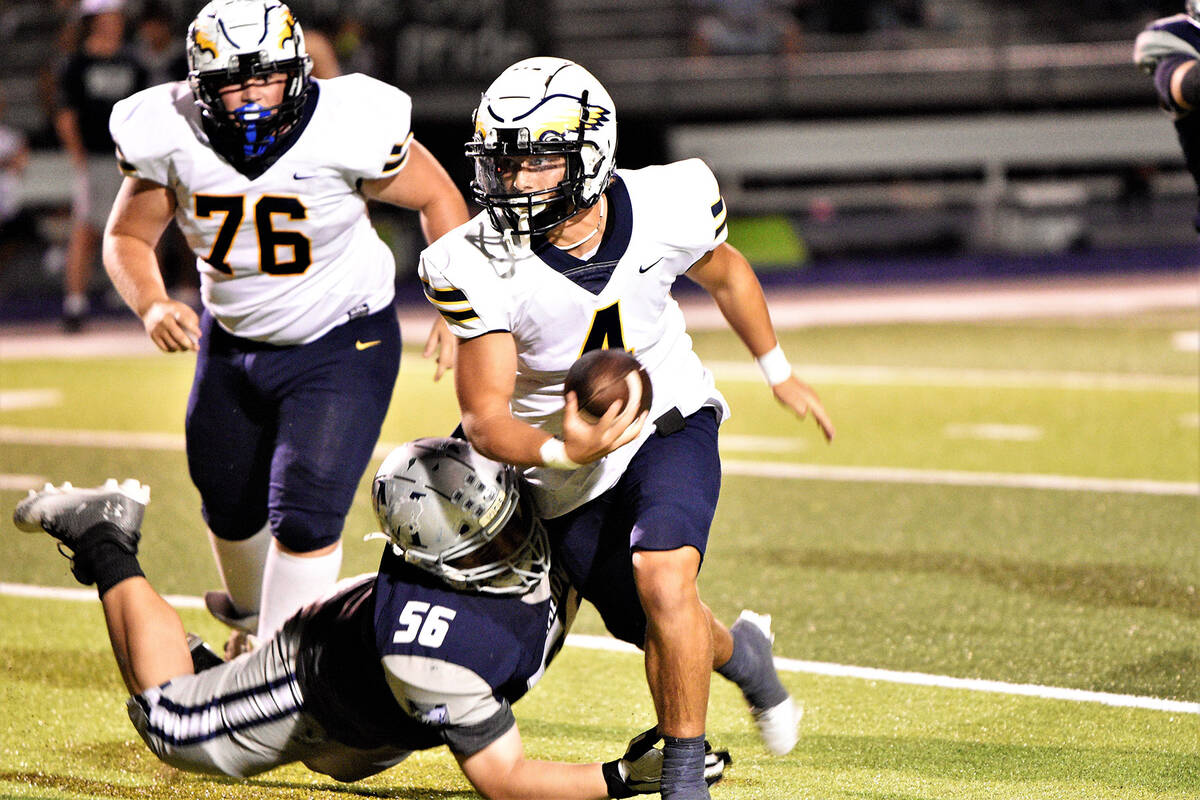 Rebounding from their first loss of the season, Boulder City High School football picked up a monumental 28-14 road victory at rival Virgin Valley on Sept. 29.
This was the Eagles' second consecutive victory over the Bulldogs, winning last season 8-6.
"It was a huge win for the program," head coach Bubba Mariani said. "It felt like a must-win game, there was a lot of pressure on everyone. We didn't play our best the week before but the kids handled the adversity and came out against Virgin Valley and wanted it. They kept their composure and even when we were down, never stopped fighting."
Putting the game away late with a 14-point fourth-quarter effort, junior quarterback Gage Hopkinson led the charge, completing 14 of 21, passing for 210 yards and a touchdown, while rushing for 36 yards and a pair of scores on 12 attempts.
"Gage played great," Mariani said. "The one thing with him is he never wavers. He's always cool, calm and collected and sees everything that's going on out on the field. He has such an understanding of our offensive that he regularly comes to us and tells us what he sees and a lot of the times he's right. We routinely gain yards because of the things he's noticing."
In a rhythm through the air with senior Brady Sorenson, the duo connected for 164 yards and a score on eight catches.
Senior Chase Jappe added a touchdown run for the Eagles while junior Easton Welbourne caught four passes for 32 yards.
"We're tough to beat when our offense is clicking," Mariani said. "We have multiple guys who can beat you and it really keeps defenses guessing."
Making key plays defensively, senior Charlie Stewart led the way with 12 tackles, while junior Sam Bonar recorded five tackles with three sacks.
Currently 4-1 on the season, the Eagles will host Democracy Prep on Friday, with playoff implications on the line.
"Every game the rest of the season is important," Mariani said. "We preached to the kids after the Virgin game that this is the attitude and demeanor we need out of them. If we go out there every week like we did against them, we'll be very tough to beat."
Contact Robert Vendettoli at BCRsports@gmail.com.