Eagles gain independency; new status gives program time to rebuild
January 20, 2017 - 5:34 pm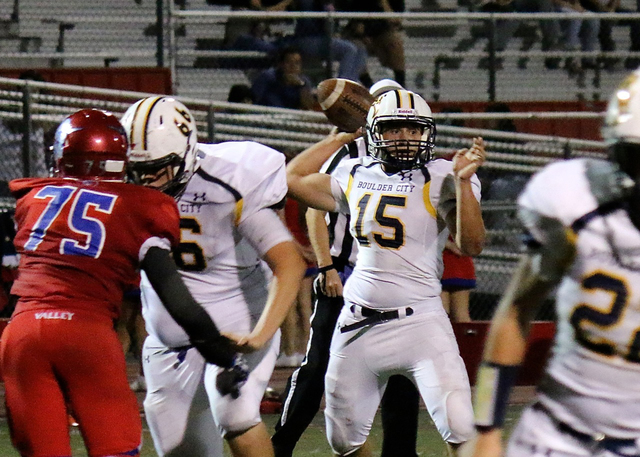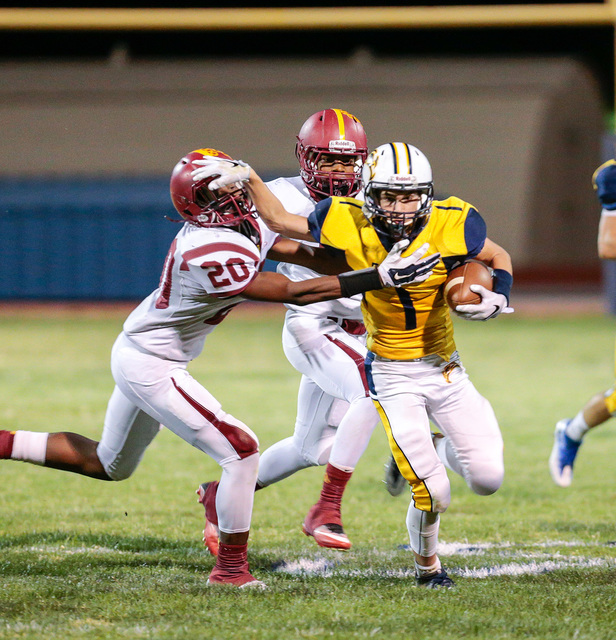 Boulder City High School's request to receive independent status for its football program was granted Thursday by the Nevada Interscholastic Activities Association at its winter meeting in Reno at the Silver Legacy Resort Casino.
Looking to preserve the once-prominent football program, head coach Chris Morelli said the move toward independence was vital after the program had fallen on hard times the past two seasons.
"I couldn't be happier with the outcome," said Morelli, who will be entering his third season atop the program. "This is the first step toward rebuilding our program and sustaining success. Our independent schedule gives us a chance to start playing the teams that we played in years past. We're just looking to level the playing field."
Playoff participants the three seasons prior to Morelli's arrival in 2015, the Eagles have finished 1-8 the past two seasons largely because of a realignment by the NIAA that pushed several larger 4A programs into the team's division.
"We're not looking for any special treatment," Morelli said. "We just want to play schools with identical class sizes. When the NIAA pushed several 4A teams down into our division, they did so to help rebuild their programs. Now we need help rebuilding ours."
Looking only to rebuild and not take advantage of the smaller schools, the football program has stayed modest with its schedule for next season, scheduling 3A rivals and powerhouses Moapa Valley and Virgin Valley along with 4A program Valley. The Eagles will always face 3A program Pahrump Valley and Western next season, along with 2A programs Lake Mead and Needles. The school is waiting on confirmation from 4A program Rancho and 2A program The Meadows.
"We're not looking for a cakewalk schedule. We just want a schedule where we can compete," Morelli said. "Football's a tough sport both mentally and physically. To just schedule 2A teams would be doing a disservice to our athletes."
Along with the possibility of carving out an extra victory or two, the Eagles are hopeful that with their new friendly schedule featuring opponents from schools of identical size, they also will see an increase in turnout.
"I'm hopeful our move for independence has an outcome on participation," said Alex Moore, who is the school's athletic director as well as the Eagles' defensive coordinator. "There have been injury concerns with parents the past few years, given the schedule we play. The past two seasons, we've played varsity teams that double our roster size, putting us at a disadvantage. Hopefully this is a step toward getting more players on the field."
With a new schedule and new outlook for a program that has won 11 state championships, the last coming in 1991, current players are excited for the change as well.
"I know a lot of people are going to be happy about this opportunity," said junior Zach Trone, who will be one of the team's returning leaders next season. "I'm going to miss the fact that there was always a chance we could play for a state championship, but at the end of the day I just love playing for this school and team, and I can't wait for the season to start."
While the new realignment for the Eagles gives them several advantages toward retooling, postseason play will not be in their future under independent status. While it's a tough pill to swallow for most, special teams coordinator Josh Fisher said it was a small price to pay for future stability.
"Having been in the program now for eight years and seeing all the changes with league realignments, this will be a positive step forward for our athletes," Fisher said. "Right now it's not about playing for state championships; it has to be about building the program with sustainable numbers. At the end of the day, what we do is for the kids. This will definitely benefit the kids and should allow us to begin to turn the program around so that the athletes, their peers and our community will be proud of our teams' efforts in re-establishing BCHS football winning traditions."
Adding in his excitement for the move and the possibility of fielding three complete teams (varsity, junior varsity and freshman), Morelli said he's hopeful this next season is the rebirth of how football is played in our town.
"Our goal is to field three teams and provide a positive yet competitive atmosphere for these student-athletes," Morelli said. "We would like to to see a bigger turnout from our incoming freshman class and would like them to play freshman teams only. They are the foundation of this program."
Contact Robert Vendettoli at BCRsports@gmail.com.