Eagles football team takes control over Pahrump
September 12, 2018 - 2:58 pm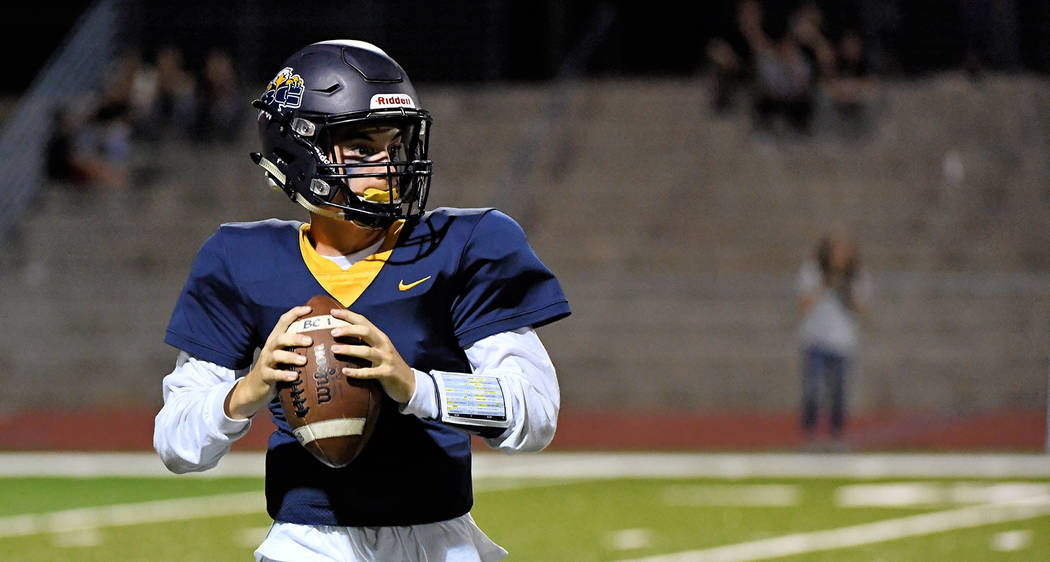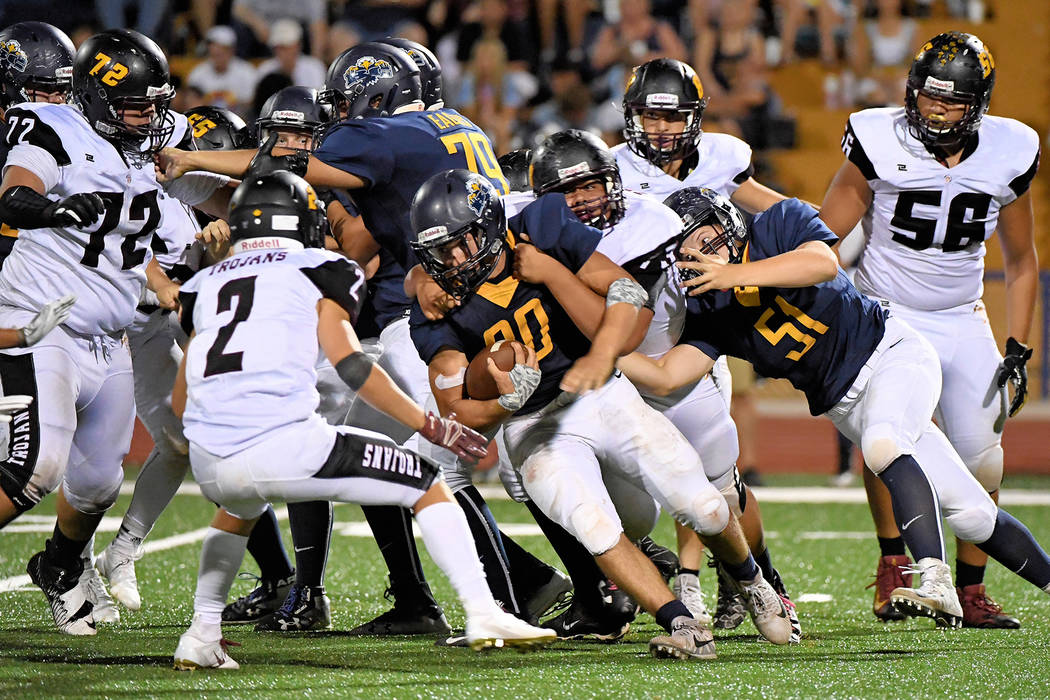 Boulder City High School's football team is officially on a winning streak after defeating Pahrump Valley 32-28 on Friday.
"I thought the team played great against Pahrump Valley," head coach Chris Morelli said. "They ran this offense the way it should be ran, the way we know they're capable of. We executed on all levels."
Taking control of the game from the opening snap, the Eagles jumped out to a 14-0 lead before sacrificing a pair of touchdowns.
Junior quarterback Parker Reynolds was on point from the get-go in his third start from under center, linking up with seniors Jimmy Dunagan and Thorsten Balmer for touchdown strikes.
"I thought Parker did a phenomenal job back there for us," Morelli said. "He put a couple of balls in tough places that we were really surprised about. He had a lot of touch on his passes and was a big factor in why were able to extend drives."
Reynolds went 12-of-20 on the night for 162 yards and two touchdowns, helping the Eagles convert nine of their 14 third-down conversions.
Reynolds also rushed for 28 yards and a pair of touchdowns, including a game-sealing 1-yard plunge to put the Eagles ahead with just over seven minutes remaining.
Dunagan caught four passes for 64 yards and a 7-yard touchdown, while senior Shaun Jones caught four passes for 50 yards.
Turning in another dominant performance on the ground for the Eagles, Balmer capped off his second consecutive 200-yard rushing week, totaling 211 yards and a touchdown on 29 carries, while catching his lone 14-yard touchdown reception.
"The one thing we always talk about as coaches is our offensive line does a good job blocking for Thorsten, but it's the yards he gets after contact that is special," Morelli said. "It's really tough for opposing defenders to bring a kid as big and strong as him down when he's at full steam. When he gets to the second level of coverage, he's capable of creating a big play at any time."
The Eagles' defense proved to be crippling, helping Boulder City outgain Pahrump Valley 393-263 yards in total offense.
Making a difference on both sides of the ball, Dunagan led the Eagles with 13 tackles, while Balmer made four tackles and an interception. Senior Samuel Chapel made six tackles, while Jones had five tackles.
The Eagles look to match last season's win total of three when they face Western on Friday at their homecoming game.
"Coming off two wins a row has the whole team very excited for homecoming and the rest of the season," Balmer said. "We just need to stay focused on the game and not let any distractions homecoming may bring get to us."
Contact Robert Vendettoli at BCRsports@gmail.com.
Upcoming games
Friday, Sept. 14, vs. Western, 7 p.m. varsity (homecoming)