Eagles football team ready for action
August 23, 2017 - 2:20 pm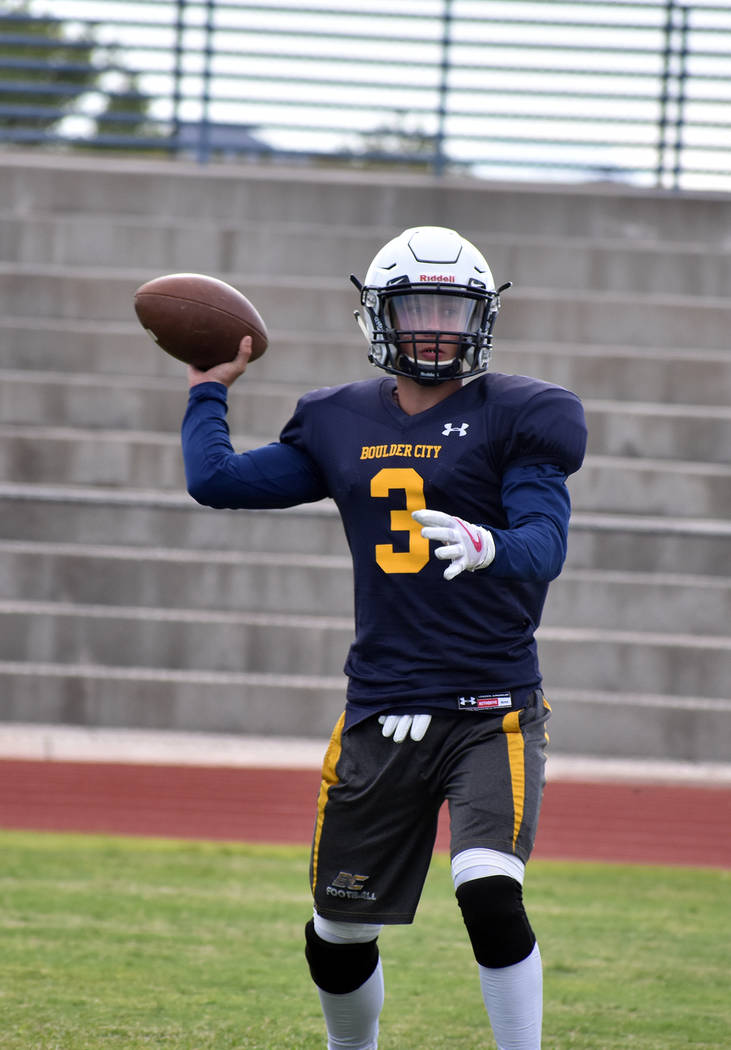 Boulder City High School football coach Chris Morelli is hopeful his now veteran junior core can lead the Eagles through their next rebuilding phase after players were forced into action as inexperienced sophomores.
"The past few seasons have been about rebuilding the program for the long haul," Morelli said. "Last year we did that by throwing a lot of our sophomores to the wolves early, even though they may not have been ready. They suffered through growing pains, adjusting to the speed of the game, but the game reps and experience they gained was more valuable to us than anything. We expect a lot out of this group now that they're upperclassmen."
Featured throughout every layer of the team's depth chart, the junior core of Thorston Balmer, Jimmy Dunagan, Travis Hungerford, Shaun Jones, Michael Kaposta and Ryan Vanario is expected to help guide the Eagles back to their glory days of the early decade.
"Every one of our returning sophomores are hard workers, guys who lead by example," Morelli said. "It's a really special group that we're excited to see grow. Their imprints will be on our success as we continue to move in the right direction with our rebuilding process."
Jones will take over quarterback duties for the team's new spread offense, giving the Eagles not only a capable passer, but runner when plays break down.
"We're really excited to get him under center and see where he can help take us," Morelli said. "Shaun's a big strong kid, athletic. He knows how to run the offense, the way we expect it. We're hopeful he gets comfortable in his role this season."
Throwing just one pass last season, Jones brought excitement against Del Sol despite a 39-7 loss, connecting with current senior Briggs Huxford for a 42-yard gain. Confident in his abilities now given the chance to compete regularly at the position, Jones is hopeful to bring excitement throughout the season.
"Taking over as the starter, I really feel confident that I can help lead this offense," Jones said. "Playing with Briggs and Zach (Trone), we've developed chemistry, we know each other's tendencies. Being familiar with them is going to help me out a lot and help me get more comfortable playing the position."
Returning an experience receiving stable, Huxford led all Eagles with 17 catches for 212 yards and a touchdown last season, while Trone caught 10 passes for 152 yards and a touchdown.
Hungerford caught nine passes for 75 yards.
Just as experienced in the backfield, Balmer (50 carries, 257 yards) and Vanario (21 carries, 83 yards) return after getting their feet wet, while Dunagan should also see multiple snaps after an impressive summer.
"Our running backs have really been getting after it this summer," Morelli said. "Whether it's in the weight room or on the field, they've shown they want to work and get touches. We're looking forward to seeing that hunger throughout the season."
Kaposta and senior Cole Smyth will anchor the Eagles' offensive line.
While the talent is certainly there with this year's team, depth like it has in recent seasons will be the Eagles' main concern. Fielding just 26 players this season, multiple players will be forced to play both ways again this season.
"Depth is always a concern, but we're used to it here," Morelli said. "We're gonna have a few kids playing a lot of minutes, rarely coming off the field but we have confidence in them. These guys are our best athletes for a reason."
Trone, who has been converted to an athletic defensive end this season, is expected to start on defense while Balmer and Dunagan look to lead the Eagles in tackles at the linebacker position.
In the secondary, Jones will return to defensive back after catching an interception last season.
Playing an independent schedule this season, the Eagles will host 4A opponent Clark at 7 p.m. Friday.
"We've all been counting down the days until our first game against Clark," Trone said. "I think we're ready to compete. I can't wait to play in front of a crowd so they can finally see how much work we've been putting in to get better."
Contact Robert Vendettoli at BCRsports@gmail.com.
Upcoming games
Today, Aug. 24, vs. Clark, 6:30 p.m. junior varsity
Friday, Aug. 25, vs. Clark, 7 p.m. varsity