Eagles' football team gears up for new season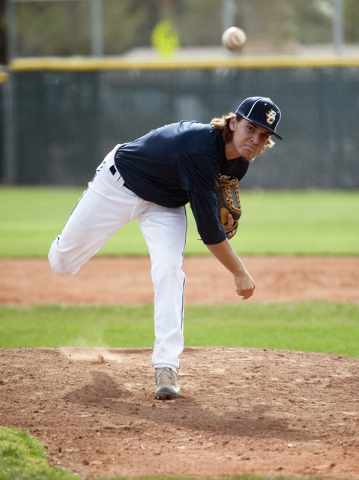 Year Two for Boulder City High School football coach Chris Morelli will begin Wednesday with the Eagles' first organized practice.
"Words can't express how excited I am for a new season," said Morelli, who's also guided the girls flag football program to a pair of consecutive state championships. "Honestly I've been waiting for this day since last season ended. I can't wait to get back to work."
Kicking off with a series of heat acclimation practices, Morelli said the team will start its summer camp series with a four-day introduction period before it moves toward noncontact practices with pads.
Cleared to go full contact on Aug. 11, the Eagles will participate in two-a-day full-pads practices, with the goal of stepping away from last season's dismal start and into a new direction.
"It's a new year for us," Morelli said. "Last year we came in and kind of threw everyone into the fire a little bit with our new schemes. With a few returners coming back and more time to get everyone adjusted, we're hopeful to see better results."
Coming off a 1-8 campaign during his first year as the team's coach, Morelli said he is looking forward most to his offensive players looking comfortable with their system in the coming practices, translating to better performances on the field.
"Last year the offense never looked comfortable," Morelli said. "We're hopeful that will change this season. It's a hard offense to grasp, with it being a college-style system, but when it's executed properly, it can be highly effective."
Giving you an in-depth look into the Eagles' progress this summer, a camp confidential series will begin Aug. 11, where we'll breakdown key position battles and the direction the team is heading before the season begins.
Tryouts set for
baseball program
For all Eagles baseball players looking to gain more exposure from collegiate coaches this fall, Amateur Baseball Development is the program to become involved with.
After successfully helping class of 2016 Eagle starters Peyton Koopman (College of Southern Nevada) and Steve Wagner (Western Oregon) land collegiate homes, the staff at Amateur Baseball Development is looking to construct its next roster of future college stars with tryouts for the program at 6 p.m. Aug. 16 at the College of Southern Nevada, 700 College Drive, Henderson.
After playing last season with Koopman and Wagner, senior starter Jake Hubel will make his return to Morse Stadium for another opportunity to play for an organization he calls vital for those eyeing the collegiate level.
"Players who dream of playing at the next level need to try out for Amateur Baseball Development," Hubel said. "Playing for this team really opened my eyes to the recruiting process. The best reason I would say to try out for ABD is because it's the best way to get yourself seen by college coaches and even an occasional Major League scout."
Founded by Bryan Maloney, an assistant coach at College of Southern Nevada and part-time scout for the Chicago White Sox, Amateur Baseball Development is a must-attend for serious baseball players looking to gain exposure outside of Nevada.
"Our team last fall went to a showcase in Peoria, Arizona, and there were so many scouts going from field to field watching players on their radars," Hubel said. "Playing for club teams in the off season really helps get yourself noticed by college coaches."
Tryouts for its upper and underclass scout team will be Aug. 16 with a $25 camp fee. Its 14 and under tryouts will be Aug. 28 at the Henderson campus.
Tryout registration can be completed on its website www.eteamz.com/nevada/.
Contact Robert Vendettoli at BCRsports@gmail.com.