Eagles football team falls to Pahrump 35-6
September 14, 2016 - 1:28 pm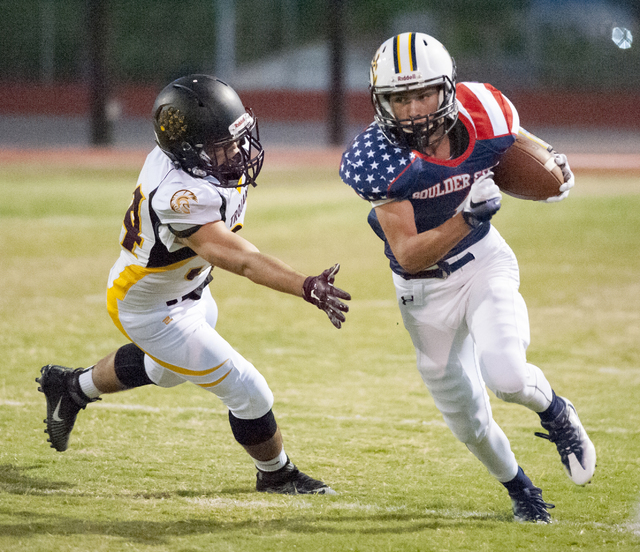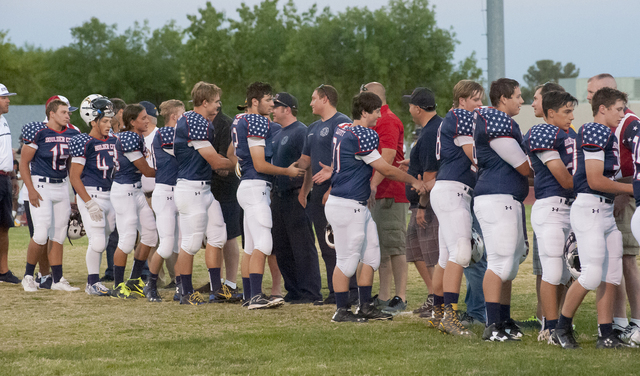 Boulder City High School's 35-6 loss to Pahrump Valley in Friday night football didn't reflect the team's true progress, head coach Chris Morelli said.
Focusing on consistency, Boulder City has been getting better one quarter at a time, showing that the plan to turn the program into a winner is a work in progress.
"I'm actually very proud of how the boys played on Friday," Morelli said. "We gave up a few big plays here and there, where we blew our assignments, but overall I think we did a nice job sticking to our game plan. This game is only going to help us get better and further our rebuilding process."
The Eagles kept Friday's game mostly close; they trailed the Trojans 14-6 midway through the third quarter, following a senior Aaron Walker 1-yard touchdown plunge.
"We stayed with them for a little while as opposed to last year when we might have just given up in the first half," Morelli said. "This is certainly a new group, (with) a tougher group mentally that wants to give it their all. We played solid football for nearly three quarters; hopefully next time we can make it four."
Letting the wheels fall off their hopeful upset bid soon after, the Eagles let Pahrump Valley running back Case Murphy score on a 2-yard run late in the third quarter. The Trojan senior, playing defense, then started the fourth quarter with a 55-yard fumble recovery that was returned for a touchdown.
"We preach protecting the ball," Morelli said. "Turnovers at that point can't happen throughout the game when we're close. Not only are they drive killers, but they're momentum killers."
Pahrump Valley running back Jesse Dillon scored just minutes later on a 23-yard touchdown run to put the game out of reach.
The Eagles limited the Trojans to only 207 yards of rushing on 43 carries. Yielding just fewer than five yards per rushing attempt, the Eagles' defense, minus a few broken plays, did its job against Pahrump Valley. "Obviously, we have to work on limiting the run every time we're up against it," Morelli said. "A few blown assignments can really break a game open like it did. We're getting better though, more consistent. If we can just limit our mistakes, the outcome in future games can potentially be different."
On offense, sophomore running back Thorston Balmer justified his early varsity call-up for the second straight week. He rushed for a game-high 79 yards on 12 carries, averaging 6.58 yards per carry. His dynamic 49-yard dash electrified the home crowd.
"Thorston is a player we feel very confident about," Morelli said. "We felt confident about his ability to contribute at this level, which is why he's here. So far he hasn't disappointed."
Senior quarterback Taylor Hatchel completed 5-of-9 passes against the Trojans for 36 yards, twice hitting junior Briggs Huxford for 23 yards.
This Friday, the Eagles travel to 4A program Valley. Morelli said he hopes his team continues to put solid stretches of football together, no matter who the opponent is.
"We don't really worry about the classification of our opponents," Morelli said. "We have 3A teams in our division that should be 4A. Everyone we face is tough.
"What we concern ourselves with is executing our game plan, playing our hardest. We've shown stretches where we can do both very well. We need to continue that and have another positive outing."
Contact Robert Vendettoli at BCRsports@gmail.com.
Upcoming Games
■ Today: at Valley, 6:30 p.m. junior varsity
■ Friday: at Valley, 7 p.m. varsity