Eagles football team earns moral victory against league champs
October 26, 2016 - 2:40 pm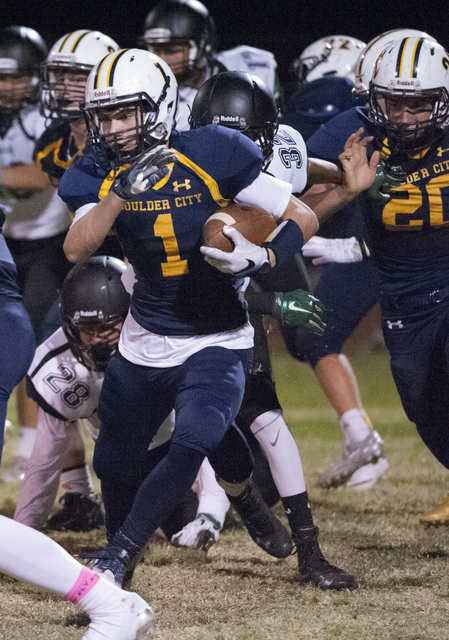 Friday's 25-13 loss to Virgin Valley might have been another sign of disappointment on paper for the Boulder City High School football program, which dropped to 1-8 in its season finale, but following their respectable outing with the 3A Sunrise League champion Bulldogs, it's easy to put this loss in the moral victory category.
"I thought those guys out their played their butts off," head coach Chris Morelli said. "To have the league champions come into your house and keep it close was a wonderful feeling. At times we had them on the ropes and we just couldn't capitalize. To be in a position to do that though against this ball club means we played great."
Playing great would be an understatement Friday night for the lowly Eagles, who forced four turnovers against the 8-1 Bulldogs while stuffing one of the league's top offense routinely throughout the night.
"Obviously we would have liked to end our careers as Eagles with a victory," said senior Michael Martinelli, who has been a member of the varsity program since his sophomore season. "Tonight's game though, even with a loss is just as special, because of the heart we all gave out there. That's a really good team we faced, but we kept it respectable because we wanted it. We went after it all night, not just the seniors, but our juniors and sophomores as well. It's an emotional night, but one we should be able to keep our heads held high."
Giving it their best efforts in front of a nearly sold-out crowd, the Eagles held the Bulldogs to 272 yards of total offense, while holding lead rusher Jayden Perkins to just 92 yards and a touchdown on 20 carries. Opportunistic on defense as well, senior Michael Woodard and sophomores Jimmy Dunagan and Gino Carroll all scooped up fumbles, while sophomore Travis Hungerford forced Virgin Valley quarterback Cade Anderson into an interception.
"Our defense had their best game of the season tonight," Morelli said. "They finally came alive and played like they should have all season. We're excited though especially for our junior and sophomore contributors to have played this game and see how things are supposed to be done. We have a long ways to go, but we're already looking for this momentum to carry into next season."
Sophomores Thortson Balmer (14 tackles and one sack), Dunagan (10 tackles) and Hungerford (seven tackles) led the Eagles' charge.
The defense wasn't the only unit to step up for the Eagles. Senior quarterback Taylor Hatchel churned out the type of performance that many had hoped he would when he transferred from Legacy Christian Academy in Texas. Completing 10-of-17, Hatchel was the Eagles' driving force on offense, totaling 117 yards, including a fourth-quarter, 47-yard touchdown to junior receiver Zach Trone. Catching a quick 10-yard pattern, Trone made a move to the inside before turning up field for what could be the Eagles' highlight of the season.
"Zach made a great move," Hatchel said. "I threw it up where I knew only he could get it and he made the rest happen. To end my senior year with a touchdown, there's no better feeling."
Trone ended the night with his lone 47-yard touchdown reception, while Hungerford contributed on offense as well with four catches for 31 yards. Senior Dillon Viera hauled in two catches for 20 yards and rushed for 32 yards on six carries, while junior Briggs Huxford caught three passes for 19 yards.
With a majority of the roster's eyes on next season, 13 seniors played their last game under the Friday night lights. Emotional about his final outing with teammates he called his family, Martinelli offered a few last words for his Eagle brothers.
"Being an Eagle has meant everything to me," Martinelli said. "This has been a huge part of my life since I was in sixth grade, when I first met these guys and my coaches. It's tough to think that I'll never be out on this field again with them. We had a lot of great experiences, ones I wouldn't change for anything. I'm proud of what we created together."
Contact Robert Vendettoli at BCRsports@gmail.com.