Eagles' football season opens Friday
August 24, 2016 - 1:46 pm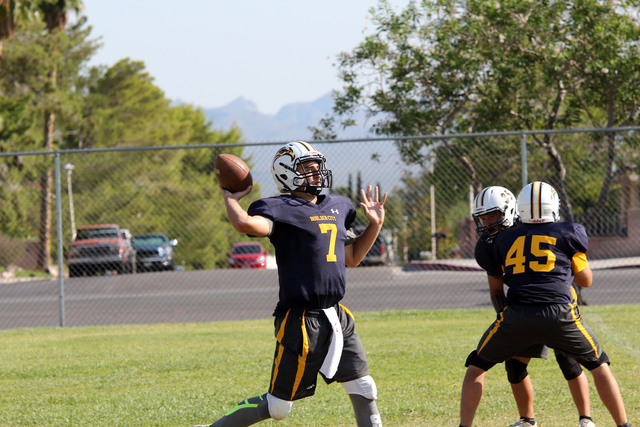 Year Two of Chris Morelli's tenure at the helm of Boulder City High School's football program will begin at home Friday against Spring Mountain, with the head coach hoping for a better outcome than last season.
"I honestly can't tell you how excited me and the boys are to finally start the season this Friday," Morelli said. "We're all very fired up for this moment. I believe the kids are ready to take the field and they're looking for a vengeance this season. Everybody's hoping to redeem themselves from last year, especially our seniors, who have the taste of last year still in their mouths and want to go out on a high note."
Looking to carry the weight of that sentiment will be senior varsity newcomer Taylor Hatchel, who is due for a big season at the quarterback position after transferring from Legacy Christian Academy in Frisco, Texas. Strong armed and mobile, Morelli sounded very excited when talking about his new signal caller, who has committed early to Division II program Minnesota Crookston, along with senior center Chase Cowley.
"He's a really big kid," Morelli said. "Very athletic, very gifted as a passer. We expect him to be a dual-threat quarterback for us this fall and help us win. We're looking for big plays out of him and the offense."
Set to help Hatchel on offense will be a solid rushing by committee attack, headlined by senior Aaron Walker and sophomores Jimmy Dunagan and Thorsten Balmer, who should all see an equal amount of carries Friday against the Miners.
"We believe the key for us being successful is to have fresh legs at all times," Morelli said. "With so many of our players playing both ways due to lack of numbers, getting rest at the running back position will be key for us on both sides of the ball and hopefully lead to solid production."
Receiver by committee will also be the approach come Friday night, with Morelli excited about the youth at the position headlined by junior Briggs Huxford and sophomore Travis Hungerford, along with senior Cade Braden.
"We're hoping for a versatile pass-catching group," Morelli said. "We're looking to stretch the field more and hopefully run our offense at a faster pace than last year."
Rounding out the offense will be senior Craig Kelso and sophomore Mike Kaposta, who will anchor the left side, along with center Cowley and offensive guard Aaron Kehoe.
On a youthful defense, Morelli and his staff are putting more of an emphasis on tackling and toughness this season after suffering mixed results through Year One.
"We need everyone to come out and play hard ever game," Morelli said. "We need to be fundamental sound. We've been preaching technique and toughness all summer. I'm confident in this group's ability to deliver solid efforts in both categories."
Scattered with potential difference makers, Morelli noted that Balmer and Dunagan have the look early on of two key contributors at the linebacker positions.
"We brought both of them up for a reason," Morelli said. "We're looking for toughness, a sense of attitude at the position. Someone to just go get the ball and make a play. We're very confident in both of their abilities to execute the game plan."
Hoping for a deep secondary as well, Huxford looks to be the Eagles' top corner back this season, while Hatchel could make an impact at safety.
With all the excitement surrounding Friday's varsity game, which begins at 7 p.m. at home, Morelli is equally enthused to see the outcome of today's junior varsity contest, which begins at 6 p.m., with his eyes firmly placed on a few potential roster calls up during the season.
"We have a few kids down at the lower level that could be with us as early as midseason," Morelli said. "We're excited about our junior varsity program and the future of Eagles football."
Contact Robert Vendettoli at BCRsports@gmail.com.