Eagles football players get serious
August 10, 2016 - 2:16 pm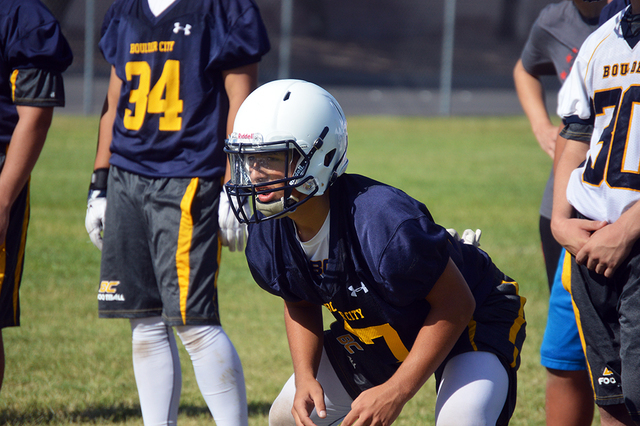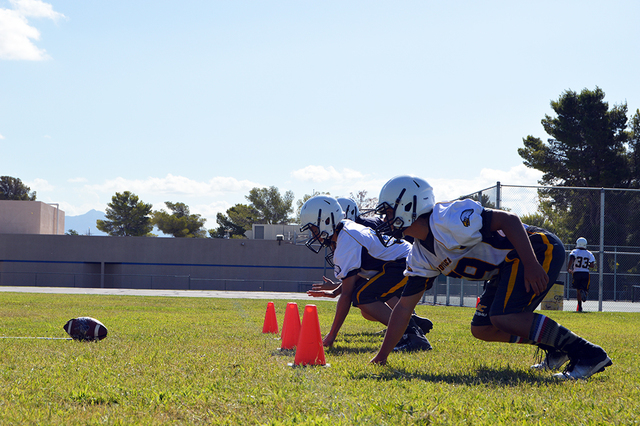 Practicing with pads for the first time this summer today, Boulder City High School football coach Chris Morelli said the course of the next week will determine how the Eagles' 2016 campaign will play out.
"Right now we're at ground zero as a program," Morelli said. "I've told the boys that there's no depth chart yet, that everyone is equal until we see what they can do in pads. We've had a few players look good individually during heat the acclimation process, but until we know who can hit and get hit, it all means nothing."
Excited to finally get their two-a-day practices underway, one in the morning and one at night, Morelli noted that not only was the Eagles heat acclimation process necessary, but also a successful.
"I thought the guys really handled the process well," Morelli said. "We had one cool day out here, but the rest were definitely the type of weather we're used to out here. Everyone stayed hydrated and showed that they're capable of playing downs in these conditions. I couldn't ask for more at this point."
Noting that the offense ran smoother during the first week of practice this year than last, Morelli said he is hopeful the progress the unit is making is not derailed when pads and full contact come into the mix.
"I expect us to be a lot better on offense this season, not only because of the few returners we have on the varsity level, but because everyone at camp this summer should already be familiar with it by now," Morelli said. "We've been running our scheme all summer long and it's looked improved on a weekly basis. We'll see how well we gel though when pads come into the mix because it's an entirely different game when those are added into the mix."
While the offensive players, at least in modest spurts, seem to be getting acclimated to Morelli's fast-paced offense, he noted that he's hopeful to see a better display of toughness once the boys head into two-a-day practices.
"It all starts with tackling, just wanting to hit," Morelli said. "Again, this week will tell who we are as a team and how the year is going to play out. Our returners and even are younger guys know what happened last year and don't want to go through it again. Showing toughness will help push us toward a new direction."
Optimistic with what seems to be a slightly easier schedule this season and the early emergence of a few newcomers, Morelli feels better days for the program could be on the horizon.
"We have over a dozen returners coming back and there's a few younger players who have already stepped up and tried to provide the team with leadership," Morelli said. "With conference realignment hitting our division, we have an opportunity to be competitive this year. That's all we can ask of our boys."
Contact Robert Vendettoli at BCRsports@gmail.com.