Eagles football players gear up for new season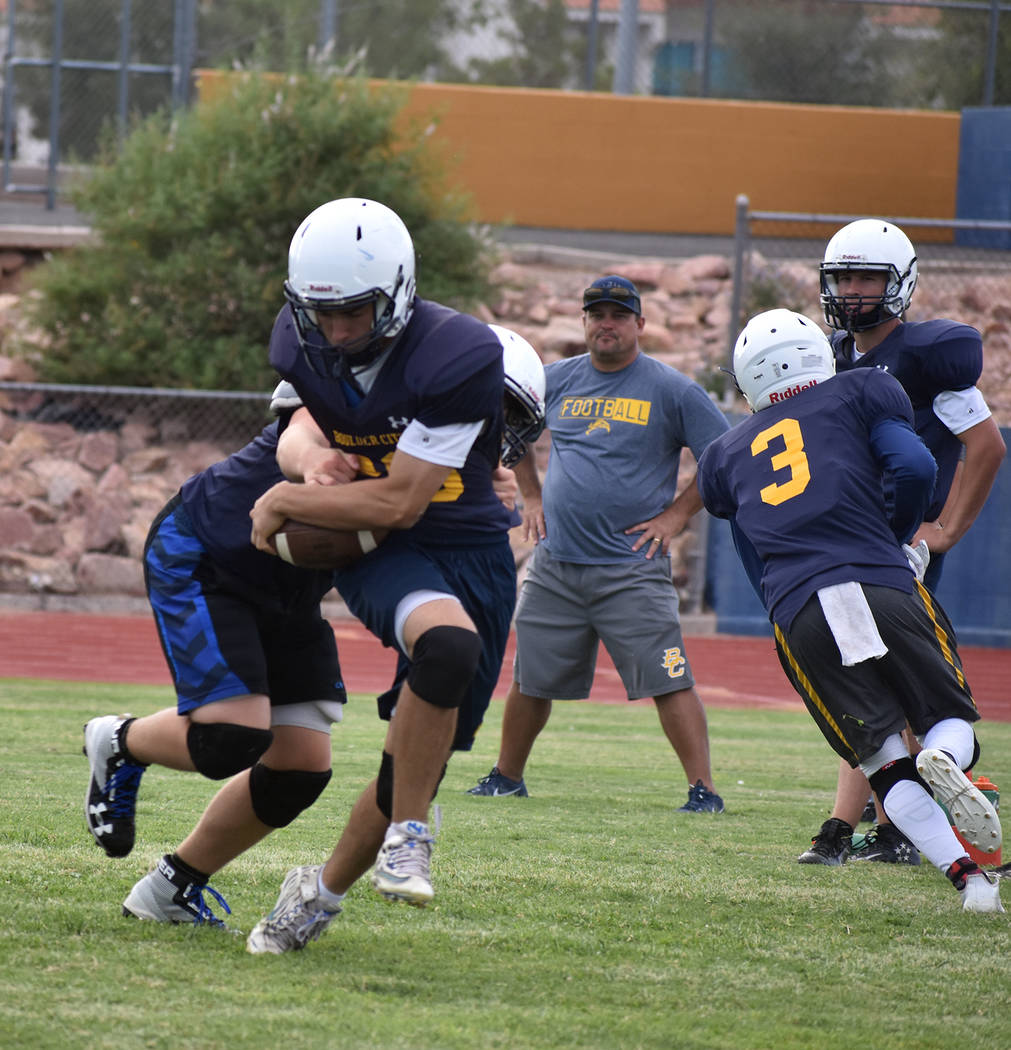 Boulder City High School's football players will start their official summer practices Wednesday, bringing with them enthusiasm to start the new season.
"Words can't even describe how excited I am for football to begin," senior Thorsten Balmer said. "I'm ready to go all-out for my final year."
Eagles head coach Chris Morelli shares Balmer's excitement.
"The guys has been working hard since June, and we're finally ready to go out there and compete," he said.
Players have been hitting the weight room throughout June and July, driving participation numbers have been the best of Morelli's tenure, a sign that the Eagles' year as an independent program has paid dividends.
Morelli said he's pleased with the commitment level he has received this summer as his coaching staff continues to mold the program's culture into a sustainable model.
"The seniors have done a really good job of getting everyone up to speed and being leaders on the field and in the weight room," he said. "They've shown our younger guys the ropes."
Morelli introduced a faster pace of play this offseason in hopes of taking advantage of the Eagles' key players.
The Eagles will use the first week of August practices preparing to play at game speed in the Nevada heat.
"We're hoping to get these guys up to speed and used to playing at a faster pace," Morelli said. "We have a lot of conditioning drills that should get them prepared for the start of the season. We're all just happy to be back out on the field and working."
Following heat acclimation, the Eagles will receive their helmets Aug. 6 and participate in full-contact workouts starting Aug. 10.
"I think that our summer workouts went extremely well," Balmer said. "I'm looking forward to finally putting pads on and fine-tuning our game.
Our summer workouts will surely benefit the team.
I believe we all became better and stronger football players because of the work we put in."
Prepping for team physicals before they take the field Wednesday, Aug. 1, all football players and those wishing to join the program need to report to the gym at 5 p.m. Tuesday, July 31, for a physical.
Athletic packets are $40 and can be bought Tuesday. Players and parents can contact coach Morelli at morelcr@nv.ccsd.net if they have any further questions.
Contact Robert Vendettoli at BCRsports@gmail.com.