Eagles fall short of state title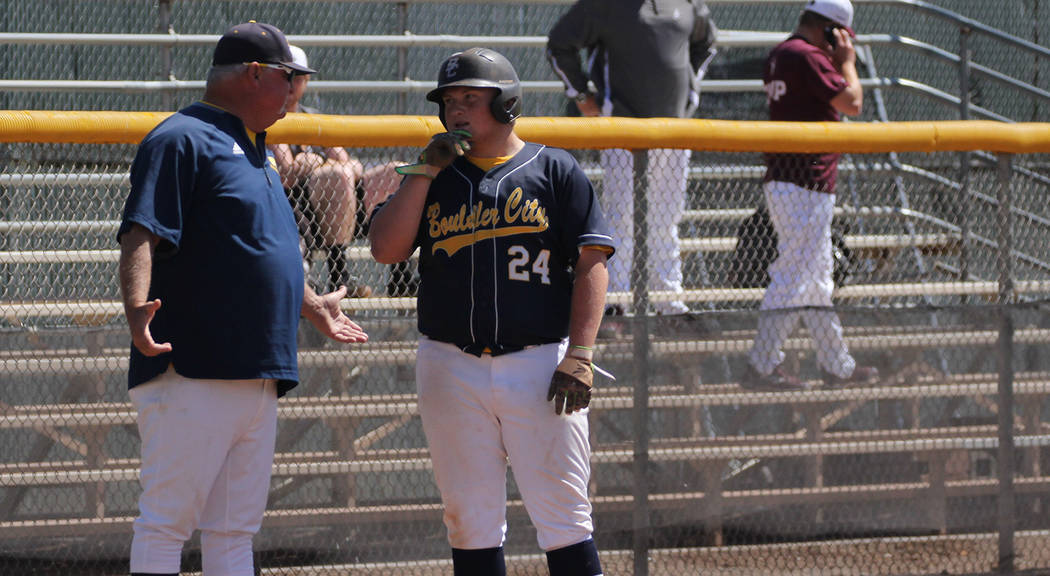 Boulder City High School baseball's dominance over the 3A landscape has ended for now, finishing 0-2 in the 3A state tournament over the weekend.
Traveling to Reno, riding an undefeated 4-0 record in regionals, the Eagles ran out of gas, falling to Truckee 7-4 and rival Pahrump Valley 9-5, ending their bid for a third consecutive 3A state championship.
An emotional scene for a senior class that restored the Eagles back to state dominance, infielder D.J. Reese called the moment bittersweet.
"It's been a lot of fun playing with these guys and we have had a lot of memories together," Reese said. "Obviously, I wish I could have ended my last season with a state championship but you can't takes away the other two we have won."
"My heart goes out to all our seniors that came up short," head coach Ed McCann said. "I really thought coming into state that we had the best chance to win and that's because these guys bought into what we're selling as a coaching staff. We had the right mixture of guys on this team, experience matched with youth. I'm proud of them for leaving it all out on the field."
Inconsistent at times over the two-game stretch, the Eagles were plagued with six errors in their final loss to Pahrump Valley, while leaving 13 combined base runners on base against Truckee and the Trojans.
"It's not like we went out there and laid an egg," McCann said. "These boys were ready to play and if a few things go our way, we might have continued playing. Baseball is a game of what ifs. We left too many guys on base, which took runs off the board and then our defensive issues in game two gave Pahrump a few extra runs. Overall I'm pleased with the efforts our boys gave."
Able to find their groove at the plate, the Eagles tacked on 11 hits against Truckee and 10 hits against Pahrump Valley.
Senior Chafton Temple led the way offensively against Truckee, batting 2-for-4 with a double, Reese batted 1-for-2 with a run batted in.
Seniors Rhett Armstrong and Anthony Pacifico each batted 1-for-4 with an RBI.
Pacifico hit a home run in the bottom of the fifth inning to bring the game to 6-4 Truckee.
Against Pahrump Valley, senior Teddy Lobkowicz batted 2-for-2 with three RBIs, while Armstrong finished 2-for-5 with an RBI.
Reese finished 2-for-5 with a double.
On the mound Armstrong was charged the loss against Truckee, while Reese was charged the loss against Pahrump Valley.
With year one of McCann's tenure coming to a close, the Eagles head coach is confident in keeping the Eagles' 3A state tournament steak alive, while getting back to winning state championships.
With several freshman contributing this season, highlighted by budding two-way star Joey Giunta, who batted 1-for-3 with a double against Truckee and pitched four innings against Pahrump Valley, McCann sees a bright future.
"Honestly, I'm sad to see so many of our seniors go, but I'm excited about this next group," McCann said. "A lot of them showed at times what they can do when given the opportunity and now it's theirs for the taking this upcoming year. The cupboard definitely isn't bare. I expect us to continue our long tradition of winning into the foreseeable future."
Contact Robert Vendettoli at BCRsports@gmail.com.