October 3, 2018 - 4:52 pm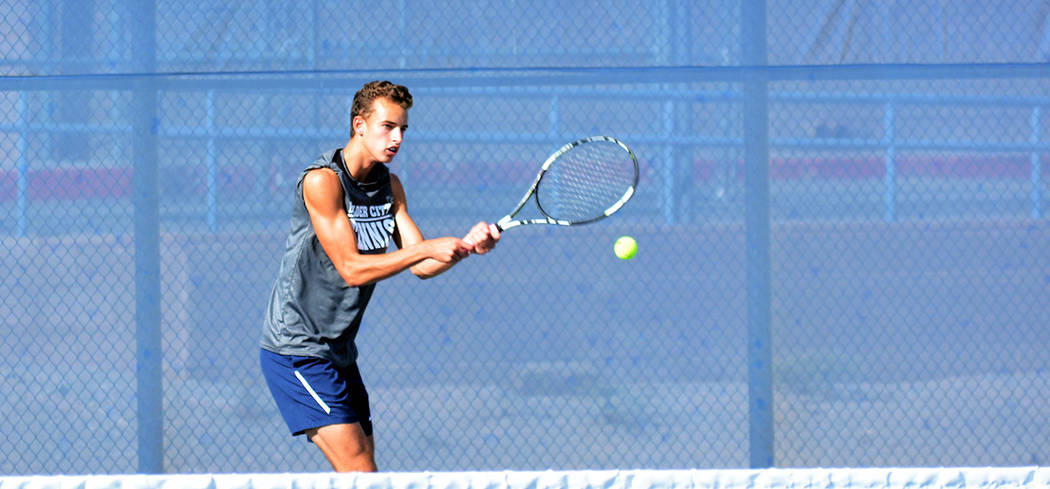 The Boulder City High School boys tennis team capped its second consecutive undefeated regular season with wins over Eldorado on Sept. 27 and Pahrump Valley on Friday, Sept. 28, while capturing the league title.
"Going undefeated in regular season play again was a really awesome feeling," senior Karson Bailey said. "The whole team is really proud of it and the progress our program has made."
Finishing with a 16-0 record, the Eagles defeated 4A Eldorado 16-2, before winning by forfeit over league opponent Pahrump Valley to conclude the regular season.
"I always find it valuable to play 4A teams, especially late in the season," head coach Rachelle Huxford said. "It's great to always see new competition, especially with the postseason coming up. It keeps the boys on their toes and prepared for what's ahead. We know there's gonna be some Northern Nevada players that we're not familiar with so it always good to get a nonleague game in toward the end of the season."
Juniors Preston Jorgensen and Boen Huxford completely dominated the Sundevils, finishing 3-0 in doubles play, while junior Connor Mikkelson finished 3-0 in singles play.
Junior Braden Soileau had a strong day in singles competition, while the duos of senior Karson Bailey and junior Ty Pendleton and senior Leaf Kaboli and Philipp Zengl went undefeated in doubles play, all finishing 2-0 on the day.
"I'm very proud of how everyone has played as late," Rachelle Huxford said. "Everyone seems to be clicking at the right time right now, especially our doubles teams. The chemistry they've been able to build since the beginning of the season is really starting to show in their play and is making us successful."
The Eagles open the postseason this week as the favorite to repeat as 3A state champions.
The Eagles took on rival Virgin Valley on Wednesday with their sights already focused on the Southern Regional final Friday at Boulder City. Boulder City defeated Virgin Valley 11-7 during the regular season.
"I feel that staying undefeated allowed our confidence to return from last year when we had our key seniors," Jorgensen said. "It allows our newer starters to believe in themselves and know that they have helped us achieve undefeated status. Our team is focusing on Friday, which is the regional final. Then we will change our focus onto the state tournament and all that follows."
Results from the Eagles' opening round postseason slate will appear in next week's issue.
Contact Robert Vendettoli at BCRsports@gmail.com.
Upcoming games
Friday, Oct. 5, team final at Boulder City, 1 p.m.