Eagles end football season on high note, despite loss
November 1, 2017 - 2:52 pm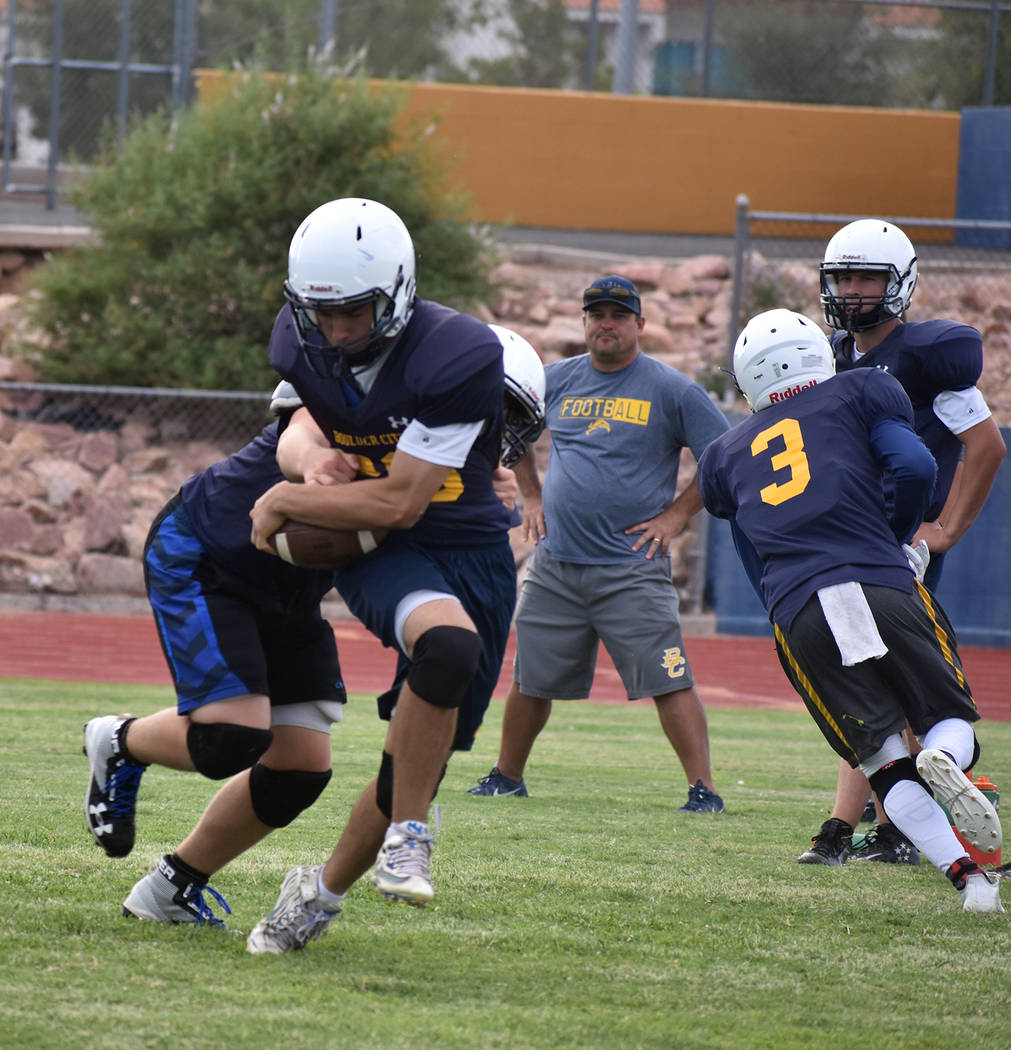 Boulder City High School football's season of improvement concluded Oct. 26 with a hard-fought effort against 4A Eldorado, losing 25-20.
Playing till the final whistle, the Eagles made the game respectable in the fourth quarter, scoring 13 points in the game's final :49 seconds to close out the season on a high note.
"Knowing it was our last game, we wanted to play hard till the end," junior running back Thorston Balmer said. "We wanted to go all out and have a good performance for our seniors."
Starting their late-game rally with a fourth-quarter drive, Balmer punched in the Eagles' first late touchdown with a bruising 6-yard run, shaking off a pair of tacklers on his way to the end zone.
Following a successful onside kick recovery, senior Austin Langley ended the season with a 9-yard touchdown strike to senior receiver Garrett Leavitt.
"I'm proud of the guys for not just laying down," head coach Chris Morelli said. "They played till the final whistle. As a coaching staff, that's all we can ask of them."
Bringing the Boulder City faithful to their feet one last time, senior Briggs Huxford opened the night with an 85-yard kickoff return for the Eagles' first score.
Langley finished the night 5-of-8, passing for 77 yards and a touchdown and interception, while Leavitt hauled in a game-high four passes for 30 yards and a touchdown. Huxford finished with two catches for 25 yards.
Balmer rushed for a game-high 99 yards and a touchdown on 20 carries, giving the junior bruiser confidence moving toward his senior year.
"I'm very excited and determined on becoming an even better player for next year," Balmer said. "I'm looking forward to training hard during the offseason."
Defensively, it was one of the Eagles' best games of the season, limiting the Sun Devils to 268 yards of total offense.
"Coach (Alex) Moore has been preparing us every week so we know what's coming from the teams' opposing offense," said junior linebacker Jimmy Dunagan. "We've worked hard to improve this season, to win a few games. Hopefully, that will bring more guys out to the team in the summer and help us build an even better team next season."
With plenty to look forward to heading into next season, the Eagles surely aren't hanging their heads after two consecutive defeats to 4A programs by a combined total of six points.
Spending one season as an independent program, uncertainly surrounds the Eagles' status moving forward, with a potential move back to the 3A classification on the horizon. Regardless of the win-loss column, Morelli said this season has been a monumental stepping stone for the program, one he's fortunate for.
"Honestly, as coaches we couldn't have asked anything more from these guys," Morelli said. "We competed in nearly every ball game, had opportunities to win. This was a very young inexperienced team, but they grew together through highs and lows. We're confident the future is bright after this year."
Contact Robert Vendettoli at BCRsports@gmail.com.