Eagles earn Award of Excellence: BCHS honored for outstanding athletic, academic performance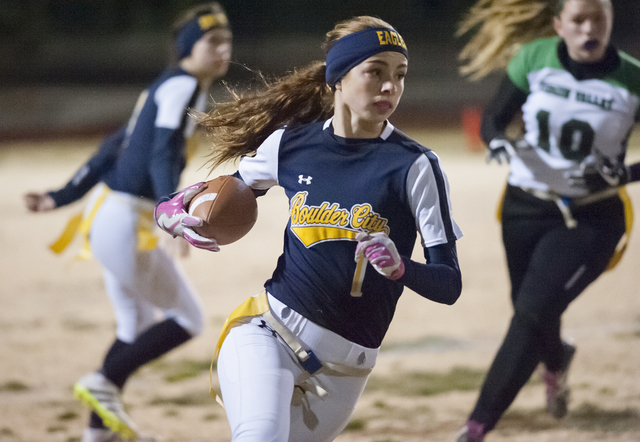 Boulder City High School was one of five schools crowned as a champion in the Nevada Interscholastic Activities Association's Award of Excellence for outstanding athletic and academic performance in the 2016-17 school year.
"We have a lot of great coaches here at Boulder City who truly take pride in their school, their team and their community," girls volleyball coach Cherise Hinman said. "We have fine student-athletes who do things the right way. This award is a testament to their hard work and dedication."
Winning their eighth championship since the award was created during the 2000-2001 school year, this is the first time the Eagles have earned the honor since 2012-2013. Striving for excellence, the Eagles tallied 3,386 points throughout the school year, edging out 3A Northern Nevada challenger Truckee (2,165) and rival Virgin Valley (1,985).
"I think it's fabulous that our school was awarded this honor," assistant football coach Joshua Fisher said. "I was so excited, I shared the news across social media when it was announced. We have not won it since the 2012-2013 school year so to be back on top for this award is a huge testament to our coaches and, more importantly, our athletes."
Points toward the Award of Excellence are given to member schools based on their varsity teams' performances during the course of play, in the classrooms and in the Citizenship Through Sports initiative. Each of the three major categories are weighted equally.
"When you look at the components of the award we obviously scored a lot in the athletic component with our state championships and runner-up finishes," Fisher said. "I'm not sure of our team GPA (grade point average) across the programs, but I know we have student-athletes at Boulder City who value academics first. The programs I work with stress being a student first, athlete second as the academics and knowledge will take our kids farther than sports."
Boulder City High School won state 3A championships in boys and girls swimming and baseball, while finishing as state runner-ups in girls and boys golf.
Academically, boys swimming finished first with a 3.56 grade point average, while girls basketball (3.76), girls bowling (3.47) and boys bowling (3.30) finished second. Boys tracks and field (3.33) and flag football (3.30) finished in third place for their sports.
Back on top after a three-year drought, the Eagles owned the award throughout the past decade, recognized four times consecutively from 2009-2013.
Recent graduate and valedictorian Kenadee Bailey, who played a sport in each calendar season (girls volleyball, flag football, girls track and field), shared her excitement.
"Balancing both athletics and academics throughout my tenure at Boulder City High School was definitely challenging, but also totally worth it," she said. "I'm proud of our school for earning this award from the NIAA. Our school has some of the best and hardest-working student-athletes and it's awesome to know that the state recognizes that."
The NIAA will present the school with a championship banner and a commemorative trophy.
Contact Robert Vendettoli at BCRsports@gmail.com.