Eagles defeat toughest rival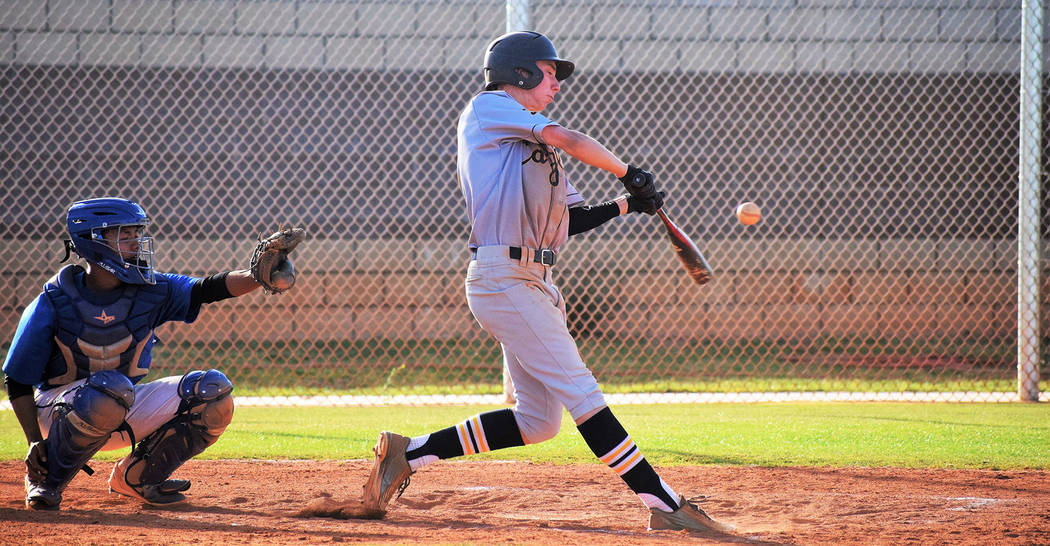 Boulder City High School baseball team handled its toughest test of the season Tuesday, April 17, defeating Chaparral 11-0 to take ahold of first place in the 3A Sunrise League.
Taking it to the Cowboys from the get-go, the Eagles tacked on a pair of runs in the game's first two innings, before nailing the coffin shut with a five-run, sixth-inning explosion.
Defeating the hottest team in the 3A prior to Tuesday's outing, the Cowboys came in riding a 19-game winning streak.
"I'm really proud of the way the boys played," head coach Ed McCann said. "A lot of things didn't go Chaparral's way but you have to give them credit for going out and beating a great team. They played with passion and energy for the game tonight. We're playing some of our best baseball right now."
Senior Teddy Lobkowicz (2-for-3) and junior Jimmy Dunagan (1-for-3) each finished with a pair of runs batted in, while seniors Rhett Armstrong and Anthony Pacifico each finished 1-for-3 at the plate with an RBI.
Pacifico was one of two Eagles to hit a double against Chaparral, spraying a shot to left field in the sixth inning, while senior Chafton Temple hit one to center field in the first inning, finishing the game 1-for-3.
Collectively, the Eagles generated 12 hits Tuesday, April 17, after collecting 11 hits on Monday, April 16, in a windy 20-10 slugfest loss to 4A Sierra Vista.
Stepping up to the plate consistently, Pacifico finished 1-for-3 with two RBIs and a double, while freshman Troy Connell (2-for-3) and Joey Giunta (1-for-4) each supplied two RBIs.
Senior D.J. Reese and Dunagan each batted 3-for-4 at the plate on Monday, April 16.
"The bats are coming around for us, that's for sure," McCann said. "I feel that really has to do with the boys buying into the sense of urgency we've been trying to give them. They know it's time to sprint to the finish line now; the marathon of a season is over. We're now bringing our A game every time out."
Bringing his A game to the mound, Armstrong was nearly flawless against the Cowboys, allowing only two hits while striking out three batters in his six-inning stint.
Racing toward the finish line, the Eagles will resume play today, April 19, on the road against Del Sol, before traveling to Virgin Valley on Monday, April 23.
Contact Robert Vendettoli at BCRsports@gmail.com.
Upcoming games
Today, April 19, at Del Sol, 3:30 p.m. varsity; vs. Del Sol, 3:30 p.m. junior varsity
Friday, April 20, at SLAM Academy, 3:30 p.m. junior varsity
Monday, April 23, at Virgin Valley, 3:30 p.m. varsity; vs. Virgin Valley, 3:30 p.m. junior varsity
Wednesday, April 25, vs. Southeast Career Technical Academy, 3:30 p.m. varsity; at SECTA, 3:30 p.m. junior varsity