Eagles clinch league title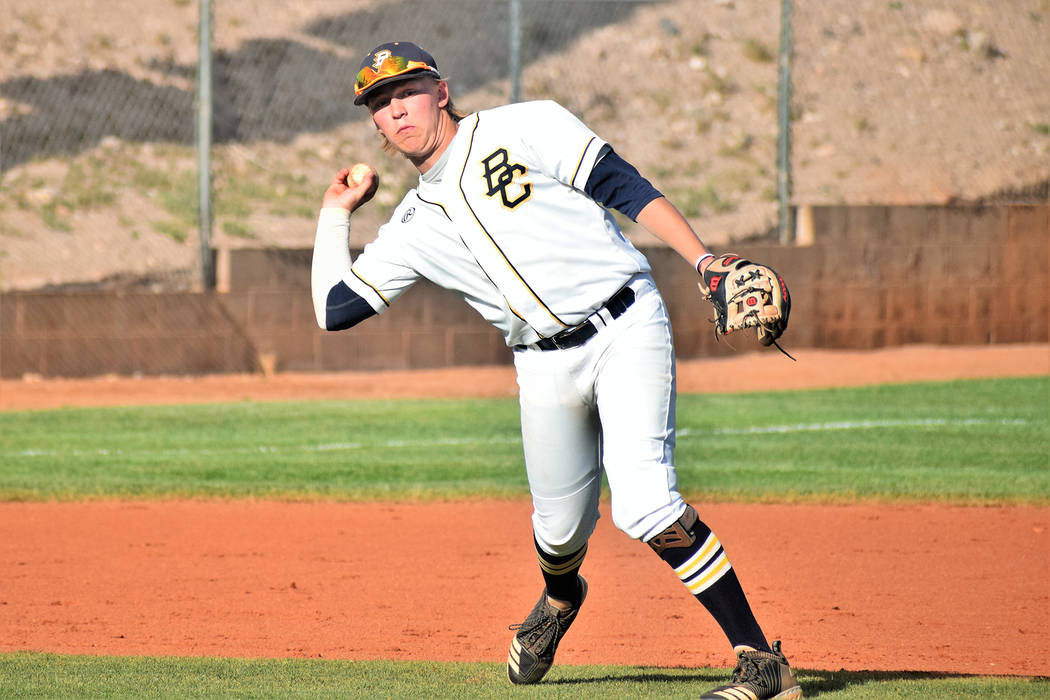 Boulder City High School boys baseball captured its first championship of the season, winning the 3A Sunrise League after defeating Southeast Career Technical Academy, Moapa Valley and Chaparral during their three-game slate.
"It feels good to wrap up the league championship," head coach Ed McCann said. "That was one of our goals coming into the season and the boys worked hard to achieve it. We've come a long way since the beginning of the season."
Winning convincingly against Southeast Career Technical Academy on April 25, 14-2, and Chaparral on April 30, 14-2, the Eagles also got past their toughest challenge of the season against Moapa Valley on the road.
Despite not playing their prettiest baseball of the season, the Eagles were able to squeak past the Pirates 4-1 after managing only three hits with four errors defensively.
"I'll tell you what, we've played them twice now and Moapa Valley is our toughest competition," McCann said. "It was nice to see us come away with a victory, especially since we didn't play our best to start the game. We have a lot of areas to improve on, but it's nice to know the guys can buckle down and play soundly when the game is on the line."
Rising to the top when they needed him, senior Chafton Temple finished the day 2-for-4 at the plate, coming through with a clutch two-run double in the top of the fourth inning to put the Eagles ahead for good 4-1.
Senior D.J. Reese grabbed the Eagles' other lone hit, finishing 1-for-3, while senior Teddy Lobkowicz provided the Eagles with a sacrifice RBI fly ball in the third inning.
Senior Rhett Armstrong earned the win against the Pirates, throwing seven innings where he allowed one run on six hits with four strikeouts.
Playing more soundly Monday against Chaparral, Temple and Reese were the heroes once again for the Eagles.
Compiling 12 hits against the Cowboys, Temple (2-for-4) and Reese (1-for-3) each generated four RBIs, while Armstrong came through at the plate with a 3-for-3 performance, including a double and triple.
Junior Jimmy Dunagan finished 2-for-2 with an RBI double as well, while freshman Joey Giunta earned the win, throwing five innings where he allowed two runs on five hits with three strikeouts.
Against Southeast Career Technical Academy, the Eagles needed only six hits to score 14 runs, powered by Temple (2-for-3, three RBIs), Reese (1-for-2, two RBIs) and senior Nolan Herr, who had two sacrifice RBIs.
"It's great to see them score runs in bunches," McCann said. "We've been red hot for a lot games, putting up double-digit runs. I'm hopeful we can keep that going in the postseason."
Coming into his own as a pitcher, Giunta also earned the win against the Roadrunners, throwing four innings where he allowed no runs on two hits with four strikeouts.
Results from Wednesday's senior night against Del Sol will appear in next week's issue.
Contact Robert Vendettoli at BCRsports@gmail.com.
Upcoming games
Tuesday-Thursday, May 8-10, Southern Region tournament, 3:30 p.m., TBA
Friday and Saturday, May 11-12, Southern Region tournament, at home, TBA