Eagles capture two regional tennis titles; gear up for state competition
October 18, 2017 - 2:56 pm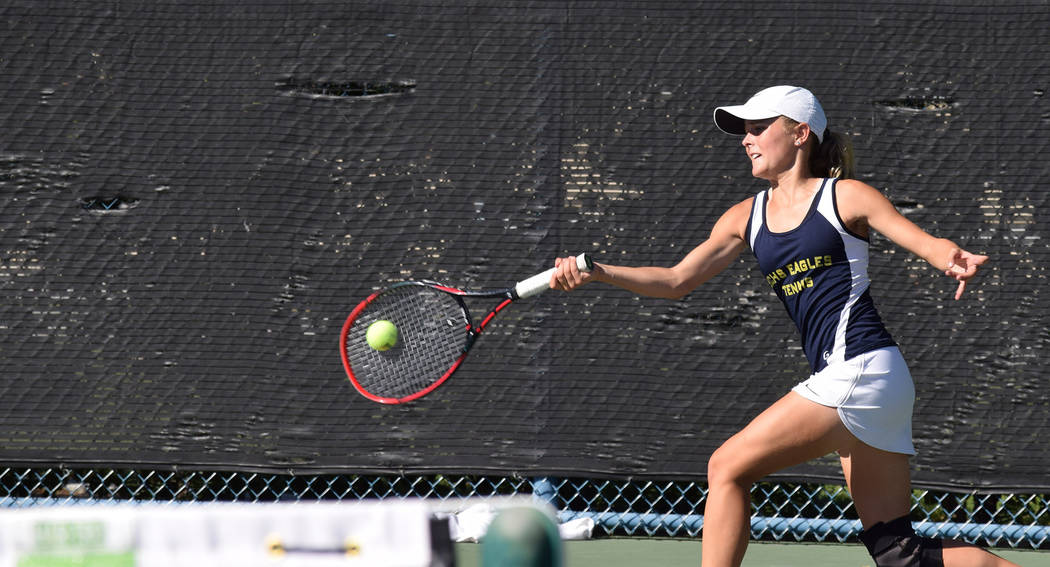 Boulder City High School sophomore girls singles tennis player Olivia Mikkelson and boys doubles players Boen Huxford and Preston Jorgensen put their talents on full display Saturday at Darling Tennis Center, each capturing 3A Southern Regional individual championships.
Heading into individual state play which begins Friday, the trio were among eight Eagles to qualify, five boys and three girls.
"I think it's great to have so many state qualifiers," boys head coach Rachelle Huxford said. "I think it really speaks to how deep both of our programs were this season and how hard our kids have worked. Making the individual state tournament is a great accomplished. I couldn't be prouder of this group."
Dominating her way through regional play, Mikkelson cruised through the singles finals with ease, defeating The Meadows Lindsay Hofflander 6-3, 6-0, making her the favorite to capture the 3A state title.
"Olivia Mikkelson is in a league of her own," girls head coach Jami Pappas said. "In addition to her amazing tennis skills, she is focused, disciplined and mentally strong. I have no doubt that she will take state in individual play."
A tennis star on the national level, success has come easy for Mikkelson on the high school level, but that hasn't gone to the sophomore's head. Staying humble throughout her dominance, Mikkelson knows there is work to be done both individually and as a team.
"I love playing for this team; I won regionals for them," she said. "Heading into state play this week, I need to stay focused on my goals, stay positive and push myself. I'm motivated to win state for Boulder City both individually and as a team."
Also earning a state berth, the Lady Eagles' doubles tandem of junior Natalie Bowman and sophomore Katelyn Fox pulled off the upset of the tournament, defeating The Meadows duo of Shayna Indyg and Elena Paradiso 6-4, 7-6 in the fifth-place match.
"Fox and Bowman have been working very hard this past week," Pappas said. "They both have separate strengths that they bring to their partnership. It was a great match and my girls had the confidence and belief in themselves to win. I could not be happier for them."
Hoping to parlay their individual success back into a team setting, coach Pappas thinks the confidence gained during individual play will help the Lady Eagles when they start team play today against Truckee in the first round of the 3A state tournament.
"Our team as a whole had many individual wins," Pappas said. "We have focused this week on playing aggressive, playing fearless and putting together a strategy based on players' skill. All of the girls earned plenty of wins and this has given them confidence. I'm hoping they will bring their confidence with them today."
Doubles champions
Managing plenty of wins themselves during individual play, the boys not only captured the doubles championship, but had the second-, third- and fourth-place finishers in singles competition Saturday.
"I'm so proud of the boys for all their hard work," Rachelle Huxford said. "To not only have a regional champion, but also three of the top four singles players is an amazing accomplishment and just shows how hard they've work this season. It's always nice to be well-represented during state play."
In the matchup of No. 1 seeds, Boen Huxford and Jorgensen defeated The Meadows duo of Ryan Chang and Brian Capp 7-5, 6-2, giving them the hot hand heading into state play.
"I've seen a lot of good tennis from Boen and Preston over the years, but they looked at their best Saturday," Rachelle Huxford said. "They played so fluid, so consistent. They know each other's movements and they complement each other so well. I'm very excited to see what they can do come state."
Excited for his state opportunity, sophomore singles newcomer Connor Mikkelson finished second at regionals, falling to Western's Elmore Rua 6-1, 6-2 in the regional championship game. Fueled by the loss, Connor Mikkelson said he'll be back and ready to go come this weekend.
"I know what I need to work on now heading into the state tournament," he said. "I'm determined to move forward after the loss."
Facing off against each other in the third-place game, senior Andre Pappas defeated sophomore Breton Erlanger 6-3, 6-4. Both return to the individual state tournament for the second consecutive season.
"I think once we get into state play, it's anyone's game to take," Rachelle Huxford said. "The field is crowded with great players, especially Rua, but the boys have just as good a shot as anyone. It will be interesting to see how things shake out."
Also appearing in team play at state today for the second consecutive season against Truckee, the Eagles are ready to put individual success on hold in order to finish their season of redemption with a state title.
"I think that as a team were going to play to our full potential and not let up," Andre Pappas said. "The individual part of the tournament has definitely helped us in knowing how to handle the pressure and play through it. We're going to channel that and compete as a team. We've been hungry all season for this opportunity."
The girls will play at 10:30 a.m. today at Darling Tennis Center, followed by the boys at 1 p.m.
Contact Robert Vendettoli at BCRsports@gmail.com.
Upcoming Events
Today, Oct. 19, girls state team semifinals, vs. Truckee, 10:30 a.m.
Today, Oct. 19, boys state team semifinals, vs. Truckee, 1 p.m.
Friday, Oct. 20, girls state team championship, if qualified, 8 a.m.
Friday, Oct. 20, boys state team championship, if qualified, 11 a.m.
Friday, Oct. 20, individual state quarterfinals, 4 p.m. girls; 6 p.m. boys
Saturday, Oct. 21, individual state semifinals, 10 a.m.
Tuesday, Oct. 24, individual finals, 2 p.m.
All games will be played at the Darling Tennis Center, 7901 W. Washington Ave., Las Vegas