Eagles can't keep up with Chaparral
January 24, 2018 - 4:40 pm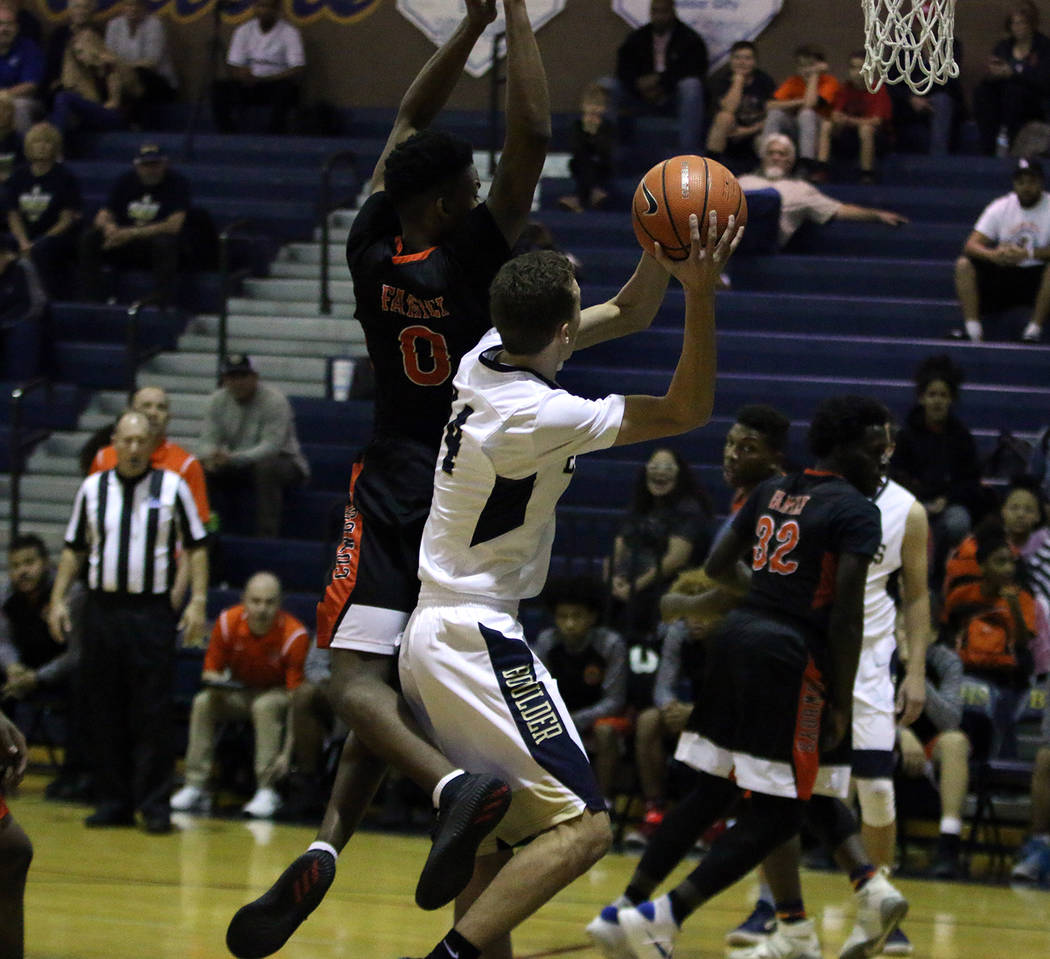 Hyped for their conference showdown with leader Chaparral on Jan. 18, Boulder City High School basketball was unable to keep pace with the Cowboys' lethal scoring attack, falling 64-57.
Despite losing both regular season contests to the Cowboys, including the Dec. 6 56-53 game, the Eagles still feel confident if a third meeting took place this postseason.
"It's very important that we keep these games in perspective," junior Karson Bailey said. "I think we've learned that we can play with anybody and even though we may have lost both games against Chaparral, we know we can beat them. We will use these losses as motivation to improve and play at a higher level as a team."
Boulder City was unable to contain Chaparral senior guard Jonathan Tendale, who broke down the Eagles' defense for a game-high 32 points, shooting 11-of-15 from the floor.
"It is extremely important that we make other players beat us if we play Chaparral again," Bailey said. "Jonathan is a great player and is tough to stop, but if we limit his looks and are ready to help on the drive, we will have a much better chance at winning the game."
While getting torched offensively on the defensive end, the Eagles found themselves in bit of a shooting slump, missing several shots that regularly fall for the team.
Connecting on only six 3-pointers, the Eagles left several points off the board with a 16-of-25 performance at the free throw line.
"Coach (John) Balistere always says keep shooting," senior Carson Balistere said. "Everyone always has off days. Not every player is on every time they play. We just need to keep shooting and shots will fall."
Despite shooting woes, the Eagles managed to get three scorers in double figures, lead by junior forward Derrick Thomas with 12 points.
Providing great offensive outputs, Bailey notched 11 points, and freshman forward Matt Morton scored 10 points.
Looking to get back in the win column, the Eagles will travel to Somerset Academy-Sky Pointe on Friday, followed by a home game on Monday against Pahrump Valley and a road game on Tuesday against Virgin Valley.
Contact Robert Vendettoli at BCRsports@gmail.com.
Upcoming games
Friday, Jan. 26, at Somerset Academy-Sky Pointe, 3:30 p.m. junior varsity; 6:30 p.m. varsity
Monday, Jan. 29, vs. Pahrump, 3:30 p.m. junior varsity; 6:30 p.m. varsity
Tuesday, Jan. 30, at Virgin Valley, 5 p.m. junior varsity; 6:30 p.m. varsity