Eagles boost win streak to five
January 29, 2020 - 3:30 pm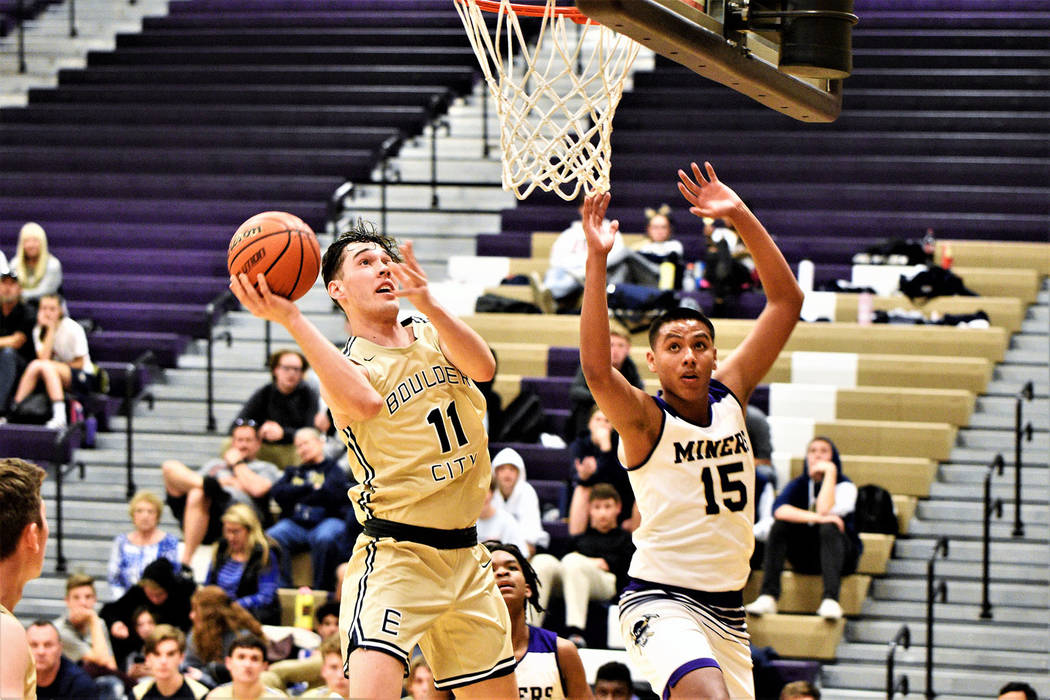 Boulder City High School boys basketball team won a trio of games during its recent slate of play.
Advancing to 14-9 on the season and 7-1 in 3A Sunrise play, the Eagles defeated Somerset Academy Sky Pointe 64-33 on Jan. 22, SLAM Academy 67-64 on Friday, Jan. 24, and Sunrise Mountain 60-43 on Monday, Jan. 27, bringing their winning steak to five games.
"The team played really well this week," head coach John Balistere said. "We played a really solid SLAM team and came away with a win. Everyone is working hard and things are starting to click for us."
Picking up a huge victory over Sunrise Mountain, which came into ball game with only one loss this season, the Eagles used a 34-21 second-half run to rout the Miners.
"I thought we had a five-minute stretch in the second half where we looked really good," Balistere said. "We definitely need to build off that. This was a great road win for us."
Leading the charge was junior Ethan Speaker, who scored a game-high 30 points with 21 rebounds, routinely fighting through double teams to lead the Eagles to victory.
Adding a scoring punch against the Miners was junior Matt Morton, who scored 17 points and 10 rebounds. Senior Gavin Balistere scored 6 points, with four rebounds and three assists.
Playing exceptionally well during the three-game stint, Gavin Balistere added 12 points and three steals against SLAM Academy and 8 points and four rebounds against Sky Pointe. Sophomore Gavin Douglas also flashed promise against Sky Pointe, tying a season-high with 9 points.
Speaker scored 33 points with five rebounds against Sky Pointe and 32 points with 14 rebounds against SLAM Academy. Morton scored 4 points with eight assists against Sky Pointe and 14 points with 10 rebounds and four assists against SLAM Academy.
Currently in a first-place tie with Chaparral, tonight's home game against the Cowboys is a must-win for the Eagles.
"This game is huge for us," John Balistere said. "The first time around, I don't think we played very well. We made a lot of mental mistakes. I'm confident that they'll see a different group this time; we'll be more prepared. We know we control our own destiny right now in the league standings, so hopefully we're able to put together four good quarters."
Contact Robert Vendettoli at BCRsports@gmail.com.
Upcoming games
Today, Jan. 30, at Chaparral, 3:30 p.m. freshmen; 5 p.m. junior varsity; 6:30 p.m. varsity