Eagles' bats thunder home dramatic win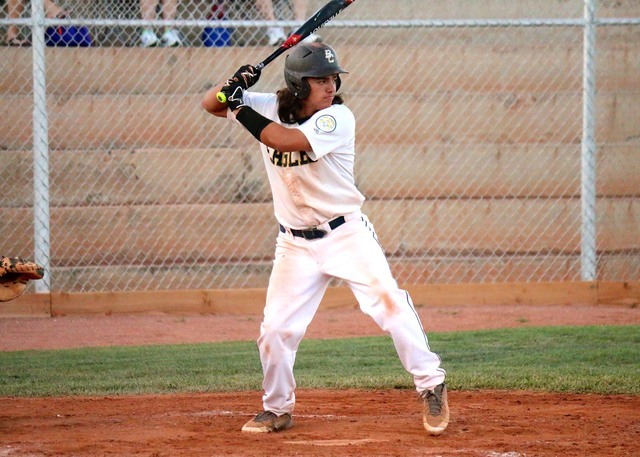 As lightning surrounded Whalen Field on June 30, the Southern Nevada Eagles 16-under baseball team provided the thunder against the Green Valley Elite, defeating the Division I program 6-5 in its Southern Nevada Connie Mack season finale.
Restricted to just one game on Thursday because of weather conditions, the Eagles made their presence felt late, pulling off a come-from-behind win in the fifth inning against the Gators. They rattled off four unanswered runs, sparked by a Cason Segundo walk-off single to pick up the victory.
"I'm very happy for Cason, who stepped up big for us in a big moment," Boulder City head coach Bobby Reese said. "He has worked very hard this summer and his hard work is starting to show."
Ending the day with a pair of runs batted in, Segundo shut down the Gators' lineup in the fifth inning in a relief effort on the mound.
Backed by the offensive firepower of senior Preston Van Diest and junior Patrick Hood, who each tallied a pair of RBIs, the Eagles jumped out to a 3-0 lead before coming back to win in dramatic fashion.
Van Diest batted 2-for-3 while scoring a pair of runs, and Hood batted 1-for-2. Segundo, juniors D.J. Reese and Teddy Lobkowicz and sophomore Leaf Kaboli all added a hit.
On the mound, Reese started off strong against the Gators, shutting out Green Valley in the first inning before allowing three runs in the second, only one of which was earned. Totaling 49 pitches in his season finale, Reese capped off a strong start to what is a presumed starter's role this upcoming spring, allowing just four hits.
Totaling 48 pitches over the third and fourth innings, Lobkowicz also had a solid outing, allowing two runs, with only one earned on one hit in relief. Capping off their highly competitive Connie Mack schedule, which was laden with Division I programs, the Eagles ended with a 6-9 record, defeating two of the league's top three programs: No. 1 Desert Hills (12-4) and No. 3 Green Valley Elite (9-6) in the past two weeks.
"(It was a) very nice win for the team," coach Reese said. "Like last week's victory against Desert Hills, this win against Green Valley showed the boys we could and should have had a better record this summer. Hopefully, they understand what held us back and we make those adjustments going forward."
Contact Robert Vendettoli at BCRsports@gmail.com.