Eagles basketball team ready for league play
January 4, 2017 - 2:20 pm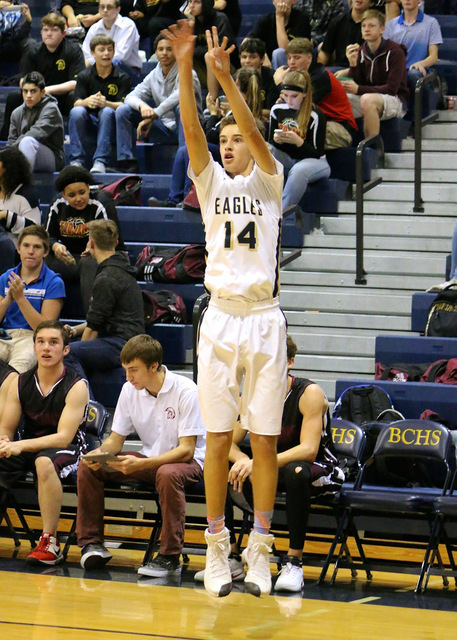 Concluding the Paloma Valley Winter Shootout in Menifee, California, this past week with a 2-2 record against California programs, Boulder City High School boys basketball coach John Balistere said he is excited with the improvements the team has made midway through the season.
"I thought we had a great tournament," Balistere said. "We came out a little sluggish in our first game, really just weren't ready to compete, but then put together three respected games against what I felt was solid competition. This is a step in the right direction for our program."
Losing to Citrus Hill on Dec. 27 by a score of 73-37, the Eagles rallied back Dec. 28 with a victory over Valley View 58-55 and on Dec. 29 against host Paloma Valley 73-56. They concluded the tournament against Ramona with a heartbreaking 61-59 loss, but Balistere noted that he thought that was their best game of the tournament.
"Even though we ended it with a loss, I really liked the way we played in that final game," Balistere said. "Four games in four days — we were kind gassed toward the end, but we showed heart. If we can get that type of effort every game and move the ball around like we did, we can be very successful once league play begins."
Getting a season-high four scorers in double figures against Ramona, the Eagles were led by junior guard Carson Balistere with 18 points and five rebounds, while senior forward Justus Green provided an all-around performance with 11 points, 12 rebounds, three assists and three steals. Junior forwards Zach Trone and Clayton Pendleton concluded the Eagles' efforts with 11 points and five rebounds apiece, while junior guard Tanner Montgomery dished out six assists.
Carson Balistere made the all-tournament team, not only for his statistical output, but for his desire to win tight ball games, taking nine charges throughout the four-day event.
Scoring a season high 21 points with three rebounds against Valley View, sophomore Karson Bailey has provided a spark for the program this season, averaging 11 points and three rebounds throughout the tournament.
"I thought coming into this year I could contribute to the team," Bailey said. "But I didn't really expect to be a large part of the offense. I'm grateful that the coaches gave me a chance to play and show what I can do. I'm also grateful that my teammates keep giving me the ball, even though sometimes I'm not shooting well. Without them, there is no way I could be doing as well as I am now."
Giving the Eagles a third option on offense, the team's core looks solid alongside Balistere and Green, who averaged 15 points and four rebounds and 10 points and eight rebounds throughout the tournament, respectively.
Starting league play with week with a 6-8 record, coach Balistere feels confident that the Eagles will play competitive throughout, having already gone through a series of 4A and out-of-state opponents.
"We're well-tested," he said. "We've been in big games already, played against tougher opponents and we've done well. We're excited that league play is finally here and hopeful to contend for a playoff spot."
The Eagles will travel to Southeast Career Technical Academy on Friday and Del Sol on Tuesday for a pair of league contests. Results from Wednesday's league opener against Virgin Valley will be highlighted in next week's issue.
Contact Robert Vendettoli at BCRsports@gmail.com.
Upcoming games
Friday, at Southeast Career Technical Academy, 5 p.m. junior varsity; 6:30 p.m. varsity
Tuesday, at Del Sol, 3:30 p.m. junior varsity; 6:30 p.m. varsity