Eagles baseball team routs Cheyenne after tough tourney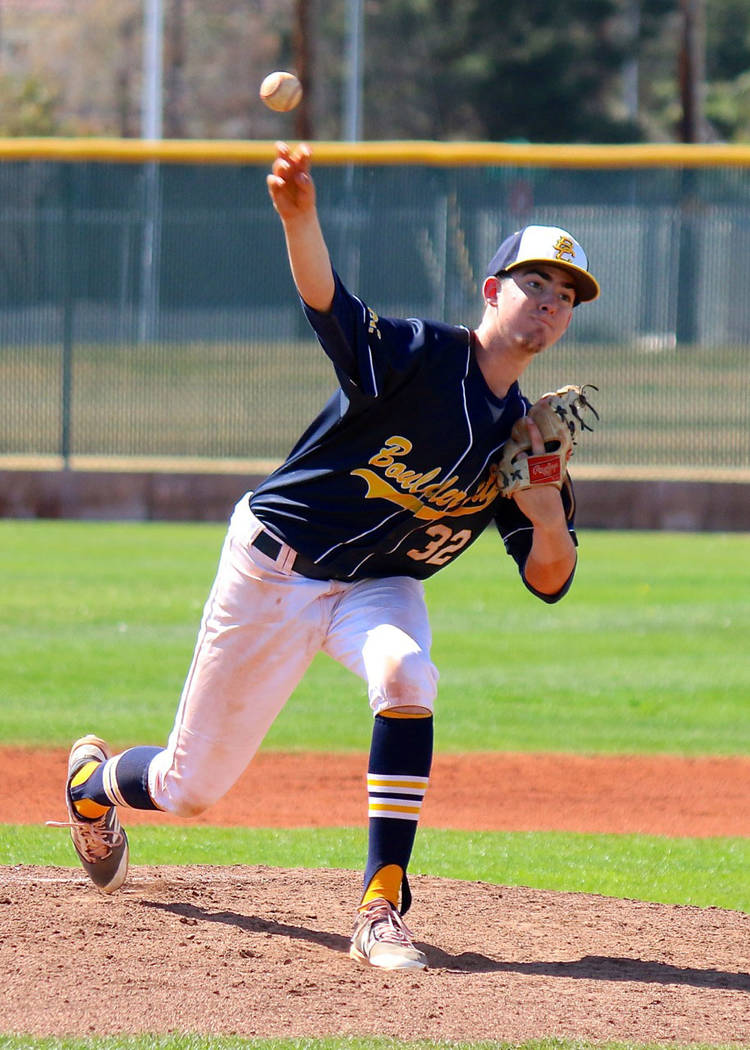 The offense of Boulder City High School's baseball program finally came alive Tuesday against Cheyenne, routing the Desert Shield 16-2 for its first victory of the season after an 0-4 start at the 4A Bengal Varsity Tournament on Thursday through Saturday.
Provided with an all-around effort on Tuesday, the Eagles amassed 11 hits against Cheyenne, after collecting only 14 hits throughout their first four games, including a no-hit effort against Spring Valley.
"It was nice to finally see the offense break out like we know they can," head coach Bobby Reese said. "The guys really stepped up to the challenge Tuesday after a grueling weekend schedule. I'm really proud of the way they responded in our first classification game after playing 4A teams all weekend."
Coming alive with a perfect effort at the plate against the Desert Shield, junior Anthony Pacifico led the way with a 4-for-4 effort at the plate, hitting a pair of doubles for the Eagles.
Making good use of their base runners, senior Noah Higgins (2-for-2, one double) and juniors D.J. Reese (2-for-4) and Nolan Herr (1-for-2) each knocked in a pair of runs. Senior Jake Hubel (1-for-3, one double) and junior Rhett Armstrong (1-for-2) each knocked in a run for the Eagles, as well.
Doing his best work on the mound Tuesday, Armstrong pitched four innings, allowing two runs on two hits, while striking out eight batters. In relief effort, junior Teddy Lobkowicz pitched one inning, allowing no hits with two strikeouts.
"I really liked what we saw from that combination," Reese said. "They're going to be a tandem that pairs up quite a bit. I thought we got quality innings out of Rhett, and Teddy is just tough to hit as our only lefty. We showed signs of improvement today; we just got to keep working."
In the Bengal Varsity Tournament, the Eagles fell to Spring Valley 6-0, Faith Lutheran 8-1 and Bonanza 10-0. In a separate game, the Eagles nearly knocked off host Bonanza 8-9.
The Eagles will look to continue their winning trend Friday on the road against 4A program Durango, followed by a 3A road game at Mojave on Monday.
Boys volleyball
Boulder City High School opened up its new boys volleyball program with a win March 9, defeating Desert Oasis freshman team 2-1.
Competing in freshman play only this season as the Eagles try to build their program from the ground up, head coach Joshua Fisher couldn't hold back his excitement after starting the program off in the right direction with a 21-25, 25-18, 15-10 victory.
"I thought the boys did great," Fisher said. "The three months of hard work and commitment has paid off, as they played with a purpose and showed they understood what coach Rachelle Huxford and I have been teaching them. When they calmed down and got the jitters out, they played well as a team. These guys are hooked and will hopefully come to love this game. We are extremely proud of how far they have come."
Coming from behind to pick up the victory over the 4A Diamondbacks, Boen Huxford and Preston Jorgensen led the way with six and four kills, respectively.
Braden Soileau led the Eagles with seven serving aces, while Gage Madrid added three aces and digs apiece. Dylan Mullins and Austin Morris each added three assists.
Looking to continue the program in the right direction, the Eagles will host Del Sol on Friday, followed by a freshman tournament on Saturday at Las Vegas High School.
Contact Robert Vendettoli at BCRsports@gmail.com.
Upcoming Events
Baseball
Friday, vs. Durango, 3:30 p.m. away varsity, at home junior varsity
Monday, vs. Mohave, 4 p.m. away varsity, at home junior varsity
Wednesday, vs. Pahrump, 3:30 p.m. home varsity, away junior varsity
Boys Volleyball
Friday, vs. Del Sol, freshman, TBA
Saturday, Freshman tournament at Las Vegas High School, TBA
Boys Golf
Wednesday, vs. Southeast Career Technical Academy, at Wildhorse, 12 p.m.
Swimming
Saturday, vs. Silverado, at Municipal Pool in Las Vegas, 9:45 a.m.