Eagles avenge loss with 20-5 win over Mojave in first round of playoffs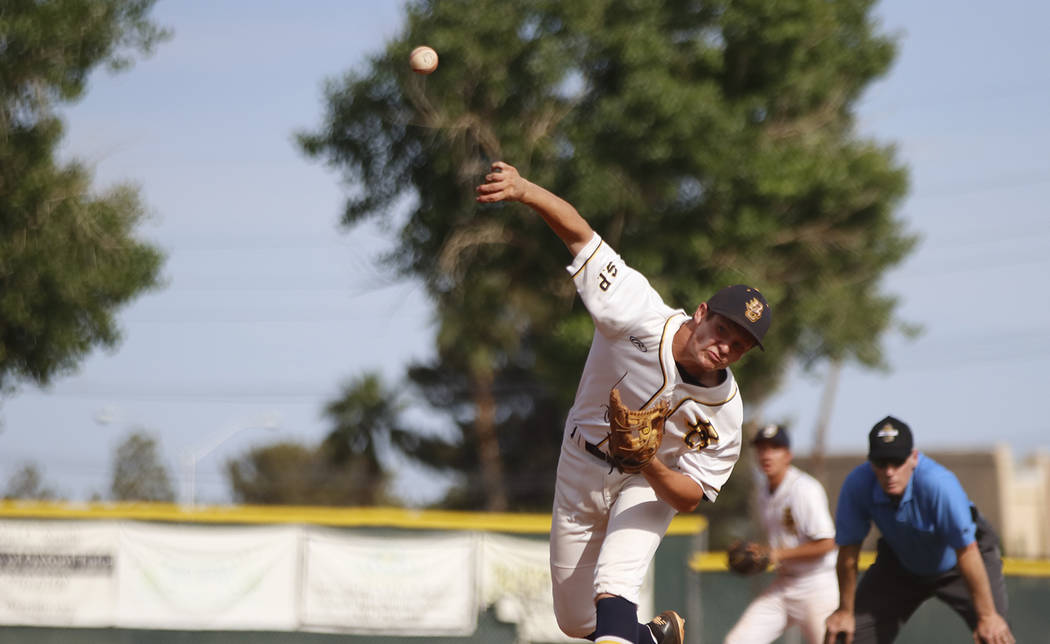 Boulder City High School baseball team looked like a championship caliber program Tuesday, May 8, defeating Mojave 20-5 in the first round of the 3A Southern Region playoffs.
Avenging their only home loss of the season that came at the hands of the Rattlers on March 21, Tuesday was just another indication of how far the Eagles have progressed.
"I'm really proud of these guys for the way they went out and played," head coach Ed McCann said. "I'm more than confident that everyone has bought in and it shows during their play. This was a really good win for us, Mojave is a solid team and the only team to beat us at home this season. We stayed relaxed and patient at the plate and just let the game come to us. I like when we play like this."
Putting up their third consecutive game with double-digit runs, the Eagles are clicking at the right time, with a solid mix of run support and starting pitching.
Exploding for six runs in the first inning and nine in the third, the Eagles routed the Rattlers in four innings behind 10 hits collectively.
"Our bats have come alive at the right time, definitely," senior Rhett Armstrong said. "The whole team seems to be hitting great right now. No matter who is coming up to the plate, we have been producing base runners and scoring runs consistently. It's very important to get hot and stay hot throughout playoffs."
Senior Nolan Herr (2-for-3) and junior Jimmy Dunagan (1-for-1) led the way with four runs batted in each, while senior Teddy Lobkowicz finished a perfect 3-for-3 at the plate with an RBI and double apiece.
Fielding consistent base runners, senior Chafton Temple finished 1-for-2 with a three-run double, while freshman Joey Giunta finished 1-for-3 with three RBIs.
Concluding the offensive effort to earn the statement victory, senior D.J. Reese finished 1-for-2 with an RBI, while Armstrong and junior Shaun Jones each drove in a sacrifice RBI.
"It was extremely important to make a statement like this right out of the gate," Armstrong said. "It's a big confidence builder and a tone setter for the rest of the tournament."
Picking up the victory against the Rattlers, Reese threw four innings, where he allowed five runs off of six hits with four strikeouts. Just one of several reliable arms in the Eagles rotation, Reese and the team feel confident they can handle business one game at a time in route to their third consecutive 3A state championship.
"Just like every tournament, we need to take it one win at a time," Reese said. "If we can just focus one game at a time, I think we can make it back to state."
The Eagles played Chaparral after deadline Wednesday. If they won, they advanced to next round, which will be played at 3:30 p.m. today, May 10. The final championship game is scheduled for noon Saturday at Boulder City High School. Results will appear in next week's issue.
Contact Robert Vendettoli at BCRsports@gmail.com.
Upcoming games
Today, May 10, at host sites (higher seeds), 3:30 p.m.
Game 9: Team TBD (loser 8) vs. Team TBD (winner 5), 3:30 p.m.
Game 10: Team TBD (loser 7) vs. Team TBD (winner 6), 3:30 p.m.
Game 11: Team TBD (winner 7) vs. Team TBD (winner 8), 3:30 p.m.
Friday, May 11, at Boulder City High School
Game 12: Team TBD (winner 9) vs. Team TBD (winner 10), 4 p.m.
Game 13: Team TBD (loser 11) vs. Team TBD (winner 12), 7 p.m.
Saturday, May 12, at Boulder City High School
Game 14: Championship, Team TBD (winner 11) vs. Team TBD (winner 13), noon
Game 15 – If necessary, to follow