Eagles advance to semifinals
October 31, 2018 - 3:21 pm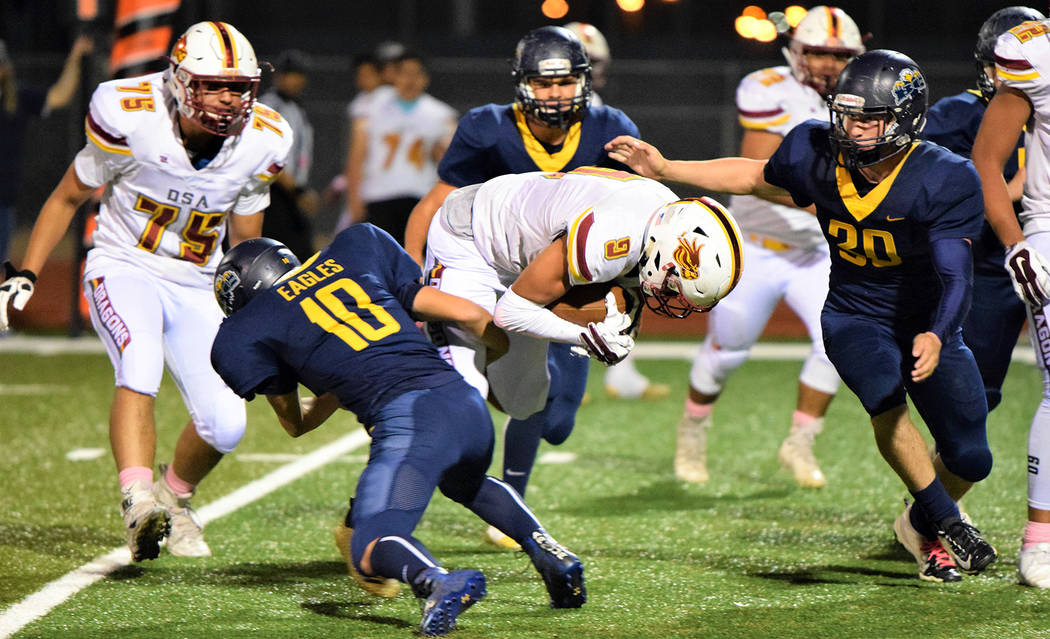 Erupting offensively in the fourth quarter, the Boulder City High School football team pulled out a 28-20 come-from-behind victory Oct. 25 over Del Sol in the opening round of the 3A postseason.
It was the Eagles' first playoff victory since 2013.
"Honestly, I'm really proud of the way the guys played," head coach Chris Morelli said. "Del Sol was a bigger team than us, had speed we couldn't match, and you could probably argue that they are better at the skill positions than we are on paper. Even when we were down, the guys never gave up. They showed a lot of grit and just kept waiting for every little opportunity to take advantage of."
With the game tied 6-6 at halftime, Del Sol scored on a pair of passing touchdowns in the third quarter to take a 20-6 lead before the Eagles' defense closed the door shut on the Dragons' offense.
"We didn't want to turn in our pads," said senior linebacker Jimmy Dunagan, who led the team with 13 tackles. "This is a huge win for us because we get to play another game."
The Eagles' offense finally came alive in the final quarter behind the power running of senior Thorsten Balmer, who rushed for a 39-yard score on the Eagles' first drive of the quarter.
"We came out a little flat in the second half, but once we were able to put that first drive together, it really brought some life into us," Morelli said. "After that you really saw the pace of play change on our side of the ball."
Showing a balanced offensive attack on their next possession, junior quarterback Parker Reynolds found sophomore receiver Trey Davis for a 65-yard touchdown to tie the game at 20-20.
Getting multiple stops defensively, Balmer sealed the victory for the Eagles with just under two minutes to play with a 1-yard touchdown plunge.
"Thorsten finding success in the second half was big time for us," Morelli said. "I have to give credit to my offensive line. They opened up some giant holes for him to run through. It was nice seeing those five really get after it and do their jobs."
Scoring on an 8-yard touchdown in the second quarter as well, Balmer guided the victory with 182 rushing yards and three scores on 27 carries.
Reynolds completed 7-of-15 passing for 95 yards and a touchdown, while Davis caught three passes for 79 yards.
The Eagles will travel to Pahrump Valley on Friday, Nov. 2, with a spot in the 3A state championship on the line.
"Now that we're in the playoffs and we've met our goal, we need to keep improving every day to try and get as far as we can," Balmer said. "Everyone needs do their job and play with heart to come out of this game with a win."
The Eagles come in with the upper hand, having defeated the Trojans this season 32-28 on Sept. 7.
Contact Robert Vendettoli at BCRsports@gmail.com.
Upcoming game
Friday, Nov. 2, regional semifinals vs. Pahrump at Pahrump, 7 p.m.