Eagles' 62-33 victory over Rancho boosts confidence heading to season's end
October 11, 2017 - 3:25 pm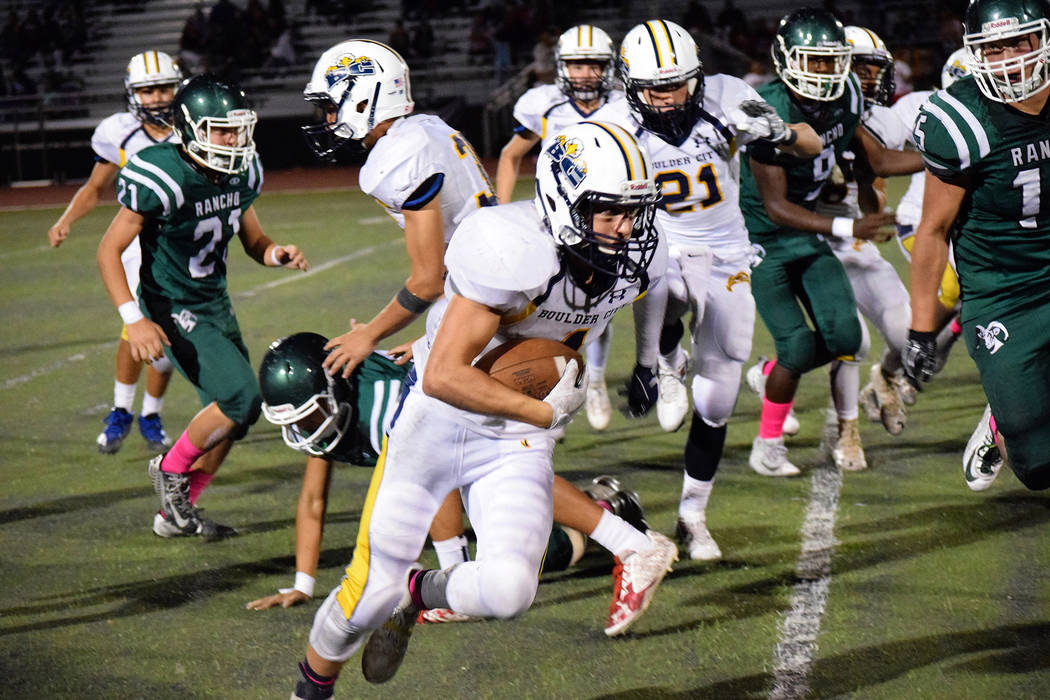 Building an early 26-0 lead Friday night at 4A Rancho, a victory for Boulder City High School football was never in doubt, ultimately spoiling the Rams' homecoming 62-33.
"Big win for our guys tonight. It's always a good thing to get back on track and in the win column," head coach Chris Morelli said. "From start to finish I thought our guys played well. We need to shore up some things defensively, but I credit the guys for making big plays when needed."
His team scored in every category possible — passing, rushing, defensively and on special teams. Junior linebacker Jimmy Dunagan started the scoring affair midway through the first quarter, scooping up a fumble for a 34-yard return.
Dunagan finished with a game-high 17 tackles.
Connecting with senior receiver Briggs Huxford for a 7-yard touchdown to end the first quarter and a 65-yard bomb to end the second quarter, sophomore quarterback Parker Reynolds scored three touchdowns against the Rams, also rushing for a score midway through the second quarter.
Connecting on 3-of-5 passing, Reynolds threw for 81 yards and two scores, along with his rushing touchdown. Huxford finished with a game-high three catches for 108 yards and two receiving touchdowns, also electrifying the road crowd with a 81-yard kickoff return midway through the third quarter.
"As a team, this was probably our best game of the season," Huxford said. "Obviously, we put up a lot of points, but it wasn't just one guy. Everyone got involved and contributed at different points to our victory."
Huxford also rushed for 48 yards on three carries, displaying his elusiveness against the Rams.
"Briggs is just a special athlete," Morelli said. "Get him the ball in space and watch him run. Time and time again he proved why we have trust in him to provide us with a spark plug."
While Huxford displayed elusiveness, junior running back Thorston Balmer brought a physical approach to provide the Eagles with a dynamic offensive combination.
Rushing for a 14-yard rushing touchdown midway through the second quarter, Balmer picked the fourth quarter to shine brightest, rushing for touchdown scores of 47, 45 and 72 yards each.
Finishing with a game-high 212 yards on only 13 carries, Balmer displayed his physical rushing style routinely throughout the final quarter, shaking off a tackler 3 yards behind the line of scrimmage before bouncing to the left side on his 45-yard touchdown dash.
"Every time I step on the field, I just want to be physical and play my hardest," Balmer said. "I'm starting to feel more comfortable in my offensive role. It's also easy to finish with a lot of yards when you have willing blockers. At the end of the day, it's always a team effort."
Hoping to build upon this offensive explosion, the Eagles will take the week off for practice before finishing the regular season with a pair of games against 4A opponents Valley and Eldorado.
"This win and now a bye week couldn't have come at a better time," Morelli said. "We have some confidence now going into our final two games, but also enough time to correct some of our mistakes and get back to playing a hard-nose defensive style of football. It going to be a lot of fun to see how these next few weeks shake out."
Boulder City will host Valley on Oct. 20.
Contact Robert Vendettoli at BCRsports@gmail.com.
Upcoming games
Oct. 19, vs. Valley, 6:30 p.m. junior varsity
Oct. 20, vs. Valley, 7 p.m. varsity