Cross-country runners continue to improve, set personal records
October 12, 2016 - 1:25 pm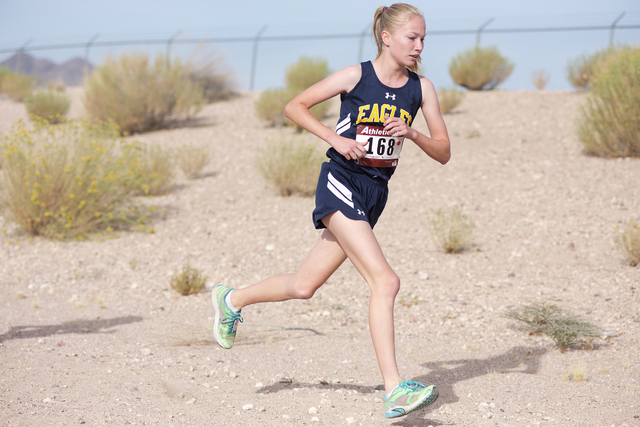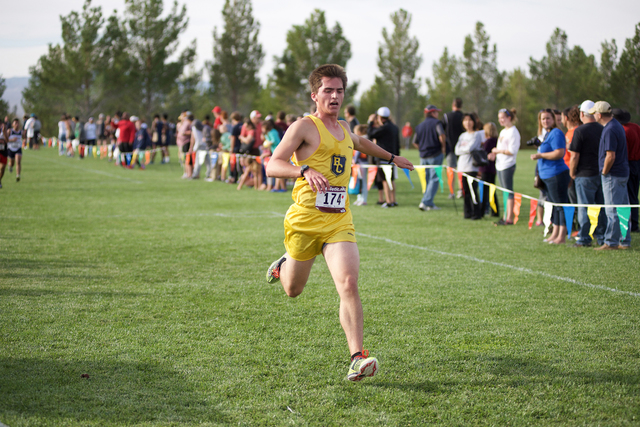 Boulder City High School's boys and girls cross-country programs got an added boost Saturday at the Lake Mead Invitational at Veterans' Memorial Park, showing positive signs as they move toward the postseason.
Despite finishing fifth out of six programs, the Lady Eagles ran well without star senior Italian exchange student Camilla Sartor and rising freshman Audrey Selinger. They were given a nice boost by the return of junior leader Sierra Selinger.
"The girls are looking strong and are putting in some quality workouts," assistant coach Stacey Selinger said. "When at full strength they will bring their best efforts for sure at regionals."
Getting back to strength slowly, Sierra Selinger ran in her first race since the Sept. 3 Palo Verde Labor Day Classic, placing 11th out of 56 runners. Finishing with an overall time of 23:11.3, she seems to be on the right track for this week's Sunrise League finals.
"This race was a test run from coming back," Sierra Selinger said. "It felt really good to be back out there."
Leading a strong charge behind her, juniors Camille Torgesen and Lauren Stewart look to be in top shape heading into the postseason, finishing 16th and 20th, respectively, with times of 23:55.5 and 24:14.8. Both times were season records for the runners.
Rounding out the Lady Eagles' efforts were sophomore Brynlee Campbell, who finished 33rd with a time of 26:10.6, and junior Greta Bassano, who finished 42nd with a time of 28.43.2.
For the Eagles, the boys are coming off a great finish, in which they placed fourth out of 15 competitors Saturday with an overall team score of 111.
"The team did really well, but we're still looking toward improving at regionals," senior Tyler Campbell said. "Everyone has been working really hard this year and we're hopeful to earn a spot for state as a team."
Leading the way for the Eagles as usual, Campbell placed fifth out of 84 runners with a time of 17:50, while junior John Krausman didn't trail far behind in 14th place with a time of 19:06.4.
Setting a personal best on the home course, senior James Embro placed 25th with a time of 19:26.6, while senior Caleb Shamo placed 39th with a time of 20:21.1.
"I've noticed that James has been putting in a lot of effort this year and our team has benefited greatly because of it," Campbell said. "I think James will do really well in the coming weeks, which will certainly improve our team ranking in the postseason."
Rounding out the Eagles' efforts were the trio of sophomore Noah Calvert (47th place; time of 21:04.) senior Braden Klouse (54th place; time of 21:26.9) and junior Dawson Goodfellow (64th place; time of 22:45.5).
Preparing hard this week in practice to get some last minute timing down, both the Eagles and Lady Eagles will compete in the Sunrise League finals Saturday at Basic High School where they'll look to churn out their best efforts.
Upcoming Games
■ Saturday, Southern division finals, Basic High School, 9 a.m.
Contact Robert Vendettoli at BCRsports@gmail.com.