Cross-country runner Campbell takes lead, doesn't let go
September 21, 2016 - 2:16 pm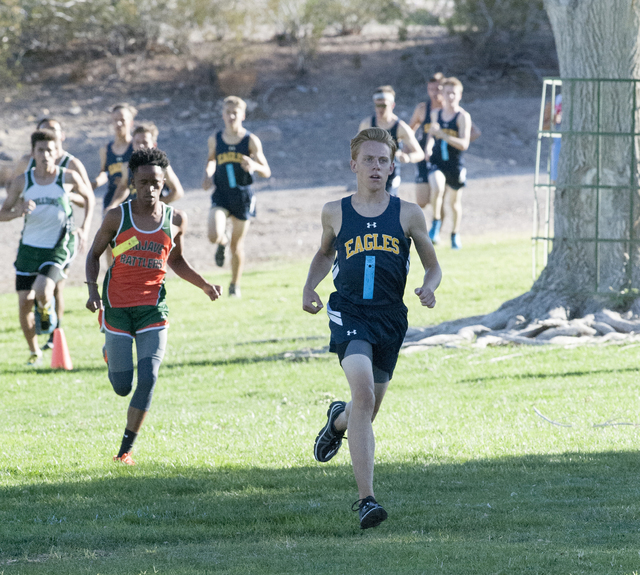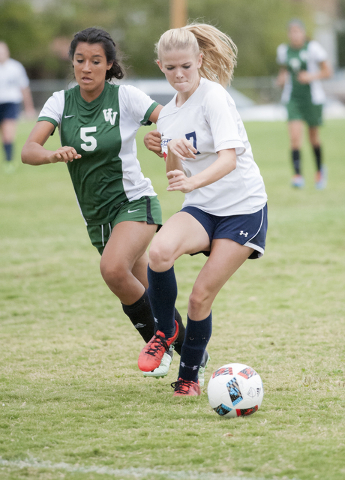 Hosting a 3A race Sept. 14 at Hemenway Valley Park, both Eagles cross-country programs finished strong, placing second on their home course.
Barely falling behind Lake Mead Christian, which finished first with a team score of 41 points, the Eagles, led by event winner senior Tyler Campbell, finished with an overall score of 49, holding off Mojave (91), Western (98), Virgin Valley (108) and Laughlin (116).
Finishing with a season-best time of 18:15.4, Campbell seems to be peaking at the right time, along with junior John Krausman, who finished in a season-high fourth place with an overall time of 19:33.
"It felt really great to finish in first place," Campbell said. "This was only my second time ever finishing in first, so to do it on our home course was special."
Finishing strong on the home course as well was the senior duo of James Embro and Caleb Shamo, who placed 10th and 12th, respectively, with times of 20:24 and 20:34. Both recorded times were season bests.
Sophomores Justice Tillman (22nd place, 21:34) and Noah Calvert (23rd place, 21:36) also managed season-best times, along with junior Dawson Goodfellow (26th place, 21:43) and senior Braden Klouse (27th place, 21:45).
On the girls side, the Lady Eagles finished with an overall score of 43, behind Virgin Valley (35), while ousting Western (65) and Laughlin (77).
Without standout junior Sierra Selinger for their home meet, senior Italian foreign exchange student Camilla Sartor stole the show for the Lady Eagles, placing first with a time of 23:27.
"It was a lot of hard work, but running has always been fun for me," Sartor said. "I really like running with this team. It's a great atmosphere to be around."
Rounding out the top 10 for Boulder City were freshman Audrey Selinger, who finished sixth with a time of 24:29, and junior Lauren Stewart, who finished eighth with a time of 25:33.
Placing not far behind in 14th place for the Lady Eagles was sophomore Brynlee Campbell with a time of 27:48, while Kylee Shamo placed 17th with a time of 28:47.
Junior Greta Bassano (21st place, 31:07), freshman Des Boggs (23rd place, 31:17) and freshman Alyssa Tobler (27th place, 35:05) completed the Lady Eagles' efforts.
Girls soccer
The Boulder City High School girls soccer program dropped to 1-4 this week following Tuesday's 6-2 loss to league opponent Virgin Valley and a 8-1 loss to nonconference opponent Pahrump Valley on Sept. 14.
Currently sitting 1-1 in the 3A Sunrise division, the Lady Eagles were no match for the Bulldogs' offensive attack in the first half, giving up five goals, including a pair to Bulldogs midfielder Ally Wright.
Scoring a goal in each half, senior fielder Jordyn Trobiani and freshman midfielder Trinity Oeland contributed unassisted goals for the Lady Eagles.
Sophomore defender Elizabeth Taggard scored the Lady Eagles' lone goal against the Trojans.
The Lady Eagles travel to Southeast Career Technical Academy today before hosting rival Moapa Valley on Wednesday.
Girls golf
Hosting a pair of meets this past week at Boulder Creek Golf Club, Boulder City High School's girls golf program got off to a hot start against league opponents Sept. 15, before falling short later in the week to two-time 4A defending state champions Coronado on Monday.
Picking up their second league victory of the season with an overall team score of 369, the Lady Eagles cruised past competitors Southeast Career Technical Academy (422) and Chaparral (511), making a statement early on in league play.
The center of the Lady Eagles' statement, junior Lani Potter made her case as the league's top golfer escaping from the pack early with a score of 69 on the par-72 course. Potter's closest competitor, Josie Delgadillo of Moapa Valley, finished in second place with a score of 92.
Placing three golfers in the top three, senior Lauryn Norris and sophomore Madisan Walker both scored a 98 to seal the victory.
Picking up where she left off, against arguably the top golfers in the state, Potter shot a 37 for the Lady Eagles on Monday on the par-36 course, behind the Coronado trio of Victoria Estrada (34), Gabby DeNunzio (34) and Crystal Querol (35).
Finishing tied for sixth with Coronado golfer Mackenzie McMillan, Reese finished with a score of 50.
Hosting another meet today at Boulder Creek, the Lady Eagles will face off against 4A program Las Vegas and league opponent Southeast Career Technical Academy.
Boys soccer
The Boulder City High School boys soccer program dropped to 0-4-1 this week, but got some inspiring play from its starters to suggest that better days are perhaps on the way.
Tying with Pahrump Valley 2-2 on Sept. 14, the Eagles' offense was clicking on all cylinders, scoring in both halves to match the Trojans' efforts.
Each scoring on unassisted goals, senior midfielder Benjamin Missel and junior midfielder Alex Krausman contributed for the Eagles, bringing their season totals each to two goals.
Barely falling to league opponent Virgin Valley in their first league contest of the season Tuesday, the Eagles played inspiring ball during their 1-0 loss to the Bulldogs, scoring nearly twice during the outing.
Hoping to get more of an offensive push during their next trio of league contests, the Eagles will host Southeast Career Technical Academy today, before traveling to Del Sol on Monday and Moapa Valley on Wednesday.
Tennis
Continuing to roll during their conference dominance, the boys and girls Boulder City High School tennis programs are nearing their team goals of a sweep following decisive victories over league opponents Southeast Career Technical Academy and Del Sol.
Advancing to 8-0 on the season, the Eagles, behind an all-around effort, were able to defeat the Roadrunners 17-1 on Sept. 15 and Dragons 12-0 on Tuesday.
Junior Andre Pappas and freshman Bretton Erlanger remained undefeated, along with the doubles pairings of freshman Boen Huxford and Preston Jorgensen, and juniors Garrett Leavitt and Clayton Pendleton.
"Everyone on the team is really focused this year," Erlanger said. "We've all come a long way from summer practice and there's still a way for us to go. We really push each other hard in practice, which has translated to wins during league matches."
Finishing the week 8-0 as well, the Lady Eagles defeated the Roadrunners 15-3 and the Dragons 12-0.
Remaining undefeated for the season were sophomore Natalie Bowman and freshman Tegan Pappas, along with senior doubles partners McKenna Frazier and Kyra Yamamoto.
Heading into the final week of the regular season, both programs will look for a perfect 10-0, first traveling to Moapa Valley today, before hosting Chaparral on Monday.
Contact Robert Vendettoli at BCRsports@gmail.com.
Cross-Country
■ Saturday, Foothill Invitational at Foothill High School, TBA
Boys Soccer
■ Today, vs. Tech, 3 p.m. junior varsity, 4:30 p.m. varsity
■ Monday, at Del Sol, 3:30 p.m. varsity, 5 p.m. junior varsity
Girls Soccer
■ Today, at Tech, 3 p.m. varsity; 4:30 p.m. junior varsity
■ Monday, vs. Del Sol, 3 p.m. varsity; 4:30 p.m. junior varsity
Tennis
■ Today, at Moapa Valley, 3 p.m.
■ Monday, vs. Chaparral, 3 p.m.
Girls Golf
■ Today, vs. Las Vegas at Boulder Creek Golf Club, 3 p.m.
■ Tuesday, vs. Moapa Valley at Casablanca, 11 a.m.