Creative pairing helps tennis teams ace wins over Virgin Valley
August 30, 2017 - 2:33 pm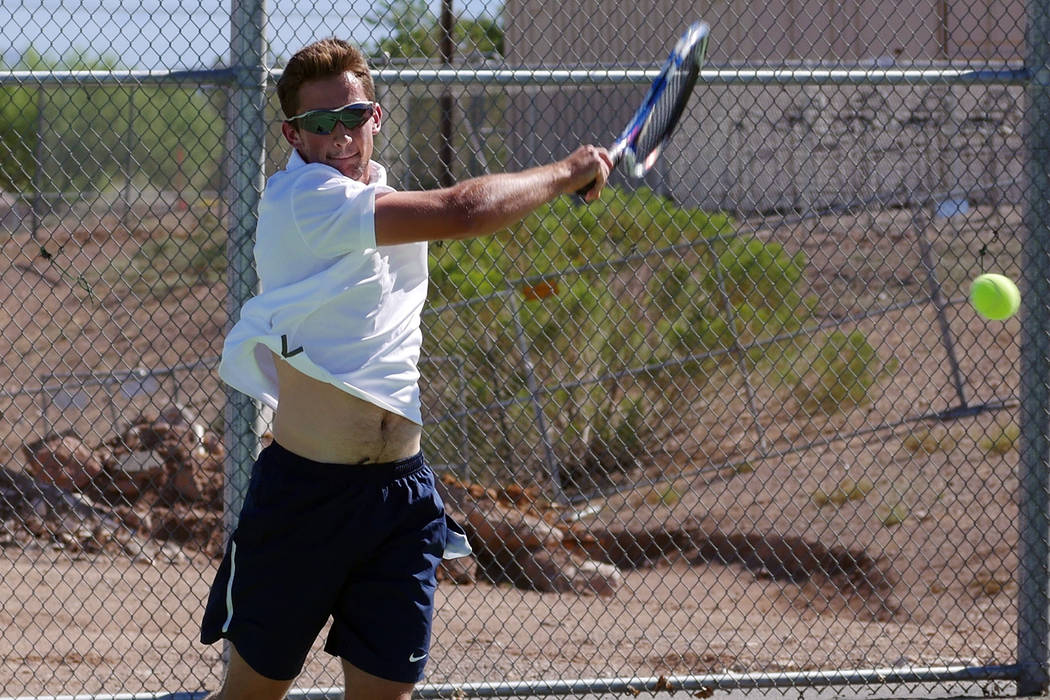 Traveling to rival Virgin Valley on Tuesday, both Boulder City High School tennis program picked up decisive league-opening victories.
Dominating the Bulldogs, the Eagles swept their way to a 18-0 victory behind strong singles performances from seniors Andre Pappas and Sam O'Berto, who each went 3-0 on the day.
Senior Clayton Pendleton finished 2-0 in singles competition.
Switching up her lineup for the match, boys head coach Rachelle Huxford got creative with her doubles tandems, playing six different pairs.
Sophomores Boen Huxford and Preston Jorgensen finished 2-0, along with the duo of senior Adam Clary and junior Leaf Kaboli.
Playing a third set, Jorgensen partnered with sophomore Michael Erlanger to finish 1-0.
Also finishing with 1-0 doubles records were the pairings of junior Kaeden Carver and freshman Ethan Speaker; Speaker and sophomore Norbert Barker Roca; and sophomores Ty Pendleton and Braden Soileau.
Taking a similar approach with her doubles teams, Lady Eagles head coach Jami Pappas picked up her first league victory 16-2.
Teaming for a double win each, the duos of sophomore Katelyn Fox and freshman Emily Strong and sophomore Olivia Leavitt and freshman Stephanie Bowman finished 1-0, while juniors Heather Patterson and Kali Martin finished 1-1.
Virgin Valley defaulted its third line doubles team.
Sweeping their way through singles competition, juniors Natalie Bowman and Olivia Goodfellow each finished 3-0, along with sophomore Tegan Pappas.
Hosting Southeast Career Technical Academy at 3 p.m. today, the Eagles are riding a dominant 3-0 start, beating 4A teams Basic 17-1 and Liberty 16-2 earlier in the week. The Lady Eagles finished 2-1 during the first-week slate, defeating Basic 13-5, before falling to Liberty 11-7.
Contact Robert Vendettoli at BCRsports@gmail.com.
Boys and Girls Tennis
Today, Aug. 31, vs. Tech, 3 p.m.
Tuesday, Sept. 5, at Foothill, 3 p.m.
Wednesday, Sept. 6, at Del Sol, 3 p.m.