Crater at Amboy picture perfect (inactive) volcano
October 11, 2017 - 3:14 pm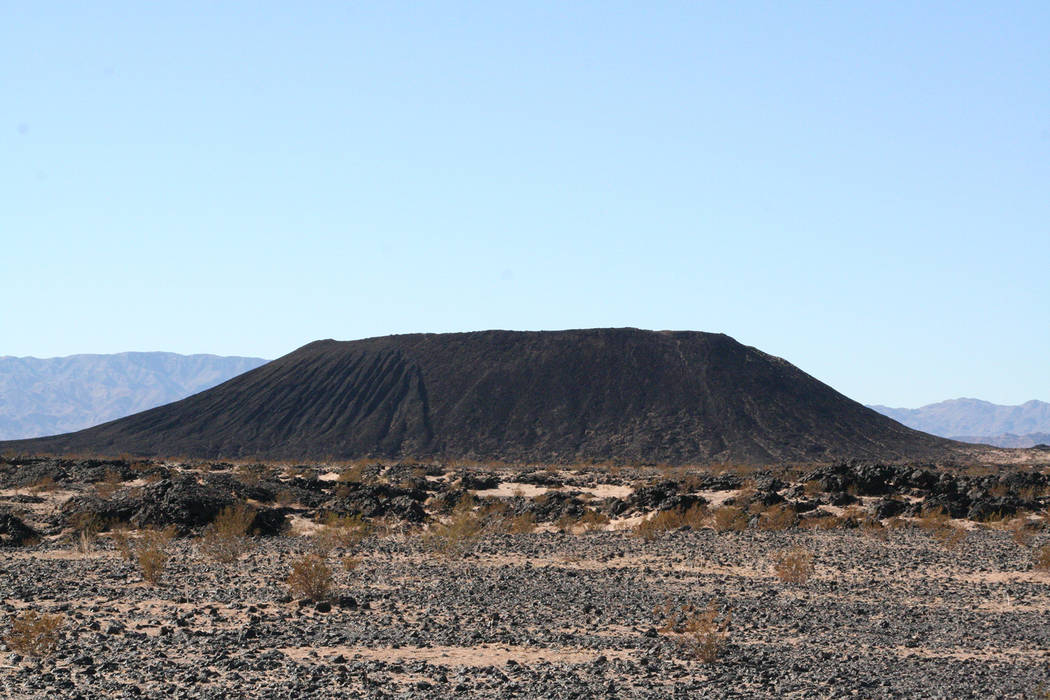 From now through early spring is the best of time for roaming remote desert areas and examining at leisure the desert's interesting and exposed geology. A drive to Amboy Crater offers both. The road trip takes you through the Mojave National Preserve and along historic Route 66 to the tiny town of Amboy and its nearby volcanic crater.
Be sure to gas up before leaving town, and plan to bring your own food and beverages on this full-day trip. The crater hike follows a moderate 3-mile round-trip trail, but because of some uneven footing it's not recommended for small children.
Inactive volcanoes grace our landscape in all directions from Las Vegas, but there are no others so picture perfect as Amboy Crater. Ask any child to draw a volcano, and they would probably come up with a picture resembling it. Amboy Crater was active perhaps 10,000 years ago, and you can easily see much evidence of that activity within the 43-square mile lava field that surrounds it. This is such a good lava field the Mars Rover was tested here. The crater was formed by at least four eruptions, and once inside the rim you will find four coaxially nested cones.
From the signed trailhead and parking area, at about 670 feet in elevation, take the well-worn path southwest toward the crater. From here you might notice what looks like the trail on the north side of the crater, but ignore it. It's steep and dangerous. Just keep to the trail that heads southwest. Be sure to stay on the official trail, because you are very close to the boundary of the Twentynine Palms Marine Corps Base. This trail leads to the west side, where you can enter the crater via a breach of its wall.
Once you're at the opening and inside the crater, the walking gets a little more difficult as you skirt lava rocks on uneven terrain, but soon you will find yourself 300 feet higher up on the crater rim. You can walk around the rim, but it is slow going and a chore maneuvering around and on the lava rocks.
The crater is about 1,500 feet in diameter, and there are some wonderful views here. Look toward the north and you will see the Old Dad and Granite mountains in the Mojave National Preserve. Off to the east are the Old Women Mountains.
The crater is located just off U.S. Route 66, which used to be the main east-to-west highway to or from California. Even earlier, in 1883, tracks were laid by the Atlantic and Pacific Railroad from Needles, California, to the east and Barstow, California, to the west. In that era of steam locomotives, the railroad had to build water stations, which became the principal settlements of this still-remote area. It named them alphabetically, starting with Amboy and continuing east with Bolo, Cadiz, Danby, Essex, Fenner and Goffs. If you travel east along Route 66, you will pass these places, some now abandoned. There is great train spotting hereabout as the tracks, now owned by the Burlington Northern Santa Fe Railroad, carry several trains an hour.
When passenger trains were more common, travelers from the East Coast and Midwest considered Amboy Crater a must-see landmark on their journey, for most had never seen a "real volcano."
Back in the early 1900s, a group of railroad workers from Bagdad, the town directly to the west, played a prank on train passengers. They gathered dried plants and other easily flammable materials and brought them up to the crater. As a passenger train was on its way by, the mischievous group lit a smoky fire. The passengers all thought they were seeing an active volcano.
Years ago, after I published an article mentioning this episode, a fellow Southern Nevadan wrote me that he and his buddies had perpetrated a similar hoax back in the 1970s. They spent days lugging old tires up to the rim. Once their pile was big enough, they set a timer, allowing them to depart the scene and establish credible alibis. When the tires started to burn and sent up copious amounts of black smoke above the crater, tourists and locals all started to evacuate. Once the prank was discovered and the guilty parties revealed, they all received a stern warning, but none were arrested. All in a good day's fun, I say!
But, be forewarned, don't try this now, as the crater's jurisdiction belongs to the U.S. Bureau of Land Management, which will not find the third time charming. I would expect heavy fines and jail time.
Many of Deborah Wall's columns have been compiled into books about hiking in the Southwest. She is also the author of "Great Hikes, a Cerca Country Guide" and a co-author of the book "Access For All, Seeing the Southwest With Limited Mobility." Wall can be reached at Deborabus@aol.com.
Directions
From Boulder City, drive about 2.5 miles north on U.S. Highway 93 and exit onto U.S. Highway 95 south. Drive 34 miles to Searchlight. Go right onto State Route 164 for about 26.5 miles through Nipton, California, and then turn left onto Ivanpah Road. Drive 3 miles and go right onto Morning Star. Drive about 15 miles to Cima and stay left onto the Kelso-Cima road. Continue 14 more miles to the Kelso Depot. Turn left onto Kelbaker Road. Continue south for 32 miles (crossing under Interstate 40) and turn right on Historic Route 66. Drive 7.7 miles and go left into the Amboy Crater access road. Drive one-half mile to the parking area and trailhead.