Coyle steps up to give Lady Eagles softball team win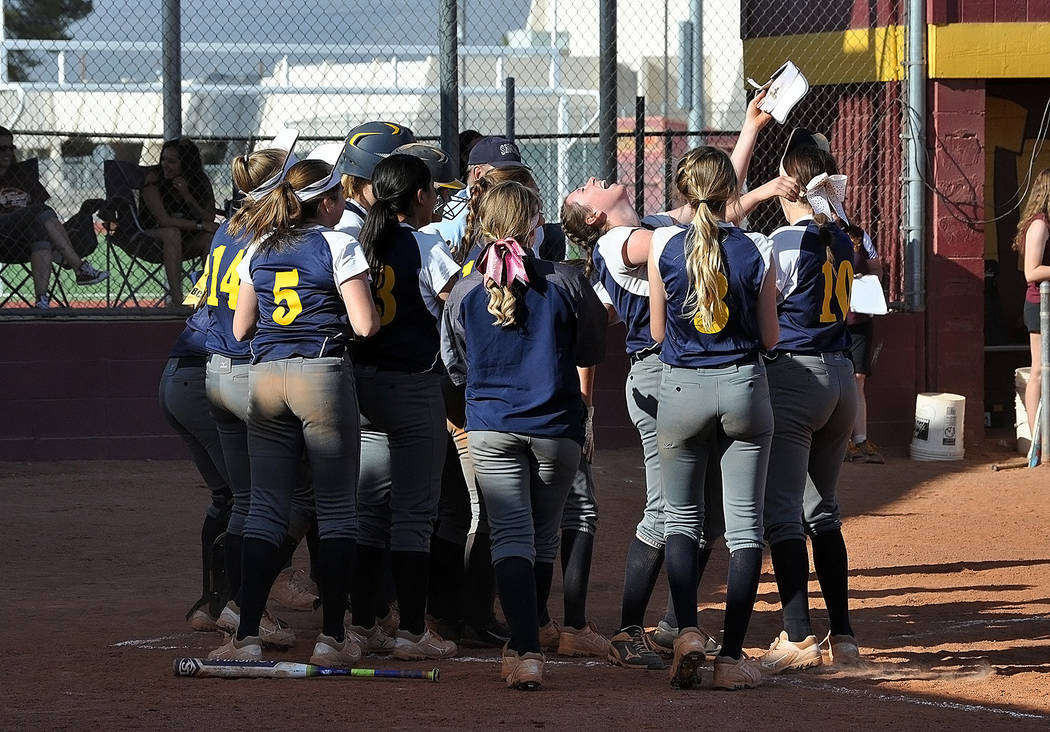 Playing hero when Boulder City High School softball team needed it most, senior Summer Coyle propelled the Lady Eagles past rival Pahrump Valley on the road 3-1 Tuesday afternoon.
Down 1-0 in the top of the seventh, Coyle's go-ahead three-run home run to fuel the winning effort looked like it came out of a movie script, giving the Lady Eagles a fairy-tale ending.
Playing with a 2-2 count after taking a pair of strikes, Coyle belted a shot to deep left center field with two outs to score sophomore Ashley Wishard and senior Bailey Bennett-Jordan. "When it left her bat, you knew it was out of here," Bennett-Jordan said. "Summer stepped up for us and did a great job. As a team we have confidence in everyone's ability to help win us games."
Matching Coyle's efforts at the plate, Bennett-Jordan held down the Lady Eagles on the mound, in what turned out to be her best performance of the season to date. Bennett-Jordan threw a complete seven innings, striking out a pair of batters in the bottom of the seventh inning to end the game.
"I felt great going into the final inning," Bennett-Jordan said. "We were battling back the whole game and Summer's home run really picked up everyone's attitude. Going out for those last three outs, I felt confident that I could finish the job and help us get a win."
Finishing with 10 strikeouts on the day, Bennett-Jordan allowed four hits with one unearned run.
"Bailey had a great day for us with no walks and 10 strikeouts" head coach Angelica Moorhead said. "She was very relaxed in the circle and did her job. Her defense behind her today was great, as well. It was a total team effort."
Collecting six hits offensively, Coyle, Wishard and seniors Jordan Moorhead and Jerra Hinson each finished the day 1-for-3 at the plate.
Finishing 1-for-3 at the plate, senior Lily Osman recorded a double in the seventh inning, while Bennett-Jordan finished 1-for-2 at the plate, while being intentionally walked in the seventh inning to set up Coyle's late-game heroics.
Riding a four-game winning streak, the Lady Eagles will host Sunrise Mountain today, before hosting rivals Moapa Valley on Friday and Virgin Valley on Monday.
"This was a big win for us," coach Moorhead said. "They didn't give up and were hungry for the win. Our last couple meetings with Pahrump went the other way, so we're proud of all the ladies working together to get the win. This is a good booster for our upcoming league games starting Friday."
Contact Robert Vendettoli at BCRsports@gmail.com.
Upcoming games
Today, April 5, vs. Sunrise Mountain, 3:30 p.m. varsity; at Sunrise Mountain, 3:30 p.m. junior varsity
Friday, April 6, vs. Moapa Valley, 3:30 p.m. varsity; at Moapa Valley, 3:30 p.m. junior varsity
Monday, April 9, vs. Virgin Valley, 3:30 p.m. varsity; at Virgin Valley, 3:30 p.m. junior varsity
Wednesday, April 11, at Southeast Career Technical Academy, 3:30 p.m. varsity; vs. Southeast Career Technical Academy, 3:30 p.m. junior varsity