Connie Mack baseball team ends season undefeated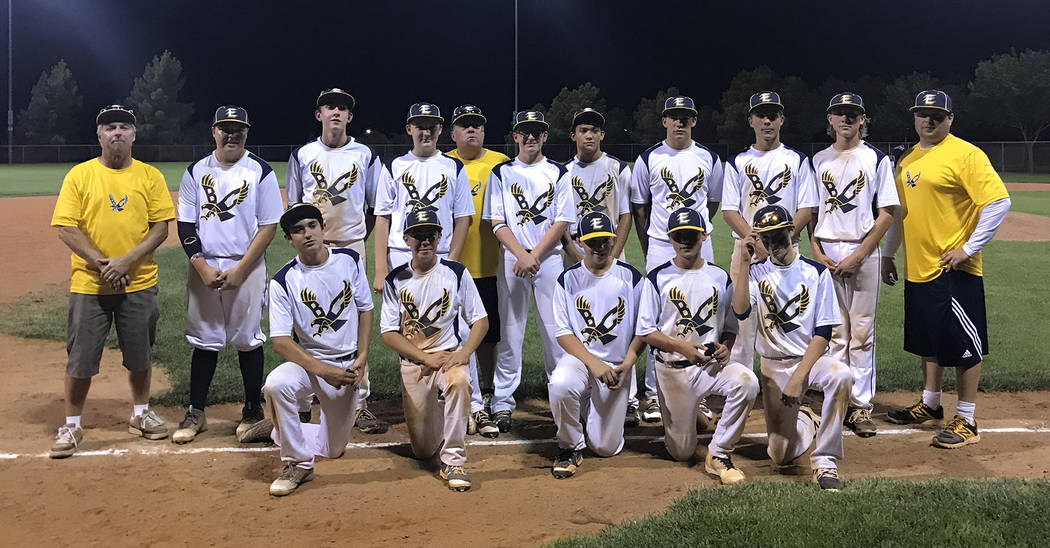 The future of Boulder City High School's baseball program looks bright, especially after the Eagles' Connie Mack 14U affiliate completed an undefeated regular season.
Posting an 18-0-1 record in the 14U National League, the Southern Nevada Eagles have outscored their opponents 234-55 this season, dominating in all facets of the game.
"It blows my mind how talented this team is," head coach Steve Connell said. "You don't win many ballgames and dominate the way we have if you're not. A lot of these boys have been playing together for a few years, so you can see their chemistry on the field. It's their bond together and familiarity that helps them play so well."
Playing in a division laden with affiliates of 4A high school teams, the Eagles have taken on all challengers, routinely dominating powerhouses such as Faith Lutheran, Palo Verde and Shadow Ridge.
"These boys haven't backed down from a challenge yet this summer," Connell said. "They're consistently taking on programs from larger schools that draw hundreds of kids at their tryouts. We had to pull three kids from Henderson just to fill out our roster. I think that motivates them, though, being from a small town. Regardless of where you're from, they've shown they can compete and win against anyone in town."
Relishing the opportunity to play against opponents from higher classes, incoming freshman Joey Giunta likes the challenges of the Eagles' rigorous schedule.
"Playing against larger programs like Palo and Shadow Ridge forces me to step up and focus more," Giunta said. "I like the challenge of facing bigger schools. It's help me get better."
Using a next-man-up mentality, the Eagles use a four-man pitching rotation matched with a complete lineup on offense that Connell said is the strength of this year's team.
"Offensively it doesn't matter who we have up to bat. We know they're going to do their job," Connell said. "When someone's in a slump, the next batter takes charge. We were lucky to not have any holes in our lineup."
Playing consistently all season, Scott Bahde, Joey Camps, Troy Connell, Matt Felsenfeld, Blaze Trumble and Giunta were among the team's top offensive players.
Playing both ways, Bahde, Connell, Giunta and Trumble were also starting pitchers for the team.
"Having those guys being able to be versatile for us real made our job as coaches easier," Connell said. "They were plug-and-play for us. Either you're pitching or you're in the infield. It's nice to be able to have players who can put the ball in play and then turn around and throw strikes."
Invited to play in the Connie Mack state tournament at Faith Lutheran High School, Connell said the team is unsure at the moment whether to accept the invitation because of players' commitment to Little League. What is certain, however, is the Eagles varsity baseball program will be loaded with talent for the next few seasons.
"Some of these guys should be able to compete on the varsity level as freshmen," Connell said. "Definitely by their sophomore years, a majority of this team should be starters. All of these boys have been playing for years and are ready for the next level. I'm excited to have the privilege to coach and can't wait to see them continue to grow."
Contact Robert Vendettoli at BCRsports@gmail.com.